Blinn library displaying exhibit from Brenham Heritage Museum
Display features historical items from African American families, information on tracing ancestry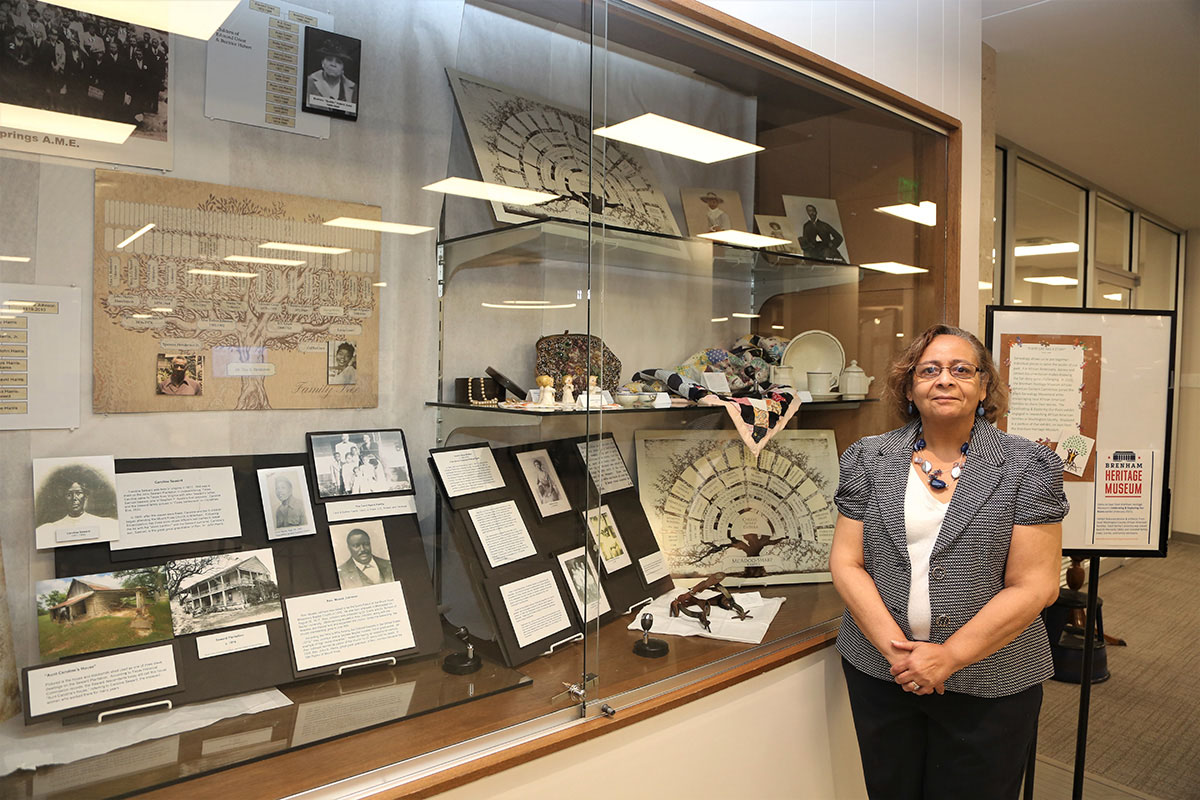 April 18, 2022
Cheryl DaBera, a member of the W.L. Moody Library staff on the Blinn College-Brenham Campus and a volunteer with Brenham Heritage Museum, helped develop the African American display at the Blinn library, on loan from the museum.
---
The W.L. Moody Jr. Library on the Blinn College-Brenham Campus is hosting a display featuring historical items from several local African American families, an exhibit on loan from Brenham Heritage Museum.
The exhibit at the Moody Library (map) includes ancestry trees, photographs, newspaper clippings, and heirlooms from families that trace their roots back to slaves brought to Texas in the 1800s.
"Each of these records, photos, and treasured objects are part of the fabric that created each family's unique history," said Cheryl DaBera, a member of the Blinn library staff and a Brenham Heritage Museum volunteer who worked on the exhibit.
The exhibit also features resources and tips on overcoming unique challenges in researching African American ancestry.
Federal census records are a critical source of information, but details on African Americans by name were not available until 1870. In rural areas such as Washington County, census records should be closely examined for names, ages, and information related to people who live in close proximity. Relatives often lived nearby or even on the same street, and understanding those tips can help amateur researchers find valuable information and gain insight from the limited information available.
"Online tools such as 'Family Search' or 'Ancestry' are good starting points," DaBera said. "Non-traditional sources can help 'connect the dots' when tracing ancestry. Often, a plantation owner's last will and testament or county court records from property disputes may be the only documented records that specify the names and approximate ages of enslaved people. Church histories, funeral programs, yearbooks, family stories, and oral histories are other non-traditional sources for African Americans to find clues and information to help uncover details about their family history."
DaBera said the goal of the exhibit was to showcase African American families' journeys and to share those learnings, with the hope of inspiring others to dive into their own ancestry search.
"Through diligent, extensive digital and manual research, the journey to find African American ancestry can be fruitful," she added.
Brenham Heritage Museum Executive Director Mike Vance said the museum is excited to be able to loan items to the Blinn College library.
"Brenham Heritage Museum looks forward to future collaborations with Blinn," Vance said.
Natearah Austin, who chairs the museum's African American Content Committee, said she hopes "collaborative efforts with Blinn will lead to growing student interest in history and a desire to actively participate in historical research opportunities."
Blinn library resources are available to the general public, including its 88 computers.
"Community guests only need a photo ID to come in and use the library's computers," said Linda Gray, Director of the Brenham Campus library.
Washington County residents also can obtain a Blinn library card for a $15 annual fee.