Blinn-Bryan Student Government Association wins two statewide awards
Blinn-Bryan student SarahLynn McCord is elected to serve as 2022-23 state treasurer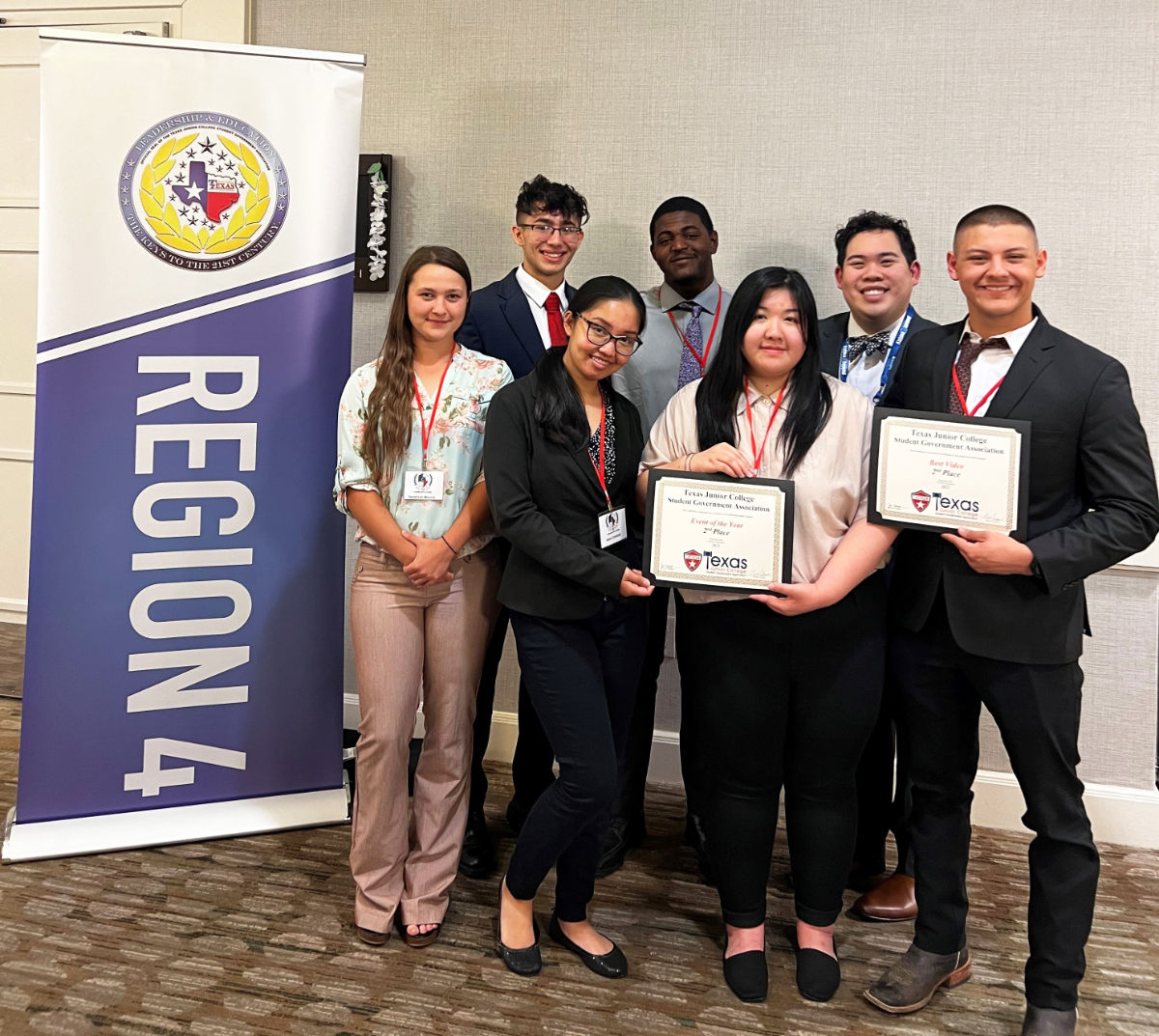 April 7, 2022
The Blinn College-Bryan Campus Student Government Association (SGA) recently earned two awards from the Texas Junior College Student Government Association (TJCSGA) during the organization's state convention held in Dallas.
Blinn-Bryan SGA placed second in the "Event" award category for their Valentine's Day fundraiser. They also earned second place for "Best Video" for their leadership-focused short produced in partnership with the Blinn Audio Visual Club. The video highlights leadership qualities as well as what lessons students learned by starting a student club.
"I am extremely proud of the dedicated Blinn students who choose to represent their peers by getting involved in student government at the campus, regional, and statewide level," said Dr. Becky McBride, Vice Chancellor for Student Services. "These awards reflect our students' commitment to service and their desire to make a difference within their community."
The theme of the TJCSGA convention was "Leaders with a Cause," a focus aimed at celebrating notable historical figures who fought for change with the goal of inspiring school delegates to make an impact by pursuing their own causes. Six Blinn-Bryan SGA members attended this year's conference.
In addition to the awards, Blinn-Bryan sophomore and business major SarahLynn McCord was elected to serve as state treasurer on the TJCSGA's state executive board for the 2022-23 academic year.
"The pathway for true leadership is first overcoming doubt," McCord said in her nomination video.
At the regional level, Blinn-Bryan student and SGA parliamentarian Xander Gomez will serve as secretary for Region IV. The Blinn-Bryan Campus will host the fall 2022 regional meeting.
Blinn SGA has representation on the Brenham, Bryan, Sealy, and Schulenburg campuses. These organizations serve as the liaison between students and administrators, represent the voice of the campus student body, and make improvements in all areas of campus life. SGA fosters the Blinn community by hosting beneficial educational and recreational activities and collaborates with Blinn's Office of Student Leadership and Activities to support and oversee all campus clubs and organizations.
The TJCSGA is the only student-maintained organization in the state that works to promote the cause of community college students at the local, regional, state, and national level. It is comprised of more than 70 member colleges that represent 700,000 community, junior, and technical college students from across Texas.
To learn more about Blinn's SGA, visit www.blinn.edu/student-leadership-activities.
Related Links
Archives
GET CONNECTED