Blinn-Bryan student plans a career helping others through social work
Blinn social work courses transfer seamlessly towards Tarleton State University's Bachelor of Social Work degree at the RELLIS Campus
March 14, 2022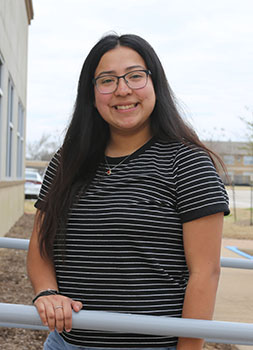 After starting college at the height of pandemic isolation, Blinn College District sophomore Sophia Medina has come to realize she wants a career that impacts lives.
"I just want to be involved with people," Medina said. "As long as I'm around people and I'm doing something that I'm passionate about that makes a difference, I'm happy."
Medina initially considered majoring in sociology, but quickly changed course when she discovered Blinn offers social work courses that transfer directly towards the Bachelor of Social Work (BSW) degree program offered through Tarleton State University at the RELLIS Campus.
"This really is the prime path for me," said Medina. "I don't have to move to pursue my bachelor's degree. This program is affordable, at a brand-new campus, and I don't have to leave the jobs that are supporting me financially."
Outgoing and vivacious, Medina balances two jobs while working toward her degree at Blinn and credits her work as a student assistant with the Texas A&M AgriLife Extension's Success Powered by You Program as steering her towards a social work career.
"Our program provides young adults with parenting and relationship classes and tips for managing their finances," Medina said. "One of my colleagues gave me the inside scoop into social work and has really guided me and helped me realize this is my calling. I'm hooked."
Medina can pursue her passion without having to leave the Brazos Valley due to Blinn's relationship with Tarleton State as a member of the RELLIS Academic Alliance. Launched in fall 2020, Tarleton State's BSW program at RELLIS is attracting more Blinn students to this dynamic field.
"The courses offered at Blinn expose students who are interested in helping people, in any regard, to the discipline of social work itself," said Dr. Ebony L. Lang, BSW Program Director and Associate Professor at Tarleton State University. "Taking these classes at Blinn really allows students to step right into a bachelor's degree program in social work because in order to start our core classes, students need these prerequisites."
Blinn currently offers two courses in social work, SOCW 2361: Introduction to Social Work and SOCW 2362: Social Welfare.
"These classes are a great introduction to the multifaceted world of social work," said Robert Stanberry, Department Head for Blinn's Paralegal, criminal justice, sociology, and social work programs. "In addition to touching on the overall field and policies behind the profession, these courses are taught by social work practitioners, who bring a wealth of field experience into the classroom. We're excited to work with more students like Ms. Medina and hope that Blinn and Tarleton State can be instrumental in training the next generation of social workers."
Social workers are employed in a variety of settings, including mental health clinics, schools, child welfare and human service agencies, hospitals, and private practice. According to the U.S. Bureau of Labor Statistics, in 2020 the median pay for social workers was $51,760 per year and employment is expected to grow 12% nation-wide between 2020 and 2030, resulting in 89,200 new positions.
Medina is unsure which area of social work she would like to explore but is excited to take the next step.
"I'm really open to just about anything," she said. "I can see myself opening a nonprofit or going into an area where I'm helping the family as a whole by providing resources for anyone who really needs it. I just want to help people."
Registration is open for Blinn's spring eight- and four-week classes that start March 21, which includes an upcoming section of SOCW 2362. For more information on Blinn's social work courses, contact Robert Stanberry at robert.stanberry@blinn.edu.
To learn more about Tarleton State's BSW program at the RELLIS Campus, visit
rellis.tamus.edu/academicalliance/
.