Blinn College theatre arts major Madison McDonald loves working behind the scenes
Sophomore hopes career takes her to Broadway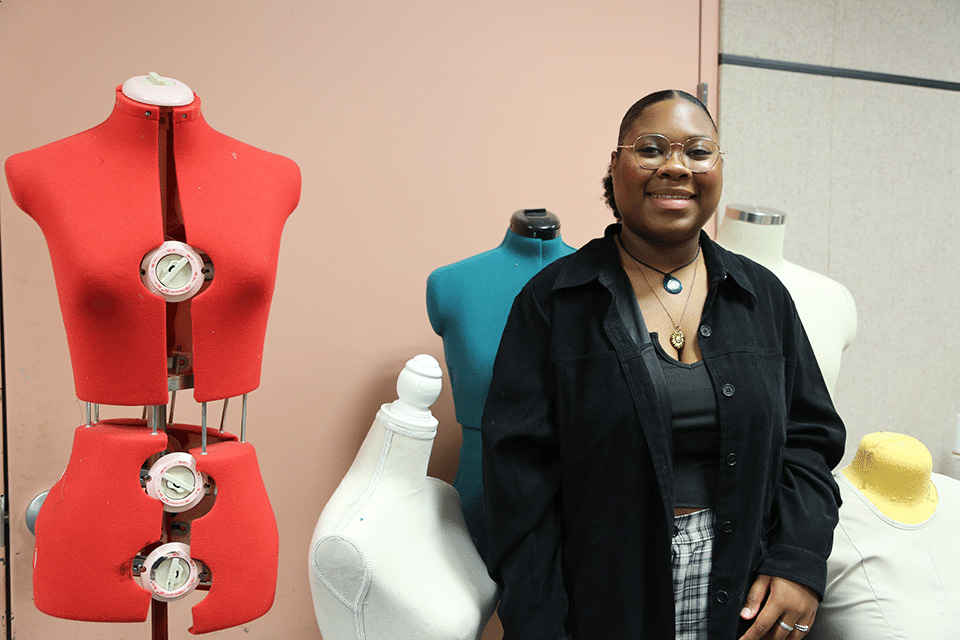 February 16, 2022
For Blinn College student Madison McDonald, it's not about being in the spotlight. It's about being behind it.
McDonald, a sophomore theatre arts major on the Brenham Campus, says she gets the most joy by working behind the scenes of productions. As a student in Blinn's Theatre Arts Program, she receives plenty of opportunities.
After graduating from Langham Creek High School in the nearby Cypress-Fairbanks School District, she decided to attend Blinn, where the theatre curriculum includes the artistic, technical, and academic aspects of theatre education.
"I just felt I wasn't ready for a four-year college yet," McDonald said. "I thought that Blinn would give me that space and control because it's such a family here. I think I really needed that."
Since arriving on campus, she has been involved in a host of Blinn productions, including last semester's visually stunning "Wiley and the Hairy Man," where costumes, makeup, and lighting were vital to set the mood.
McDonald's original involvement in theatre arts began on the stage, but that quickly changed.
"I started off performing in middle school," said McDonald, the daughter of a teacher who also attended Blinn, "but I realized that what I like the most was being a technician and stage managing. My love for theatre started to grow. I chose theatre because I wanted to do something I love for the rest of my life."
That love has blossomed since McDonald came to Blinn, where she found a welcoming "family" and a supportive faculty. McDonald's theatre arts teacher at Langham Creek High School, Katie Cross, also attended Blinn and studied theatre arts.
"All of them are so invested in our future," McDonald said of the Blinn faculty. "I really feel like they believe in me and they think I can achieve what I want to."
That supportive feeling extends to her classmates.
"We go to the grocery store every week, we put together dinners for after rehearsals. We're really close," said McDonald. "I think I've made lifelong friends here."
At Blinn, she has been able to work every behind-the-scenes aspect – managing shows, lighting, costumes, and sound.
"I also love sound engineering and working with the sound systems," McDonald said. "I like to dabble in lights.
"The whole experience in theatre starts as soon as you walk into the house. That's what I really love, to change people's minds about things, make them think after the show."
McDonald worked behind a camera last year when the Theatre Arts Program switched to a video format for the 2020-21 season due to the COVID-19 pandemic.
"I'd never handled a camera before in my life. Mr. Patrick taught me a lot," said McDonald, who has applied to the University of North Texas in Denton.
Blinn's theatre arts season has two more productions scheduled this season, with "Golden Boy" scheduled for Feb. 17-20 and "The 25th Annual Putnam County Spelling Bee" April 28-May 1.
McDonald, under the direction of costume designer and theatre arts faculty member Jennifer Patrick, is serving as student costume designer for "Golden Boy."
Tickets are available at www.blinn.edu/boxoffice. Admission is free for all Blinn employees. Tickets are $5 for Blinn students, children, and senior citizens.
The Blinn College-Brenham Campus Theatre Arts Program also will stage its third annual "10-Minute Play Festival" March 24-27, which features plays written by high school students. McDonald will direct one of the entries.
"I just love that high school students wrote the plays," she said. "It gives them that spotlight. I've read the plays and they're really good."
McDonald is certain that she wants to make theatre arts her career.
"I'm anxious to get my journey started. After college, I want to do some internships and work under some other stage managers, to basically work my way up in Houston theatre," said McDonald. "My dream, my ultimate goal, is to work with the Rockettes and on Broadway.
"I've chosen to do stage management fully, but I want to do a side project and do sound for concerts or Broadway. Anything I can get my hands on.
"I think that being at Blinn really helped with my anxiety of theatre (as a career). I really wasn't sure. People think that you don't make money, you can't do this, you don't do that. I think I can."
Theatre Arts Program Director Brad Nies said he is confident McDonald will succeed in her chosen career.
"Madison is an outstanding young woman, as well as a dedicated theatre arts major," Nies said. "She will most assuredly be one of Blinn College's success stories."
For more information regarding Blinn's Theatre Arts Program, visit www.blinn.edu/theatre.