Blinn's Blended Veterinary Technology Program creates unique pathway for working professionals to earn credentials and become licensed veterinary technicians
Application deadline for three-year blended program is Monday, Jan. 31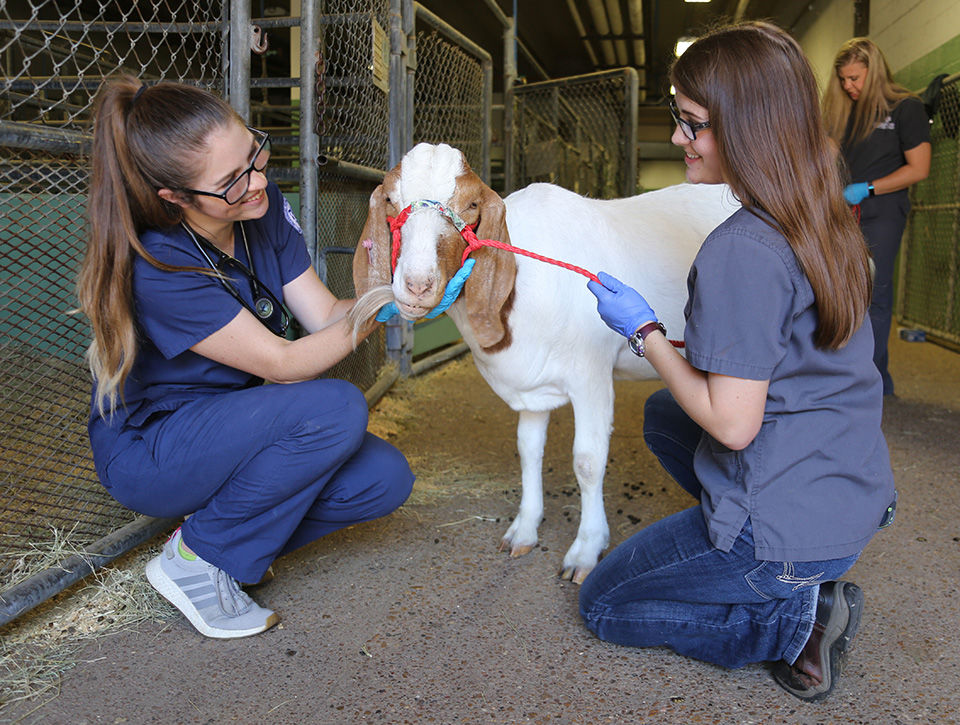 January 21, 2022
The Blinn College District is meeting the statewide demand for licensed veterinary technicians with a unique, blended Veterinary Technology Program that helps working professionals earn valuable credentials to advance their careers.
The three-year blended program, which includes online coursework and face-to-face lab experiences, trains graduates to fill vital roles in the industry and pass the Veterinary Technician National Exam (VTNE), one of two tests required to become fully licensed veterinary technicians (LVTs).
The application deadline for the blended Veterinary Technology Program is Monday, Jan. 31.
"This is a great opportunity for veterinary staff already working in the field to obtain the coursework and skills necessary to advance their careers by becoming licensed veterinary technicians," Interim Program Director Jessica Salazar said. "Our office receives weekly calls from veterinary practices wanting to know when we will have a new batch of graduates, so the need is there. We hope this option can help tackle this demand and put more credentialed veterinary technicians in the workforce."
Blinn's three-year, blended Veterinary Technology Program covers the same material and provides students with the same skills as the traditional two-year, on-campus program while creating a unique environment meant to work with the schedules of employed professionals. This flexibility inspired Sandy Nunn, who serves as Veterinary Technology Program/Industry Outreach and Large Animal Technical Supervisor at Texas A&M University's Veterinary Medical Teaching Hospital, to become a student in the program's first cohort.
"I've been at A&M for 23 years and I decided it was time to walk the walk and talk the talk," Nunn said. "Apart from the benefit to students, this program is a great opportunity for veterinarians to support the staff members that are already so valuable to them by helping them get credentialed. Blinn's blended program is also unique from other options because it takes the burden of coordinating clinical requirements off the shoulders of the student."
One of the hallmarks of Blinn's Veterinary Technology Program is the College's partnership with Texas A&M's College of Veterinary Medicine & Biomedical Sciences. This relationship provides students with hands-on training in every aspect of the wide-ranging field. Blinn is the only community college that has an agreement to complete laboratories and clinicals at Texas A&M University's Veterinary Medical Teaching Hospital.
Upon completion of the program, graduates are prepared to advance their careers in the animal healthcare field with positions at animal shelters, educational institutions, government agencies, laboratory facilities, research, veterinary clinics, and zoological facilitates, to name a few. According to the U.S. Bureau of Labor Statistics, veterinary technicians earn a median salary of $36,260 per year. Between 2020 and 2030, the demand for veterinary technicians is expected to grow 15%, creating an additional 17,100 jobs nationwide.
To complete an application for the Blended Veterinary Technology Program, visit https://www.blinn.edu/veterinary-technology/pdf/blended-3-year-application.pdf.
For more information about the traditional and blended programs, visit www.blinn.edu/veterinary-technology.