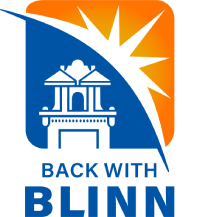 All Blinn College campuses will be open for full operations and face-to-face courses this fall. For additional information, please see our
Back With Blinn
web page.
All policies, guidelines, and procedures in the Blinn College Catalog, Blinn College Board Policies, and the Blinn College Administrative Regulations are applicable to this course.
Notice of any action taken under these protocol and procedures, by Blinn College or its employees, may be delivered by hand, through the U.S. Postal Service, or electronically to the student's BlinnBuc e-mail account. Notice shall be deemed received upon actual receipt, on deposit in the U.S. Mail, or upon entering the information processing system used by Blinn College for Blinn Buc e-mail accounts, whichever first occurs.
Civility Statement
Blinn College holds all members of the college community, which includes students, faculty, and staff, accountable for their actions and words. Therefore, all members should commit themselves to behave in a manner that respects and demonstrates concern for the dignity, rights, and freedoms of others, including respect for the physical and intellectual property of all members of the college community.
Civility Notification Statement. If a student is asked to leave the classroom because of uncivil behavior, the student may not return to that class until he or she arranges a conference with the instructor; it is the student's responsibility to arrange for this conference within two school days of being notified of the suspension from class. This statement reflects step one of three possible steps in the incivility process.  The Incivility Protocol is detailed in the Blinn College Catalog and in Blinn College Board Policy FLB (LOCAL).
---
Attendance Policiy
Class attendance is essential for student success; therefore, students are required to attend all classes promptly and regularly. A record of attendance is maintained from the first day of classes and/or the first day the student's name appears on the roster through final examinations.
Students who accrue one week's worth of absences during the semester will be sent an e-mail through their Buc account requiring them to contact their instructor and immediately schedule a conference to discuss their attendance issues. Students who accumulate two weeks' worth of unexcused absences will be administratively withdrawn from class. There are four forms of excused absences recognized by the institution:
Observance of religious holy days - Students should notify their instructor(s) no later than the 15th day of the semester concerning the specific date(s) for absences for any religious holy day(s);
Representing the College District at an official institutional function;
Dual credit students representing the high school or independent school district at an official institutional function; and
Military service.
Other circumstances may be considered an excused absence at the discretion of the faculty member with appropriate documentation. College District-mandated attendance policy applies to all coursework; including coursework in developmental/ non-credit courses. Failure to attend developmental classes will also result in removal from the course as defined by the College District. (Blinn College Board Policy FC Local).
Course Loads and Schedules (Adding/Dropping Classes)
It is the student's responsibility to officially drop a class he or she is no longer attending. (Blinn College Board Policy ECC Local). Students interested in dropping a course or withdrawing from school may do so by logging into myBLINN and clicking on "add/drop +/-" link, and then selecting the current registration term and "webdrop" from the action drop down menu. The final step is scrolling to the bottom of the page and clicking submit. Students should contact Enrollment Services at 979-830-4800 for assistance with webdrop or to drop due to: severe illness, care for a sick, injured, or needy person, death of a close relative/relation, military duty, military duty of a close relative/relation, or change in work schedule. The last day to drop a class with a Q is set according to the Academic Calendar.
---
Scholastic Integrity
The Scholastic Integrity Policy is located in the Blinn College Catalog, in Blinn College Board Policy FLDB (LOCAL), and the Blinn College Administrative Regulations. A student accused of scholastic dishonesty is entitled to due process as outlined in these documents.
It is the responsibility of students and faculty members to maintain scholastic integrity at the College District by refusing to tolerate any form of scholastic dishonesty, including cheating, plagiarism, or any other act of dishonesty.  If there is compelling evidence that a student is involved in cheating or plagiarism, the instructor will address the infraction. 
---
Students with Disabilities
Non-Discrimination Statement
Blinn College does not discriminate against qualified individuals with disabilities in the recruitment and admission of students, the recruitment and employment of faculty and staff, or the operation of any of its programs and activities, as specified by applicable federal laws and regulations.
For questions about Blinn College's compliance with Section 504 of the Rehabilitation Act of 1973, the Americans with Disabilities Act of 1990 (ADA), and the Americans with Disabilities Act Amendment Act (ADAAA), please contact the Office of Disability Services at (979) 830-4157 for Brenham, Schulenburg, and Sealy campuses and (979) 209-7251 for Bryan campus.
Services for Students with Documented Disabilities
Students with documented disabilities must self-identify and provide current, appropriate documentation of the disability to the Office of Disability Services (ODS) prior to receiving services. Students are encouraged to contact this office as early as possible to initiate services. Direct services to students with disabilities are provided in the following areas:
Assessment of needs and appropriate services
Provision of classroom and testing accommodations
Assistance in orientation and registration procedures
Counseling on disability related issues
Information, education, referrals, and consultation about specific disabilities are available to interested parties on request. For answers to specific questions or to request an information packet, contact the Office of Disability Services on the specific campus you will be attending.
Bryan Campus: (979) 209-7251; Brenham, Sealy, Schulenburg Campuses: (979) 830-4157; Distance Learning students may contact either office.
---
Alternative Retailers
A student of this institution is  not obligated to buy or rent a textbook from a Blinn College affiliated bookstore. The same textbook may also be available from an independent retailer, including an online retailer.
---
Campus Carry
Pursuant to Texas Government Code, Section 411.2031 and Blinn College Policy CHF (Local) (Blinn's CHL Policy), a concealed handgun license holder may carry a concealed handgun, on or about the license holder's person, on College District property or in a College District vehicle, unless prohibited by state or federal law, college policy, or procedure. Concealed handguns may not be carried on the second floor of the Health Sciences Center and all other areas identified in Blinn's CHL Policy. The open carrying of handguns on College District property is prohibited. More information on Blinn's CHL Policy is available at https://www.blinn.edu/campus-carry/.
---
Proctoring Arrangements and Cost
Please click here to read about proctoring arrangements and cost information in the Blinn College Catalog.