Blinn College: A beloved tradition for alumna Wendy Clark and her family
Clark remains friends with her professors more than 20 years after attending Blinn
July 24, 2023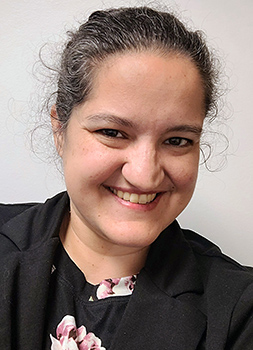 For Wendy Clark, attending Blinn College was not only a transformative educational experience, but also the beginning of a family that now includes three former Buccaneers.
Clark's journey at Blinn began in spring 2004 and provided her with a supportive environment, lasting friendships, and a foundation for personal and academic growth. Now, as her eldest daughter approaches college, Wendy eagerly plans to introduce her to the institution that holds a special place in her heart.
Clark was raised in Sealy and homeschooled from 7th through 12th grade. As an incoming freshman, she was both excited and nervous about returning to a classroom setting. Blinn's welcoming atmosphere proved to be the perfect place for Clark to transition into college life. The Brenham Campus felt like a home away from home, providing a comfortable and supportive environment for her academic pursuits.
"I really wanted to start out at a small school," Clark said. "When I visited I was blown away by how homey the Brenham Campus felt. It just really felt like a good place to start."
Clark not only received an excellent education but also forged meaningful relationships with her instructors. Professors such as Alan Lehmann, Tracey (Somerlatte) Matthies, and Audrey Wick became her friends, and some Blinn professors and staff even attended her wedding.
"I wouldn't have had that one-on-one connection had I been at a larger school," Clark said. "I still keep in touch with some of my professors today. We're friends. We'll go to lunch together, and I started at Blinn over 20 years ago, so the fact that they're still part of my life is incredible."
Clark's academic journey at Blinn was enriched by exceptional professors who made a lasting impact. She particularly enjoyed Dale Carnegey's history courses, characterized by his humorous and engaging teaching style.
"Mr. Carnegey would literally draw stick figures on the board and illustrate his lectures, and it was the most hilarious history class I've ever taken in my life," she recalled.
Wendy graduated in 2008 with an Associate of Arts in English and went on to earn a bachelor's degree in communications from the University of Houston-Victoria. Today, she works as a corporate services manager for Arion, utilizing the skills she cultivated during her time at Blinn – both in the classroom and as a student worker.
"The student worker positions are such a great way to meet people on campus," she said. "Just as Blinn was a great college experience for me, working for Blinn was also a great introduction into the real world. It's funny because I worked for human resources and purchasing and the Vice President for Student Affairs. At this point, I feel like I've come full circle because I'm overseeing some of those same duties for Arion."
Blinn College holds a special place in Clark's heart not only because of her academic journey but also because it was where she met her husband, Ken Clark Jr. Wendy's bonus daughter Savannah recently graduated from Blinn's Vocational Nursing Program, further cementing the family's connection to the institution.
As Wendy and Ken's daughter Kylie approaches her junior year of high school, the idea of attending Blinn College has become a topic of discussion within the family.
"We've talked to her about the merits of attending a community college right out of the gate because it gives you time to really think about your options and complete your basics without the price tag of a larger university," Wendy said. "She has always known that Blinn is part of our family story, and it's a good transition for kids like mine who are attending a smaller school. Texas A&M is also on her radar, so we've talked about how Blinn has articulation agreements with Blinn and hand-in-hand partnerships that didn't exist when I was there 20 years ago. She knows that if she wants to go to A&M, Blinn is a great transition."
Enjoy this article? Share it with one click!