Blinn recognizes 13 Radiologic Technology Program graduates with pinning ceremony
Graduates maintain a high state licensure exam pass rate and 100% employment rate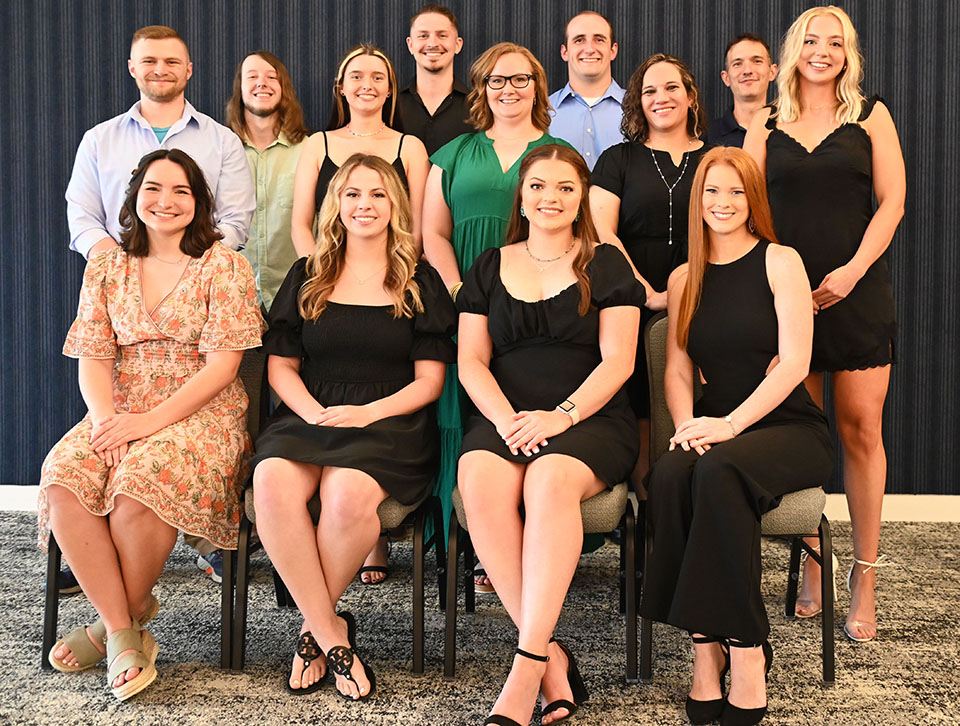 May 11, 2023
Thirteen graduates recently were recognized with a pinning ceremony after completing the Blinn College District's highly ranked Radiologic Technology Program.
"These graduates are the eyes of the hospital and understand their work is vital to providing an accurate diagnosis and optimum patient care," Program Director Tina Kocurek said. "The training they receive in our state-of-the art facility and during their clinical rotations, as well as the commitment of our experienced faculty, ensures they are prepared to make a positive impact on the communities they serve."
Radiologic technologists make up the third-largest group of healthcare professionals in the nation – surpassed in number only by physicians and nurses. Radiologic technologists use specialized medical equipment to create images of patients' bodies to help doctors diagnose and treat diseases and injuries.
According to the U.S. Bureau of Labor Statistics, radiologic technologists earn a median salary of $61,980 per year and employment is projected to grow 6% between 2021 and 2031, creating 17,000 new jobs.
The spring 2023 graduating class includes Ashley Ahlhorn (Paige), Ashley Brade (Lexington), Paige Erigan (Cleveland), Jace Fowler (Bremond), Rachel Gallagher (Sandia), Rachel Garcia (College Station), Jessica Gutierrez (Somerville), Elijah Kirby (College Station), Caleb Sharp (Aquilla), Eliza Smith (Rowlett), Andew Telg (Caldwell), Jason Tesch (College Station), and Victoria Walker (Milano).
"Blinn's Radiologic Technology Program is truly remarkable and so much of the credit goes to our outstanding faculty like Clinical Coordinator Debra Allbritton," said Ahlhorn, who has accepted a position with St. Mark's Hospital in La Grange to work in the X-Ray Department and train to perform computed tomography (CT) scans. "From the classroom to each of my clinical sites, my skills were tested to make sure I didn't just graduate as an adequate radiographer, but an exceptional one. I 1,000% recommend this program to any student who wants to be in the healthcare field but may be unsure of their path. This is a profession where I take what I learn in the classroom and use it out in the real world."
Blinn's two-year Radiologic Technology Program is based at the RELLIS Academic Alliance Complex at Texas A&M-RELLIS in Bryan, where students gain hands-on skills utilizing the facility's 16,000-square-foot simulation laboratories. The nationally accredited program prepares students for careers as entry-level radiologic technologists through extensive training in patient care and safety, anatomy and physiology, image production, equipment operation, radiation protection, and radiographic procedures. The program's curriculum is designed to transfer graduates seamlessly into institutions of higher learning to continue studies beyond an Associate of Applied Science degree in Radiologic Technology.
Upon successful completion of the program, graduates are eligible to apply for state licensure and will be prepared to complete the credentialing examination administered by the American Registry of Radiologic Technologists (ARRT). Program graduates have maintained a 100% pass rate on the ARRT examination and a 100% job placement rate for 29 consecutive years.
For more information regarding the Blinn Radiologic Technology Program and the application process, visit www.blinn.edu/radiologic-technology.