Blinn alumna finds pathway to her dream job through Blinn Surgical Technology Program
Recent graduates maintain a perfect national certification pass rate and employment rate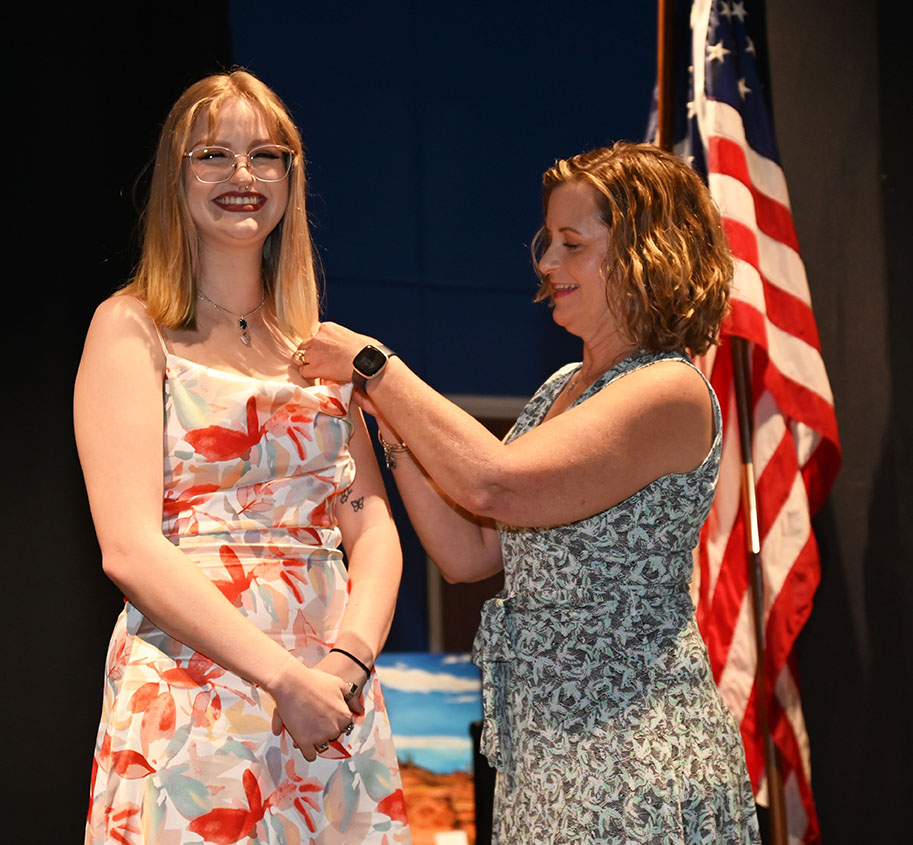 September 19, 2022
Rachel Adams likes to stay active and she needs a job that can keep up. The recent Blinn College District Surgical Technology Program graduate found the perfect fit in her new position as a surgical technologist at WakeMed Health and Hospitals, Raleigh Campus, a Level 1 Trauma Center in Raleigh, N.C.
"I like being on my feet. I need to be hands-on and with surgical technology, you're constantly moving around," Adams said. "You're up, you're participating in something. Every single day, you're walking in and you're getting a new experience. You're going to learn something new and that's what I love about it."
Drawn to the health sciences in high school, the native of Allen, Texas, initially believed this type of career was out of reach because of the extensive schooling most medical positions seemed to require. However, when her mom steered her towards Blinn's two-year Surgical Technology Program, Adams was hooked.
"The program immediately caught my eye," she said. "Most people think you can't be a part of this world unless you go to medical school and that's just not true. I think it's amazing that I get to be a part of this field through a program that took me less time to complete than a bachelor's degree."
Surgical technologists are an integral part of surgical teams, assisting surgeons, anesthesiologists, and registered nurses in providing care to patients in the operating room. Blinn's Surgical Technology Program is based at the RELLIS Academic Complex at Texas A&M-RELLIS , which features state-of-the-art simulation labs, an innovative learning environment, and dedicated faculty mentors.
"The faculty were extremely helpful and just wonderful people. All they want is for you to succeed," Adams said. "I would call and text my instructors all the time. It's not like having a normal professor, they were like our mom and dad."
In addition to their classes, Blinn surgical technology students are prepared to enter the workforce through hands-on clinical training at Baylor Scott and White Medical Center-College Station, CHI St. Joseph Hospital, the CHI St. Joseph Medical Center, The Physicians Centre Hospital, and St. Mark's Medical Center-La Grange. Graduates must complete more than 120 surgical cases across a variety of surgical specialties.
According to the U.S. Bureau of Labor Statistics , demand for surgical technologists is expected to increase 9% between 2020 and 2030, creating 9,500 new jobs during that span. Nationwide, the median wage is $48,530 per year. Texas has the nation's highest demand for surgical technologists.
Graduates from the past two cohorts have posted a 100% pass rate on the National Board of Surgical Technology and Surgical Assisting (NBSTSA) exam to become Certified Surgical Technologists (CSTs). This success on the NBSTA translates into a 100% employment rate for graduates like Adams.
"One of our courses focused on professional readiness," she said. "I ended up having a really solid resume, which I feel helped me get my job. The program doesn't just teach you how to do the job, it teaches you how to do it right."
Surgical technologists often are employed at hospitals but can work in any setting that conducts surgical procedures, including doctor's offices, day surgery facilities, and dental offices. Blinn's Surgical Technology Program also can serve as a launching pad to other healthcare careers.
"The coolest part is you could really go anywhere from here," Adams said. "There are lots and lots of doors. I can go to school for another year and get my first assist certification and I'd be able to suture incisions. I could also become a physician's assistant or even go to med school. I know several surgeons who started as CSTs."
The application cycle for spring 2023 admission to Blinn's Surgical Technology Program is open through Nov. 30, 2022. A series of Zoom information sessions are scheduled throughout the fall for those interested in learning more about the program and the admissions process.
For more information, visit www.blinn.edu/surgical-technology or contact Victoria Parnell at victoria.parnell@blinn.edu or 979-694-2408.