Retired Marine pursues dream by earning his Associate of Science in Business at Blinn
Michael Rocha, 46, will speak at Blinn's 145th commencement ceremony in Brenham on Thursday, May 12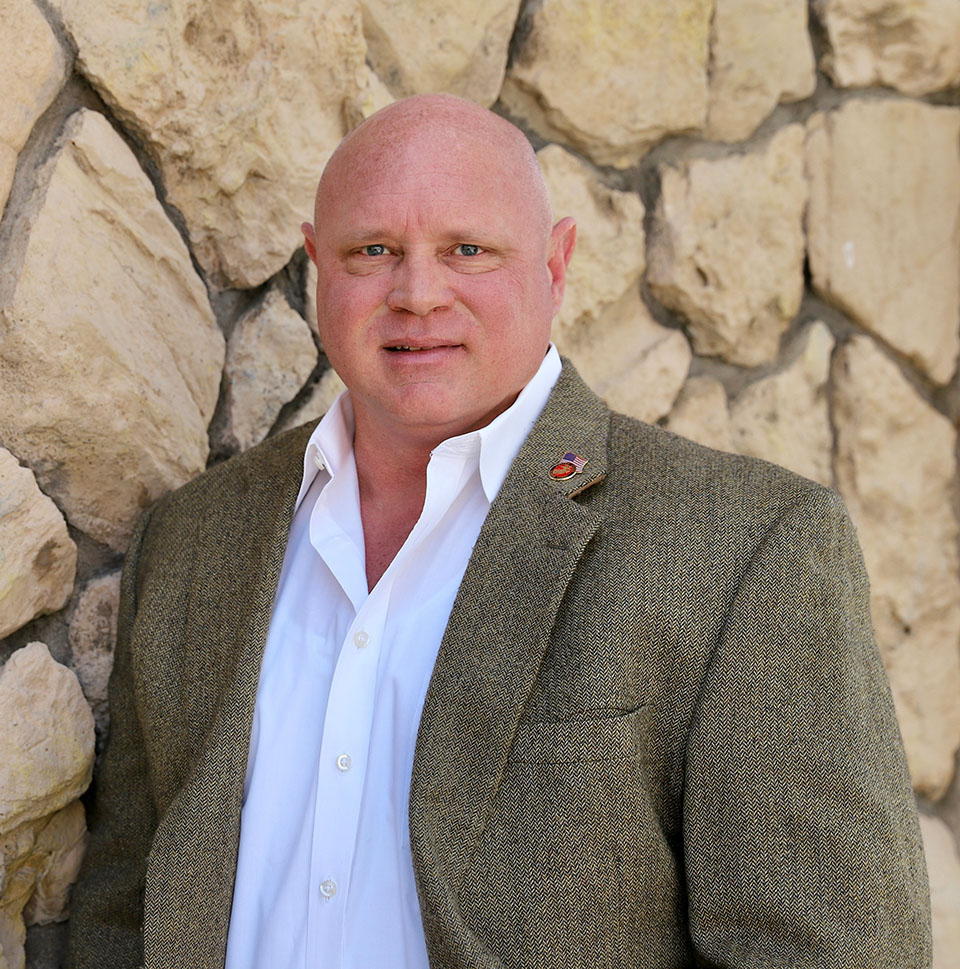 May 9, 2022
Retired U.S. Marine Michael Rocha lives by a simple credo—it's never too late to follow your dream.
At 46, Rocha will take the stage at the Blinn College District's 145 th commencement ceremony in Brenham to address his classmates and receive his Associate of Science (AS) degree in Business before transferring to Texas A&M University's Mays Business School in August to pursue his Bachelor of Business Administration in Marketing.
"We all start to think as we get older that dreams are not going to happen and that's just not true, in my opinion. It's a matter of mindset," Rocha said. "If we set a goal, and we focus on that goal, and we never lose sight of that goal, it may be put on hold for a while, but we can always come back to it. I remember the very first time I ever set foot on the Texas A&M campus at the beginning of my career. I fell in love and I told myself one day I will get a degree."
Rocha's path to Blinn and Texas A&M was far from a straight line. Growing up in a household that did not stress the value of education, Rocha kept his high school GPA just high enough to qualify for the baseball and wrestling teams and graduate. After finishing high school without a clear direction or purpose, Rocha turned down several baseball scholarships to enlist in the U.S. Marine Corps.
"I was not ready for college," Rocha said. "I would have failed out, but going into the Marine Corps was probably the best decision I ever made. It gave me focus, it gave me direction, it made me grow up."
Rocha excelled as a Marine, graduating from boot camp as his platoon's guide and honor man. However, when an injury resulted in his medical retirement from the Marines in 1998, Rocha's life veered in a new direction yet again.
"I didn't know what I was going to do. I had planned on making the Marines my career," Rocha said. "I was devastated, but like all Marines are taught, I adapted."
Rocha settled in north Texas, where he earned his AS in Criminal Justice, completed the Law Enforcement Academy, and received his Texas Peace Officer License and Certificate. He worked as a sheriff's deputy on nights and weekends after venturing into advertising/marketing for the GTE Corporation, which later became Verizon. Motivated by his desire to help people, he became a full-time deputy in 2003, until he was introduced to the world of physician and nurse recruiting by a former Verizon colleague.
Even though he did not have a bachelor's degree, Rocha embarked on a fulfilling career holding executive and leadership positions at some of the country's largest firms, then established his own physician recruitment firm, American HealthCare Connect, in 2010.
Despite his success, Rocha could not shake the feeling that having a business degree would help him accomplish more, an idea he kept on the backburner until the abrupt loss of his parents, both in their 60s, within five months of each other in 2018.
"As life goes on, you sort of lose track of your goals, but when my parents both passed, it opened my eyes to the fact that we're not invincible," he said. "We may not be here tomorrow and if I don't take this opportunity now, I may never do it."
With the support of his wife and family, Rocha decided it was time to follow his dream and he knew Blinn could help him get there.
"I've never been one to take the easy route. I knew it was going to be a challenge, but because of my end goal, I chose Blinn," Rocha said. "If your end goal is to do your best, be your best, have a challenge, and learn, not just pass, but learn, Blinn is the way to go."
In August 2020 at 45, Rocha became a student again after a 25-year hiatus. Although, completing his course work entirely online during a pandemic brought many challenges, Rocha faced them head-on, consumed by an excitement to learn and a drive to achieve his long-delayed goals.
"It was a shock, but I'm always trying to learn and teach myself. Until you do it yourself, you don't realize the focus and dedication you have to have," Rocha said. "I've had some great professors and that to me helps just as much as my advisor, Rebecca Reyes, who was exceptional. I've had a great experience with Blinn, but I made the most of it by taking the reins for my own future and progress."
Through dedication and focus, Rocha excelled academically and will graduate Blinn with honors and an infectious sense of joy about moving on to his next challenge as one of only 100 transfer students accepted to the Mays Business School from 2,200 applicants.
"My goal is to make the utmost of this opportunity," Rocha said. "It's humbling, I'm honored. I could not pass this up. It's a one-time deal for me, especially at my age."
These accomplishments and Rocha's unique path made him the perfect candidate to speak at the College's spring commencement ceremony.
"Rocha's road to Blinn is truly inspirational and we thought his story would serve as a great message to our graduating students and guests," Blinn College Graduation Manager Kristi Reddoch said. "His path really shows our graduates that with dedication and passion, it's never too late to pursue your dreams, no matter the obstacles. We're just so proud that we get to support students like Rocha and help them succeed and accomplish their goals."
Although excited to move on to the next phase of his dream at a campus he will share with his youngest son, who will be a Texas A&M senior, Rocha is hungry for more. He plans to pursue a combined Master's in Business Administration and Healthcare Administration and follow his passion to help others through the medical equipment and device sales field.
"I've always had that mentality of wanting to help people," he said. "That's what drove me to be a Marine, a police office, and what led me into physician recruiting. I want to continue that by being in the medical device field so that way I can help people to be able to survive or walk."
He also hopes to give back through mentorship and one-day setting up scholarship funds for students in a similar situation.
"I want to create scholarship programs that will assist people, like myself, who decide to go back to school later in life. I don't want anyone to think there are no resources out there financially."
Blinn's commencement ceremony is at 6 p.m. Thursday, May 12, at Brenham High School. The event will be streamed live on the Blinn YouTube channel at www.youtube.com/Blinn1883 .
Registration is open for Blinn's May minimester, which begins Monday, May 16, and the summer and fall terms. Visit www.blinn.edu/admissions to learn more.