Blinn's newest residence hall will feature larger rooms, group study pods, and even a community kitchen
Students can apply today for summer and fall housing on the Brenham Campus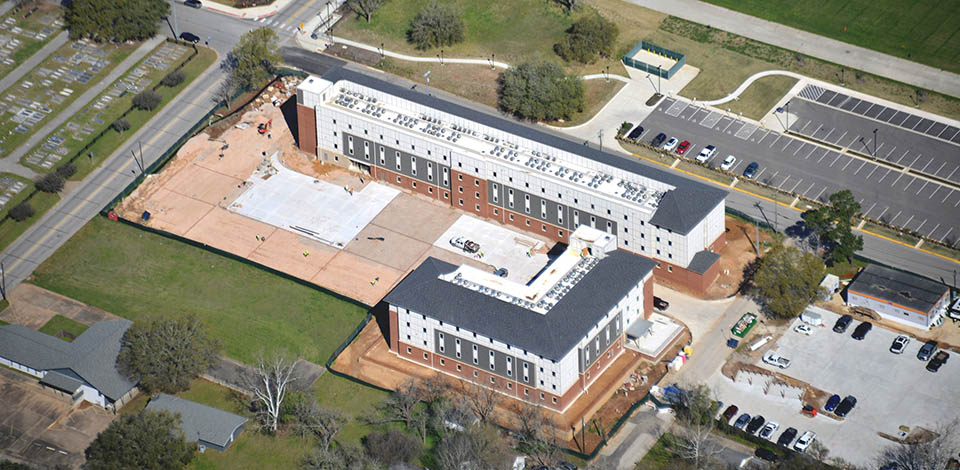 May 16, 2022
Blinn College-Brenham Campus students will have a new housing option available when they arrive on campus for the fall semester.
This August, Blinn will open Prairie Lea Hall, a two-building student housing complex that will house approximately 500 male and female students. Blinn already offers more on-campus housing than any other community college, and even with the planned demolition of three older residence halls this summer, Blinn will have space for approximately 2,000 on-campus residents this fall.
"The opportunity to live on campus, meet new friends, and enjoy a rich campus experience that includes a variety of student activities really makes Blinn unique among community colleges," said Dr. Becky McBride, Vice Chancellor for Student Services. "We look forward to making that experience even better this fall with the addition of Prairie Lea Hall."
Each suite in Prairie Lea Hall will include two bedrooms, with two students per bedroom. Suites include ethernet and wi-fi internet access, a mini fridge, and a microwave. Rooms come with twin extra long beds, desks, chairs, and drawer chests.
Each floor includes free laundry machines as well as community spaces where students can gather to play games, lounge, and watch TV. At the corner of each floor is a study room complete with monitors for sharing digital content with a study group.
Consisting of two buildings – Buildings A and B – Prairie Lea Hall features several unique attributes. Building A includes a communal kitchen with a full-size refrigerator, oven, and stove, and plenty of counter space to allow students to cook their own meals when the mood strikes them.
In addition to the indoor gathering spaces for students, Building B has a large patio space designed specifically to accommodate outdoor events.
"We think students are really going to enjoy some of the unique features Prairie Lea Hall offers," said Myron Dippel, Director of Residence Hall Operations. "The students' rooms and the bathrooms are larger than our traditional residence halls, and we have some larger common areas and gaming areas where students can gather, relax, and enjoy living in a college community."
Prairie Lea Hall is $3,250 for the fall and spring semesters, and residence hall prices on campus can be as affordable as $1,920 per semester. Pro-rated prices are available for the summer terms.
Applications are now open. To learn more, visit www.blinn.edu/housing.
Related Links
Archives
GET CONNECTED