Blinn College District FutureWorks Academy celebrates new class of graduates
Leadership program looks to enhance personal growth, develop ways to help students, faculty, and staff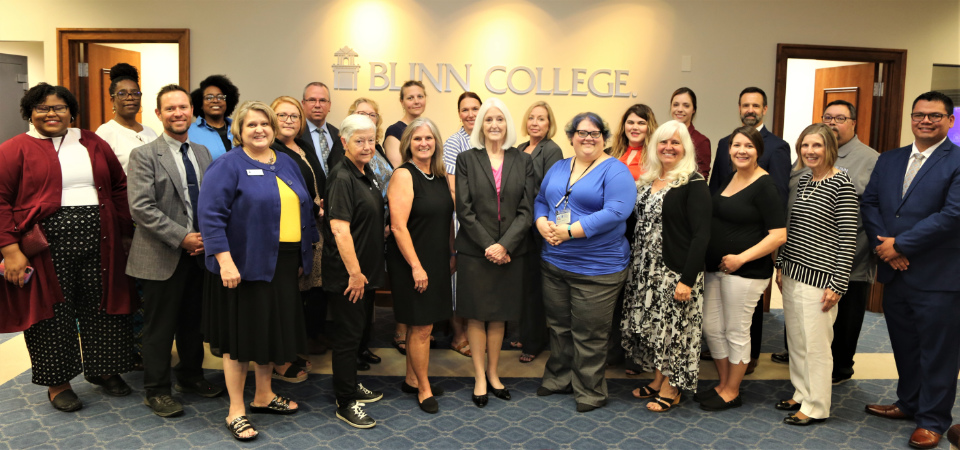 May 13, 2022
Twenty-one Blinn College District administrators, faculty, and staff have completed the College's latest FutureWorks Academy.
This was the sixth FutureWorks Academy graduating class, a leadership development program that focuses on identifying individual strengths, teambuilding, creativity, and improving communication. Graduation ceremonies were held recently on the Brenham Campus.
Participants, who meet once a month for two semesters, form teams to develop projects for possible implementation. Class VI members proposed First Mates, a peer mentoring program, and Professional Learning Communities, faculty- and staff-led learning groups.
First Mates proposes utilizing current Blinn students to serve as mentors to other students who are at risk of failing or dropping out. Professional Learning Communities is a collaboration with Blinn's Center for Teaching and Learning, providing workshops, one-on-one consulting, small faculty and staff group mentoring, and informational webinars.
Graduates were Jan Childress, Linda Gray, Bennie Graves, Jasmine Jennings, Margaret Joseph, Wimberley Krueger, Dave Larson, Melissa Meek, Miguel Padron, Elisbeth Page, De Parker, Chuck Parsons, Amanda Phipps, Clay Redding, Jessica Salazar, Kristen Saltsman, Vandana Sarin, Rose Springfield, Phylicia Taylor, Rachel Valentine, and Amy Winningham.
Members of Blinn's Executive Council were among those who made presentations to participants during the 2021-22 FutureWorks Academy.
Dr. Joyce Langenegger, Executive Director for Academic Success at Blinn, said the academy is a way to foster personal growth and develop programs to benefit students.
"It's a great opportunity for Blinn to get people from across the district together," Langenegger said. "We get the benefit of that synergy from across the district."
Meek, who has been a facilitator for past FutureWorks Academy sessions, said she asked to go through the program as one of its "students."
"This program is really important. Being a part of this gave me an opportunity to interact with campuses across the district," said Meek, who teaches communications at Blinn-Bryan. "I think that's something we need as a Blinn family – to have an opportunity to hear other ideas and challenges from faculty and staff." For more information, visit www.blinn.edu/futureworks.