A family bound by Blinn gets a special moment during the College's 145th commencement ceremony
Dean Brandon Franke presented his son, Dylan, with his graduation scroll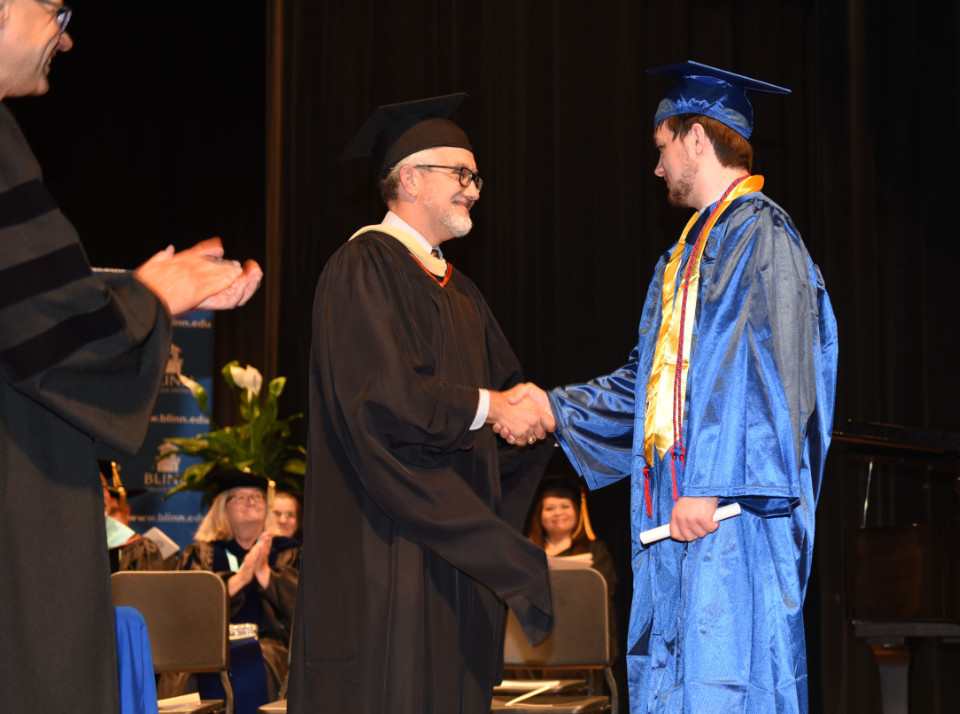 May 20, 2022
For Blinn College District alumnus and Division of Social Sciences Dean Brandon Franke, commencement always encapsulates a sense of pride and accomplishment. Last week's spring 2022 ceremony, however, took on an even more personal connection for Franke as he took the stage to celebrate his son Dylan's achievements by presenting him with his Associate of Arts degree.
"It was very emotional," Franke said. "My facial muscles were twitching so bad. I was just trying not to cry because I was so proud of him."
As the two men clasped hands, Dylan felt overwhelmed and surprised by the meaningful moment.
"I'm pretty sure I was grinning like an idiot the whole time," he said. "In that moment, it kind of felt like he was saying, 'Congratulations, you've found what you want to do, I'm so proud of you.' It was a wonderful thing."
For members of Blinn's administrative staff who helped facilitate the surprise, like Dr. Becky McBride, Vice Chancellor for Student Services, the gesture reflected the supportive and close environment that personifies Blinn.
"The Blinn community is a family, so knowing we could make this special event even more personal for one of our own was truly a privilege," McBride said. "Dean Franke and his family have such a connection to the College, so when he asked about sharing this moment with Dylan, everyone in the administration went above and beyond to make it happen."
This commencement celebration was the culmination of a rich Franke family connection to Blinn that began with Franke's father Joel, who came to the College in 1971 as a government instructor and retired as Division Chair of the Social Sciences Department in 2003. Out of Franke's five children, two others, Hannah and Jacob, also have taken courses at Blinn.
For Dylan, who remembers watching his father teach before progressing to his current role as dean, Blinn feels like home.
"My father would take me to Blinn as a kid and I would sit in his class whenever he needed to keep an eye on me, or I would be on campus for different events," he said.
This sense of support and family was instrumental in helping Dylan find his calling. Like many students, Dylan was unsure of what he wanted to study when he arrived at Blinn. After initially pursuing engineering, he was drawn to psychology, becoming an integral member of Blinn's Psychology Club and serving as the organization's representative in student government.
"I want to be able to help others the same way I was helped," said Dylan. "My own experiences made me realize, maybe all I need to do is be there."
Dylan plans to follow in his father and grandfather's footsteps by transferring to their alma mater, Sam Houston State University, to pursue a bachelor's degree in psychology followed by a master's degree in clinical psychology. He credits Blinn with helping him chart his path.
"I have had a wonderful time with my teachers. The professors were exceptionally supportive," Dylan said. "Because of the small class sizes, I really got to know all of my teachers and have good conversations with them outside of class and sit down and ask for all the help I needed."
Registration is now open for Blinn's summer and fall terms. For more information, visit www.blinn.edu .