$500,000 pledge to Blinn College STEI health sciences fulfilled
Gift made by Sally Blackie-Sengel, BetsWest Foundation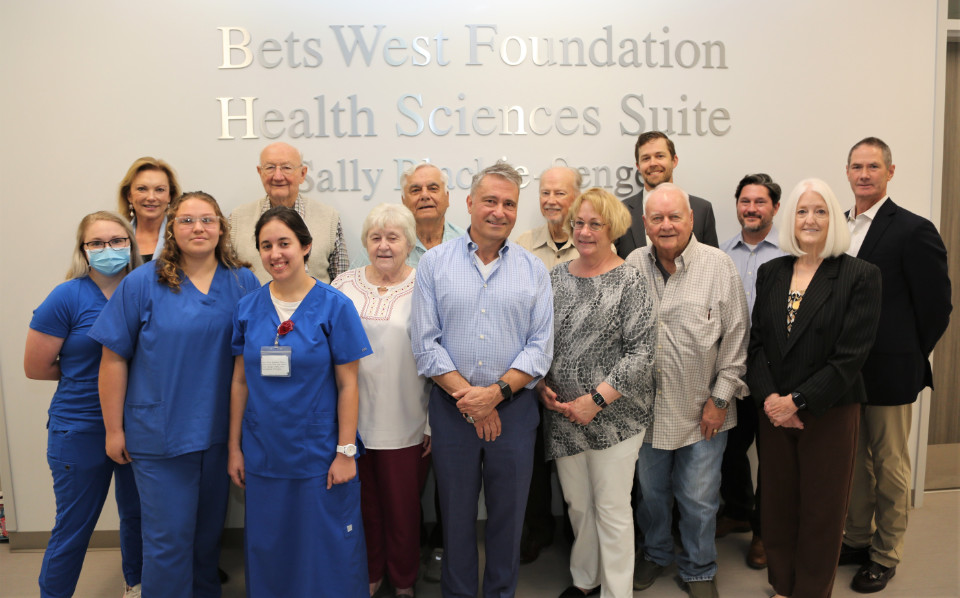 May 19, 2022
Sally Blackie-Sengel knows what students in the Blinn College Vocational Nursing Program are going through. She's been there herself.
Blackie-Sengel, a former nursing school student at Blinn, has fulfilled a $500,000 pledge in support of the health sciences portion of the Brenham Campus Science, Technology, Engineering, and Innovation (STEI) Building that opened in the fall 2021 semester. The gift was made through the BetsWest Foundation.
Presentation of the second half of the gift was marked with a recent ceremony at the STEI Building.
"I am blessed to have been a student at Blinn College," Blackie-Sengel said. "It was here for me when I needed nursing school. It was perfect for me then, and these students are perfect examples of what is good in our world. I'm extremely happy to be able to do this. It's very meaningful to me."
The nursing classroom and simulation and skills laboratories on the second floor of the STEI Building were named in honor of the BetsWest Foundation and Blackie-Sengel. It includes a nursing skills lab where students get hands-on experience in 10 simulation bays, along with a nurses' station and conference room.
The simulation laboratories include three high-fidelity simulation rooms where Blinn faculty can use computerized simulators to give students real-to-life training.
"Sally Blackie-Sengel's extraordinary support of the Vocational Nursing Program will make a tremendous impact in the lives of our students as they become caring, knowledgeable healthcare professionals," said Dr. Mary Hensley, Chancellor of the Blinn College District.
Michelle Trubenstein, Dean of Health Sciences, said the donation has helped Blinn provide cutting-edge training for vocational nursing students.
"This donation has helped provide a state-of-the-art simulation facility in which our faculty are able to provide the education and training which nursing students need to develop and master the skills required to safely care for their patients," she said. "Her contribution has impacted not only the lives of our faculty and students, but those who may need healthcare in the future."
Sam Sommer, Chair of the Blinn College Foundation Board of Directors, said, "Students going through Blinn's Vocational Nursing Program can use equipment and programs that simulate real-life medical conditions, making them some of the best-trained nurses anywhere. All that technology is expensive, and the generous gift from Sally and the BetsWest Foundation makes much of that training possible. It really is a gift that will impact not only the students, but healthcare throughout the area."
Blinn's Vocational Nursing Program is offered online and in the STEI Building. It includes classroom, laboratory, and clinical training. Clinical rotations are held at hospitals and other healthcare facilities in the area.
According to the U.S. Bureau of Labor Statistics , the annual median pay for vocational nurses is $48,070 with a 9% employment increase projected between 2020 and 2030.