Blinn College-Brenham Theatre Arts Program to present 'The Day Before Christmas' Dec. 1-4
Jack Frost tries to stop Yule festivities in holiday musical at the O'Donnell Performing Arts Center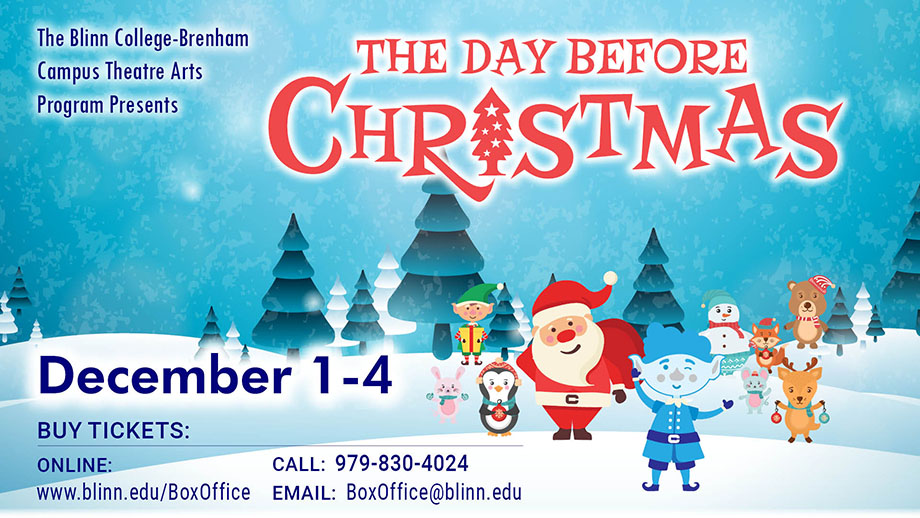 November 26, 2022
Santa Claus and a trickster Jack Frost combine for musical holiday merry-making in the Blinn College-Brenham Campus Theatre Arts Program's upcoming production of "The Day Before Christmas."
Performances will be held at 7 p.m. Thursday and Friday, Dec. 1 and 2, and at 2 p.m. Saturday and Sunday, Dec. 3 and 4, at the Dr. W.W. O'Donnell Performing Arts Center. Tickets are $10 for adults and available at www.blinn.edu/boxoffice.
Theatre Arts Instructor Jennifer Patrick will direct the play, with musical direction by Instrumental Music Professor Jill Stewart.
Patrick called "The Day Before Christmas" a musical extravaganza for the entire family.
"This show is our season's faculty showcase, featuring Theatre Arts Professor Brad Nies as Jack Frost, Technical Theatre Arts Professor Kevin Patrick as Santa Claus, and Dean of Arts, Kinesiology, and Agriculture Debbi Vavra as Mrs. Claus," Jennifer Patrick said.
"We also have special guests from the community taking part in this production, including the Brenham Broadway Kids from the Brenham Children's Chorus as Santa's elves and members from Center Stage Dance Studio as tap-dancing reindeer and ballet snowflakes. I wanted to do a show that would bring the members of our theatre company together with community members, especially young performers. We wanted to give them a taste of what it's like to be in a Blinn production."
Jennifer Patrick said the play features all your favorite Christmas characters and includes a heartwarming message for all of us to hear this holiday season.
"Bring your entire family to come see this show. You don't want to miss it," she said.
Blinn student cast and crew members are Luke Parker, Felix the Elf; Christopher Westerlund, Winnie the Elf and Polar Bear; Jaylon Kelley, Myron the Elf and Sparky; Bianca O'Neal, Hazel the Elf and Dolly; Y'Lila Willis, Sally the Elf and a member of the toy ensemble; Garrison Rutledge, Dasher and a member of the animal ensemble; Benedite Trecy, Blitzen and Tommy; Cedric Benard, Dancer; Samantha Nolen, Comet and a toy ensemble member; Lilly Marrs, Penguin; Steve Torres, Bunny; Jayden Peavy, Squirrel; Alyssa Hale, Suzy Snowflake; Josiah Fernandez, stage manager; and Maygen Meadows, assistant stage manager.
Following "The Day Before Christmas," Blinn will stage two more productions during the 2022-23 season:
"Vinegar Tom," 7 p.m. Feb. 16 and 17 and 2 p.m. Feb. 18 and 19;
and "Ladies at the Alamo," 7 p.m. April 27-28 and 2 p.m. April 29 and 30.
In addition to the plays, the programs improvisation troupe "Slaphappy" will perform April 4 at 7 p.m. at the O'Donnell Center.
Blinn's Theatre Arts Program cultivates a quality educational foundation of study, application, and experience through a wide range of performance, technical, and production studies. Its Associate of Arts degree plan integrates artistic, technical, and academic disciplines of theatre from the classroom to the stage. Students have an opportunity to audition for a variety of performances related to drama and theatre, and are prepared to transfer to four-year colleges and universities.
Related Links
Archives
GET CONNECTED