Blinn-Bryan Theatre Troupe give Dickens classic a twist this holiday season
Full-length performances run Nov. 30-Dec. 1 at the Blinn-Bryan Student Center with abridged community performances at St. Andrew's Church in downtown Bryan on Dec. 2 and College Station's Stephen C. Beachy Central Park on Dec. 3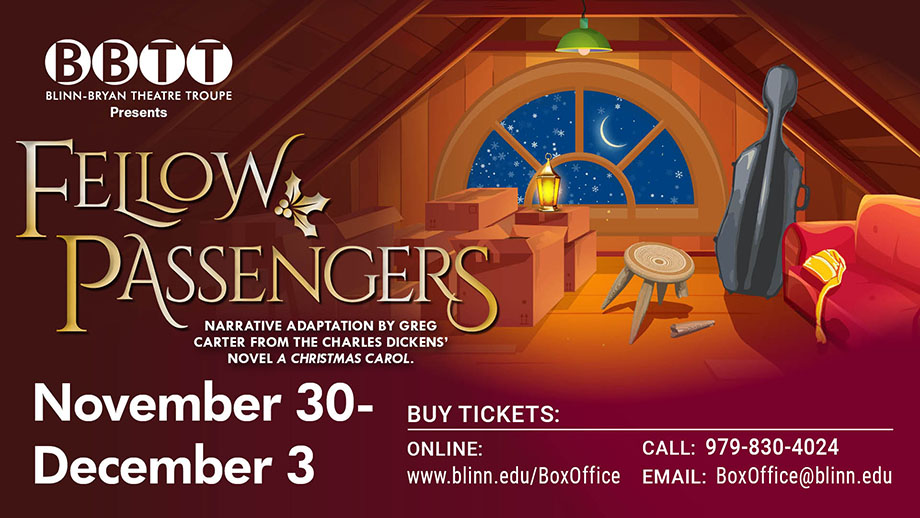 November 26, 2022
The Blinn-Bryan Theatre Troupe (BBTT) embraces the holiday spirit with its upcoming production of Greg Carter's "Fellow Passengers," an inventive adaptation of Charles Dickens' classic "A Christmas Carol."
"I didn't want to do a traditional version of 'A Christmas Carol,'" Blinn-Bryan Theatre Professor Greg Wise said. "I think this play is timeless because it has something to offer every season, and especially this season, as it's a time to remind us of what really matters."
Originally staged by Seattle's Strawberry Theatre Workshop in 2004, "Fellow Passengers" features three actors who bring Dicken's magical words to life through the inventive use of props and the ability to quickly jump from role to role. Each of the three actors take turns playing the narrator and the unforgettable Christmas-loathing Ebenezer Scrooge.
Theatre arts major Ashley Wienecke, who mastered multiple accents for her characters, thinks the audience will love the comedic and fast-paced nature of the show.
"I think what makes this production in particular so different is that we're on stage the entire time and we don't have complex costumes or makeup to make us different," Wienecke said. "You're traveling through Scrooge's life through all the eyes of these different characters so I think people will absolutely be surprised by this."
Playing Scrooge, the Ghost of Christmas Present, and Bob Cratchit , Fabián Santana is excited about the show's unique approach and hopeful message.
"People should come see this play because it's a new take on such a well-told story about a person who didn't like Christmas at all, but grew to love it because of his past, present, and future mistakes," Santana said.
In addition to Santana and Wienecke, the cast includes Caleb Price, who plays Scrooge and Fezziwig, among others.
Production team members are Roisin Alexis, stage manager; Haeli Davis, assistant stage manager and props; Mykael Montiel, light; Michael Colonica, sound; and Meagan Townsend, costumes.
Full-length performances run at the Blinn-Bryan Student Center (Building F, map ) Wednesday and Thursday, Nov. 30-Dec. 1. The BBTT will bring excerpts of the play to the steps of St. Andrew's Episcopal Church during downtown Bryan's First Friday, Dec. 2, and Stephen C. Beachy Central Park's Christmas in the Park, Saturday, Dec. 3. All performances take place at 6 p.m. and tickets are available at www.blinn.edu/boxoffice.
The show is suitable for all ages.
As part of the BBTT's outreach, the Troupe is partnering with the Brazos Church Pantry for a food drive. Audience members are encouraged to donate a one-pound bag of pasta or rice when they attend a performance. The BBTT and the Bryan-College Station Public Library System also will give away books to audience members of all ages to encourage reading.
"We want to do these drives to encourage everyone to think beyond themselves, but also of the needs in their own community," Wise said. "Our goal is to raise awareness that theatre is not just something for ourselves. It can be a meaningful mechanism to engage and unite the community."
The Troupe will continue its season in the spring with Anne Baker's "Circle Mirror Transformation" Feb. 23-26 and Eugene Ionesco's "Rhinoceros" April 20-22 and April 27-29.
To learn more about the BBTT's season, contact Wise at greg.wise@blinn.edu.
For more information about Blinn's Theatre Arts Program, visit www.blinn.edu/theatre.
Related Links
Archives
GET CONNECTED