'The teachers are the best that I have had in my entire life'
Blinn Adult Education and Literacy Program offers life-changing educational services
May 31, 2022
For students in the Blinn College District Adult Education and Literacy (AEL) Program, class often means more than an opportunity to advance their careers. It also provides an opportunity to connect with their community.
"When I first arrived here (in the United States), I was very scared to speak in English," said Amanda Rodrigues, who is taking English as a second language (ESL) classes through Blinn's AEL Program. "I was thinking I wasn't able to speak in English and I was afraid to do things by myself here in this country. I was afraid to do things like going to the market and talking on the phone with natives, and the program has helped me a lot with that."
Funded by the Brazos Valley Council of Governments and offered in partnership with the Texas Workforce Commission and nonprofit agencies, Blinn's AEL Program offers a variety of services in Brazos, Burleson, Grimes, Leon, Robertson, and Washington counties, including:
ESL courses;
high school equivalency and GED preparation;
integrated education and training, with hands-on career training in certified nurse aide, fundamentals of construction, and business and customer service;
digital literacy courses that cover computer skills, web conference calls, email, word processing programs, spreadsheets, and slide presentations;
and Test of English as a Foreign Language (TOEFL) test preparation.
Through these services, Blinn helps adult learners transition to postsecondary education, training, and/or employment.
For Rodrigues, whose husband is pursuing his master's degree, Blinn's AEL program will allow her to return to the Brazilian Air Force with the English-language skills she needs to advance her career.
"I always wanted to apply and to volunteer for humanitarian missions and for peace operations, but for that I need to be fluent in English. Blinn is helping a lot with that," she said. "The teachers are the best that I have had in my entire life. I can see that they really care about us. They are always ready to help us in anything so I am very grateful for this program and I can see that I am improving a lot here."
For Lesslie Medina, who was born in Mexico, Blinn's AEL courses offer a gateway to a better life. She did not know any English when she arrived in the United States.
"Unfortunately, when I went to school, I was placed in special ed due to a physical disability," Medina said. "As you can see, I was born with cerebral palsy. Unfortunately, I wasn't given the opportunity to have a successful life in the community, and so this is why I enrolled in Blinn College adult education. I believe that anybody with a disability has the opportunity to dream big and I believe that my mission on this earth is to set a big example for others and for anybody in the community."
Students can attend classes in-person at the Post Office Center in Bryan or remotely via Zoom videoconferencing software. Scholarships and GED vouchers are available to eligible students and daytime and evening classes are available.
For more information, visit www.blinn.edu/adult-education or call 979-209-7300.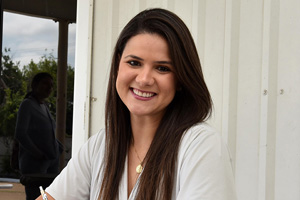 Amanda Rodrigues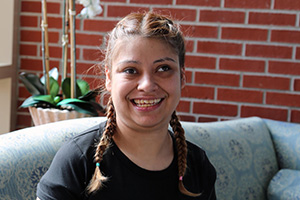 Lesslie Medina