Blinn College District, the RELLIS Academic Alliance, and Workforce Solutions Brazos Valley hosting truck driving career fair on May 21
Regional and statewide employment opportunities abound for heavy and tractor-trailer truck drivers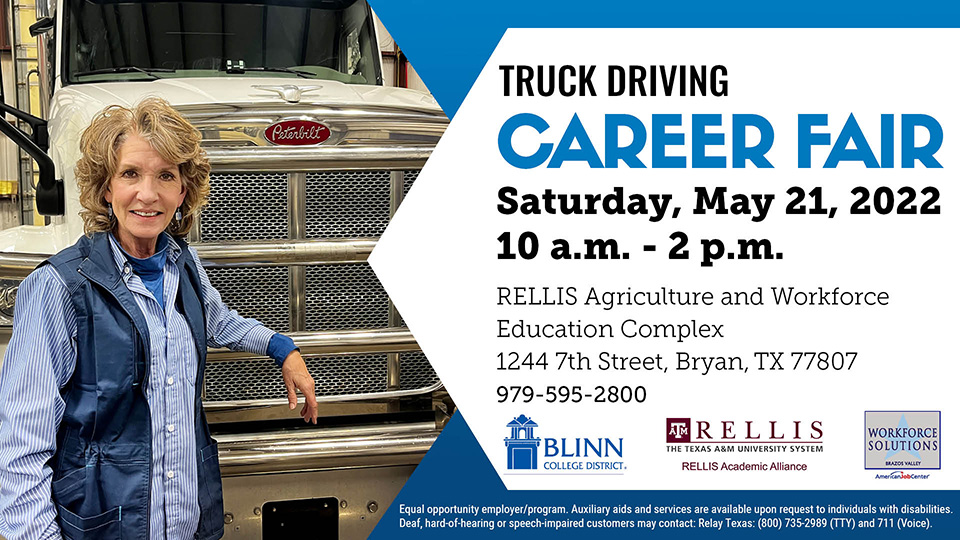 May 16, 2022
The Blinn College District, RELLIS Academic Alliance, and Workforce Solutions Brazos Valley will host a truck driving career fair Saturday, May 21, at the Agriculture and Workforce Education Complex on the RELLIS Campus.
The career fair will run from 10 a.m. until 2 p.m. and will feature trucking companies and transportation employers from across the region. Truck drivers are in high demand across the nation, and job seekers can interview with trucking companies at the career fair and register for training through Blinn's CDL Truck Driving Program . Trucks and a driving simulator will be on hand to allow future drivers to get a feel for the equipment and profession. A barbecue lunch also will be provided.
"Some of the best commercial driving jobs in the nation are anchored in the Brazos Valley, namely agriculture and infrastructure development, which almost always offer home-every-day roles," said Western Dairy Transport CEO Dave Shelton. "The demand for commercial vehicle operators in the Brazos Valley is nearly inelastic and the future for a highly trained workforce to serve the growing needs of our region in commercial transportation surpasses that of all professional trades put together."
Blinn partners with the Reveille Commercial-Driver Training Academy (RCTA) to offer its CDL Truck Driving Program. The program includes classroom instruction, simulation, and experience driving on public roads and highways. Other training includes map reading, managing logbooks and cargo documentation, dispatch procedures, emergency responsibilities, and regulations of transportation agencies.
In addition, students study road safety guidelines and specific laws applicable to professional drivers. At the conclusion of the program, students complete testing to earn their CDL.
"Truck drivers are on the high-demand, high-wage occupational list for the Brazos Valley and across the state of Texas," said Karla Flanagan, Dean of the Division of Technical and Community Education "Because of their invaluable service and this increased demand for skilled drivers, most of our graduates complete our program with jobs already lined up."
Blinn's six-week, focused CDL Truck Driving Program is $5,500. Students may be eligible for scholarships and sponsorships to support their course work. Enrollment is available for the next class, which begins Monday, June 13. For more information, visit www.blinn.edu/truck-driving or email truck-driving@blinn.edu.
For more information regarding the truck driving career fair and Workforce services, contact Workforce Solutions Brazos Valley at 979-595-2800. This is an equal opportunity employer/program. Auxiliary aids and services are available upon request to individuals with disabilities. Deaf, hard-of-hearing, and speech-impaired customers may contact Relay Teas at 800-735-2989 (TTY) and 711 (voice).