Registration open for Blinn Health Sciences Summer Camp at the RELLIS Campus
Camp introduces 7th and 8th graders to a variety of in-demand health science career options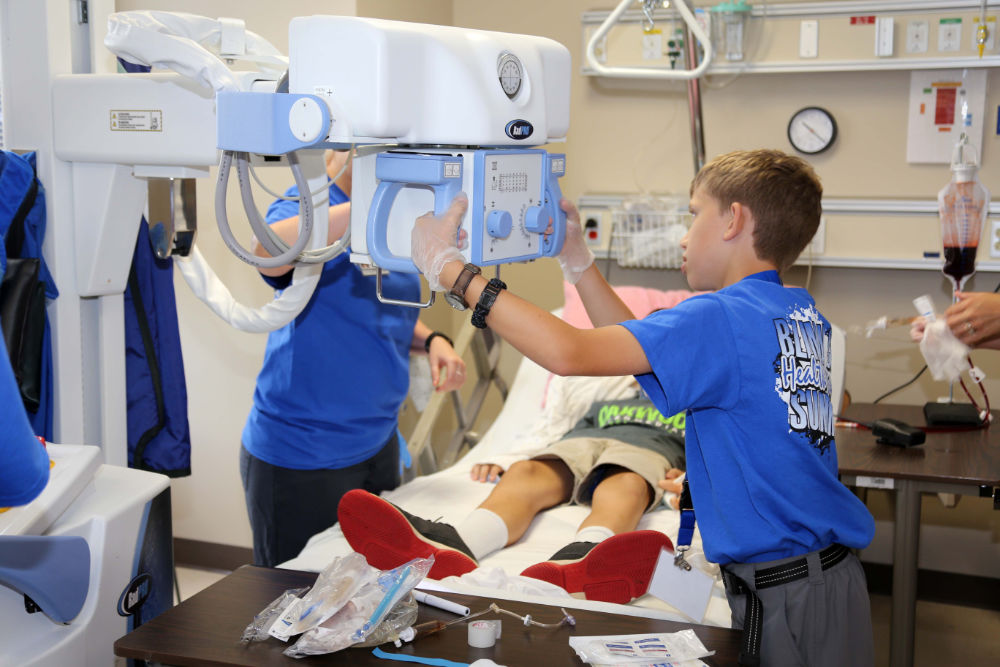 April 28, 2022
Local seventh and eighth graders are invited to explore science and technology through hands-on activities at the Blinn College District's Health Sciences Summer Camp.
Offered at the RELLIS Campus, this three-day camp introduces participants to high-demand careers in various fields of the health sciences. Students and faculty from Blinn's Associate Degree Nursing , Emergency Medical Services , Fire Science , Physical Therapist Assistant , Radiologic Technology , Surgical Technology , and Veterinary Technology programs will demonstrate the basics of each profession, from the equipment they use to the techniques necessary to ensure quality, compassionate patient care.
"We are excited to welcome campers and give them the opportunity to explore healthcare-related fields as they start thinking about their careers," said Sami Rahman, Director of Simulation. "Our state-of-the-art facilities provide campers a true taste of what it's like to work at a hospital or in emergency situations. Our faculty and health science students also really love the opportunity to serve as mentors and work with the community."
The camp will be held from 8 a.m. to 4 p.m. Tuesday through Thursday, June 14-16, at the RELLIS Academic Alliance Complex on the RELLIS Campus in Bryan. This facility includes 16,000 square feet of space dedicated to clinical simulation laboratories featuring the latest technologies.
Campers will participate in a variety of hands-on activities, including blood pressure testing, x-ray imaging, first aid/CPR simulations, fire truck and working ambulance tours, and scenarios involving Blinn's high-fidelity mannequins. On the final day of the camp, participants will work in teams to conduct a medical simulation and perform care with standardized patients as technicians representing each profession.
The camp is $75 per participant, which includes lunch and snacks each day and a T-shirt.
Interested campers are asked to complete an application and obtain a brief recommendation letter from their current science teacher. For more information or to request an application, email sami.rahman@blinn.edu .
Blinn's Division of Health Sciences offers Associate Degree Nursing, Dental Hygiene, Emergency Medical Services, Fire Science, Health Information Technology, Physical Therapist Assistant, Radiologic Technology, Surgical Technology, and Vocational Nursing programs designed to place graduates on the fast track to rewarding healthcare careers. For more information, visit www.blinn.edu/health-sciences .
Related Links
Archives
GET CONNECTED