Agricultural mechanics show returning to the Blinn-Brenham Campus
Hundreds of 4-H, FFA members will compete in Wednesday, April 27 contest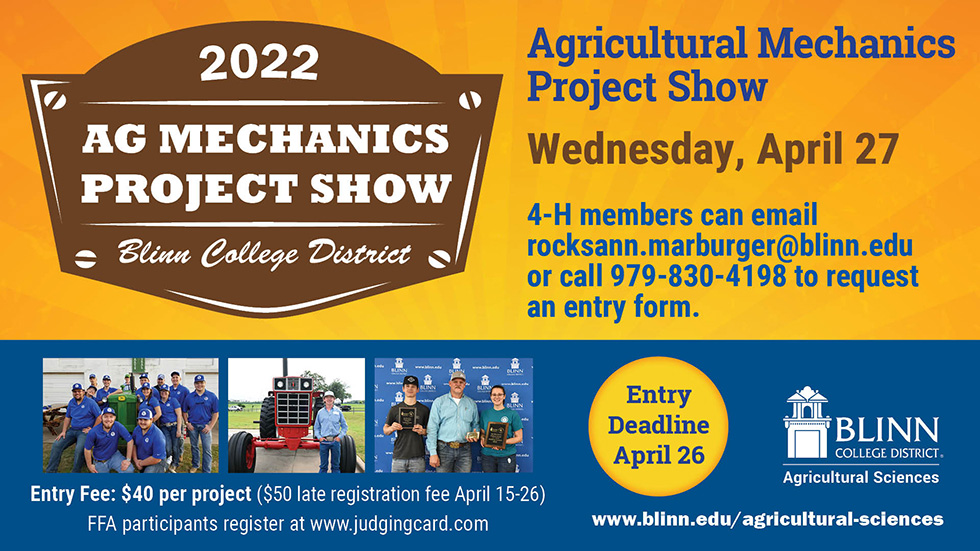 April 13, 2022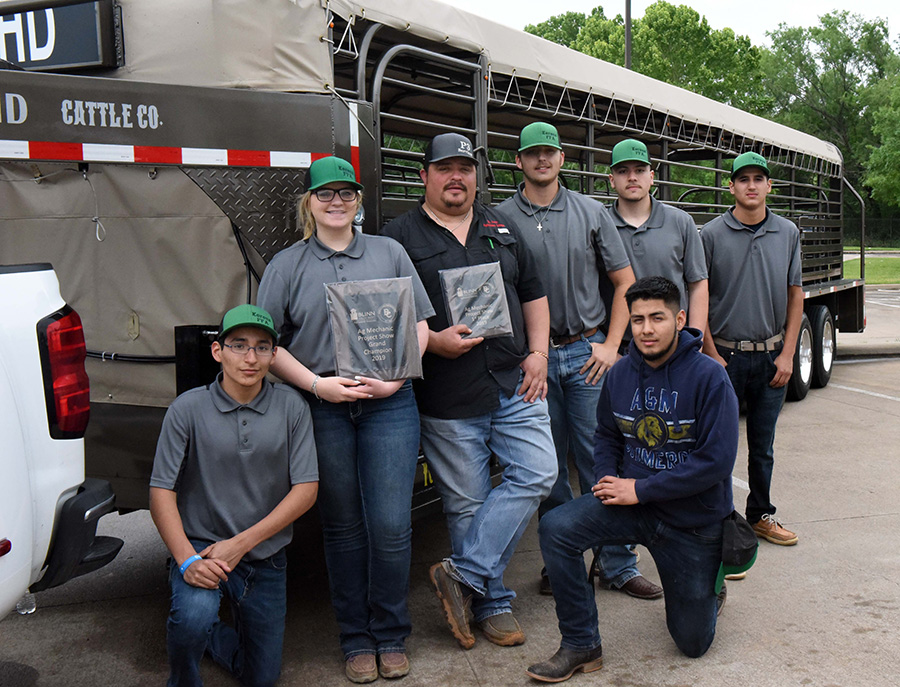 Hundreds of FFA and 4-H students from across the state will compete in the Blinn College District Agricultural Mechanics Project Show Wednesday, April 27, displaying projects ranging from restored farm equipment to animal traps.
The show will be held at the W.J. "Bill" Rankin Agricultural Complex, 1409 Old Mill Creek Road on the Blinn-Brenham Campus ( map). Judging will begin at 10 a.m. and exhibits will be open for public viewing at that time.
"We are expecting around 120 projects and 450 exhibitors, as well as 140 participants in the welding/cutting contests," Agricultural Sciences Professor Ben Burroughs said.
Judging will be in six divisions: agriculture machinery and equipment, livestock equipment, bumper-pulled trailers, gooseneck trailers, recreation, and tractors. There are 26 classes in the six divisions.
Sponsors are Woodson Lumber Co., Home Depot, Valmont Industries, Farm Bureau of Washington County, Gajeske Inc., Scarmardo Produce, Washington County Tractor, NAPA Pro Auto, Culligan Water Conditioning, Brenham Chrysler-Jeep-Dodge, and Blinn College Alumni and Friends. Donors include The Christian Counseling Center, Bartay Chiropractic, and LaRoche Chevrolet.
"Without these sponsors and donors, the show would not be a success," Burroughs said.
The early registration deadline is Thursday, April 14. Late registration is April 15-26. To register, visit www.judgingcard.com/Registration/Info.aspx?ID=13105.
Blinn's Agricultural Sciences Program is approximately four times the size of any other two-year agricultural program in the state and is based at the W.J. "Bill" Rankin Agricultural Complex on the Blinn-Brenham Campus. For more information, visit www.blinn.edu/agricultural-sciences.