Blinn, UTSA to host TATE information session for prospective engineering students on the Blinn-Brenham Campus
Co-enrollment partnership offers a seamless pathway toward an engineering bachelor's degree from UTSA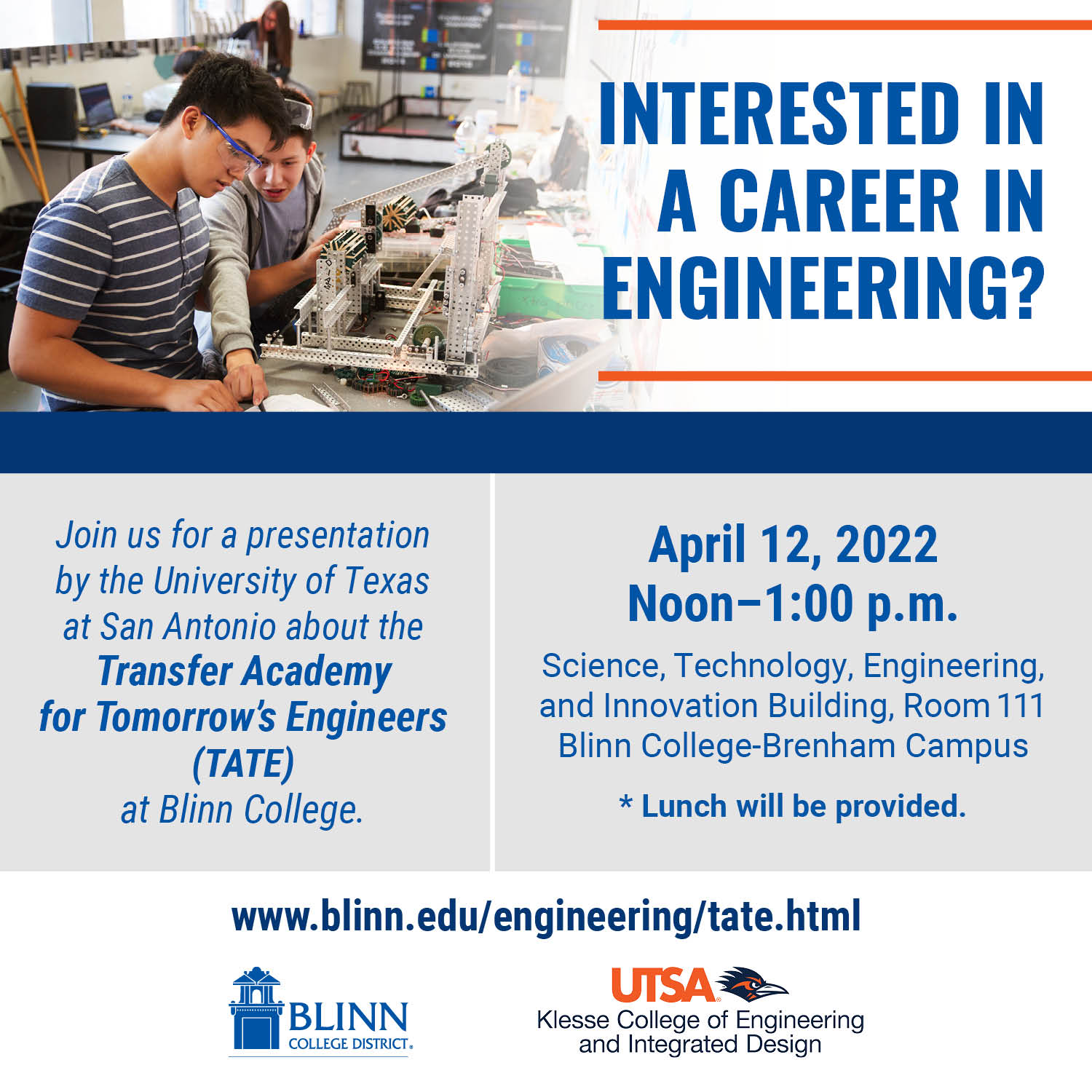 April 6, 2022
The Blinn College District Engineering Program and the University of Texas at San Antonio (UTSA) Margie and Bill Klesse College of Engineering and Integrated Design will host an information session regarding the Transfer Academy for Tomorrow's Engineers (TATE) at the Blinn College-Brenham Campus.
The information session will take place from noon until 1 p.m. Tuesday, April 12, in Room 111 of the Science, Technology, Engineering, and Information Building, located at 900 Prairie Lea Street on the Brenham Campus.
Through TATE, the Blinn College District and UTSA have partnered together to offer students a seamless pathway to earn a four-year degree in engineering from UTSA. Students co-enroll at both institutions and take engineering courses taught by UTSA and Blinn faculty. Upon completion of the program, students will transfer to UTSA to obtain their bachelor's degree in any of the six UTSA engineering degree programs.
TATE provides an affordable four-year pathway to a UTSA engineering degree. All TATE students have the opportunity to earn their associate degree while pursuing a bachelor's degree at UTSA. Students have access to student services, student activities, and student organizations at both institutions.
As one of the fastest-growing engineering colleges in Texas, UTSA creates an atmosphere of innovation, research, and collaboration and offers Bachelor of Science degree programs in biomedical engineering, chemical engineering, civil engineering, computer engineering, electrical engineering, and mechanical engineering. For more information, visit https://ceid.utsa.edu.
Based at the RELLIS and Brenham campuses, Blinn's Engineering Program offers an Associate of Science Degree in Engineering that transfers to the state's leading engineering bachelor's degree programs. For more information, visit www.blinn.edu/engineering.
For more information regarding TATE, visit www.blinn.edu/engineering/tate.html or https://future.utsa.edu/admissions/tate.