Blinn College District to host annual student art show
Exhibit runs May 2-5 on the Blinn-Bryan Campus with a special reception on Tuesday, May 3, at 6:30 p.m.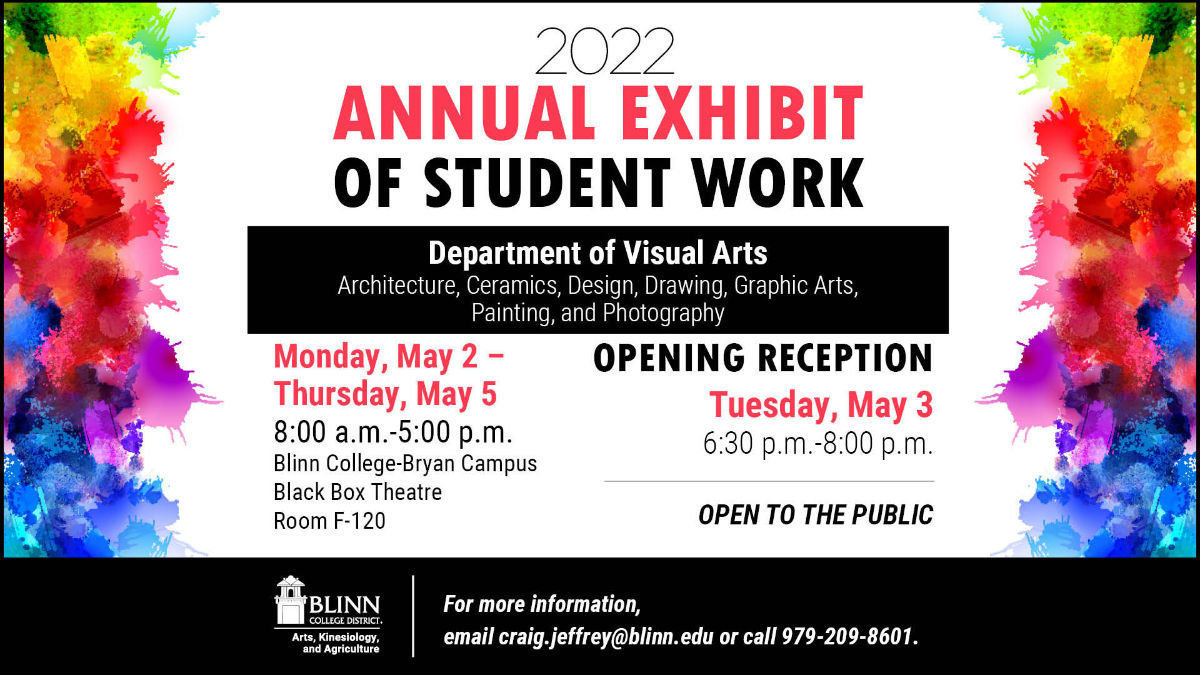 April 26, 2022
The Blinn College District invites the public to celebrate the innovative art and projects created by Blinn students at the 2022 Annual Exhibit of Student Work.
The artwork on display will represent each of Blinn's five campuses as well as online students. Various mediums and concentrations will be on display, including architectural graphics, architectural modeling, ceramics, digital arts, drawing, graphic design, metals, painting, and photography.
The exhibit will be on display Monday through Thursday, May 2-5, in Blinn-Bryan Student Center (Building F on the campus map ) F-120. A special reception will be held on Tuesday, May 3, from 6:30-8 p.m. At the conclusion of the show, works will be viewable via a virtual gallery.
"This event is a unique opportunity for students to display their work in a professional, gallery-like setting," said Craig Jeffrey, Assistant Dean of the Division of Arts, Kinesiology, and Agriculture. "The exhibit reflects the culmination of our students' hard work and dedication, and we encourage the entire Blinn community to come out and experience their creativity first-hand."
The exhibit reflects students in Blinn's Arts, Art and Visual Communication, and Architecture degree pathways that make up the Department of Visual Arts. Students in the Arts Program can pursue a variety of awards to prepare for immediate entry into the workforce or for academic transfer. Courses encourage students to plan, design, and produce works of art and to use visual principles, elements, and techniques in one or more visual arts media. Available degree plans include an Associate of Arts (AA) in Arts, an Associate of Applied Science in Graphic Design, a Graphic Design Certificate, and Occupational Skills Awards in Graphic Design and Digital Photography.
Blinn's Architecture Program teaches solid fundamentals through a balance of design, drawing, history, and related courses. Students learn to blend creativity and practicality for increased proficiency in design, engineering, and project management. Blinn offers an AA in Architecture and Architecture (Field of Study). In addition to other transfer opportunities, Blinn's program has specific architecture transfer agreements in place with Texas A&M University's Landscape and Urban Planning Program and the Texas Tech College of Architecture.
To learn more about Blinn's Arts or Architecture programs, visit www.blinn.edu/arts or www.blinn.edu/architecture .
Registration is open for Blinn's May minimester, summer, and fall 2022 courses. For more information, visit www.blinn.edu/discover-blinn .