Blinn College District communications workshop teaches guests to maximize the power of their voice
Theatre Arts Professor Greg Wise will share tips and techniques online and in person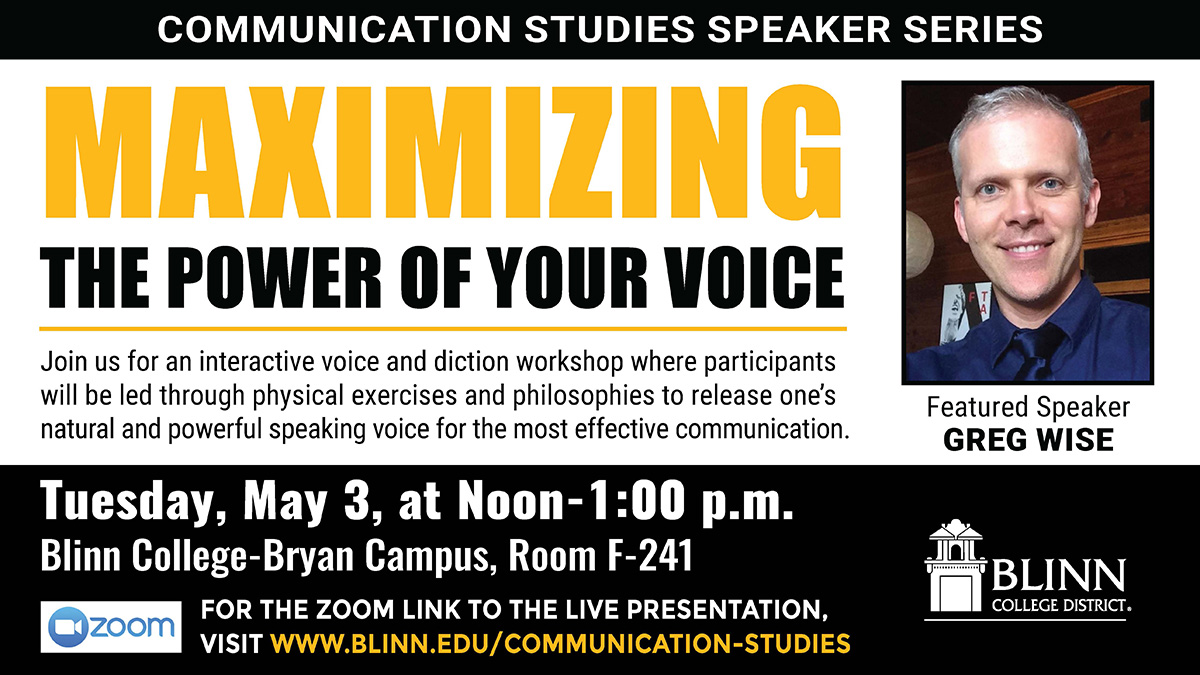 April 27, 2022
Your voice is a powerful tool. The Blinn College District invites the public to learn valuable tips and techniques to help optimize this resource with Theatre Professor Greg Wise during a special workshop at noon on Tuesday, May 3.
The workshop will be held on the Blinn-Bryan Campus in Building F, Room 241 ( map ), and on Zoom at  https://blinn-edu.zoom.us/j/88681489144?pwd=VGc0YURKdzhuZUFwU3pFNTI4WUwxZz09. Blinn-Brenham Campus guests are invited to view the live stream in the Student Center banquet room ( map ).
Part of the Communication Studies Speaker Series, Wise's presentation will include diction exercises, posture instruction, and how your physical presence impacts the power of your voice. The methods used reflect the work of renowned voice teacher and coach Patsy Rodenberg, OBE. The goal of the workshop is to help participants build a confident, clear, and natural speaking voice that is an asset in the workplace, classroom, and any environment that requires public speaking.
"Like any skill, harnessing the power of your full voice and presence takes time and dedication," Wise said. "This workshop will include interactive participation and exercises like breathing techniques and how to be more at ease speaking in front of people. Participants will leave the workshop with a set of tools that will make them feel more comfortable speaking in public, which can help students when they give presentations or speak to an instructor as well as individuals in workplace settings."
Wise has been a theatre professor at Blinn since 2008 and is director of the Blinn-Bryan Theatre Troupe (BBTT). The BBTT is comprised primarily of Blinn students and stages up to four productions each academic year consisting of both on-campus and community shows. He earned his Bachelor of Arts in Communication from Austin College and his Master of Fine Arts in Theatre from the University of Texas at Austin. Since 1995, Wise has studied extensively with Rodenberg, completing all three levels of her Shakespeare intensives. He will continue his studies with her in the summer of 2022 and 2023 as he pursues the goal of becoming a Patsy Rodenburg Associate.
This workshop is organized by Blinn's Communication Studies Program, which teaches students to communicate effectively with individuals and groups in personal, public, and business settings. The program focuses on developing strong written and oral communication skills, conflict management techniques, and critical thinking skills.
To learn more about Blinn's Communication Studies Program, visit www.blinn.edu/communication-studies .
Registration is open for Blinn's May minimester, summer, and fall 2022 courses. For more information, visit www.blinn.edu/discover-blinn .
Related Links
Archives
GET CONNECTED