Blinn College choirs will present final concert of the season on Tuesday, May 3
Selections will include Vivaldi's 'Gloria'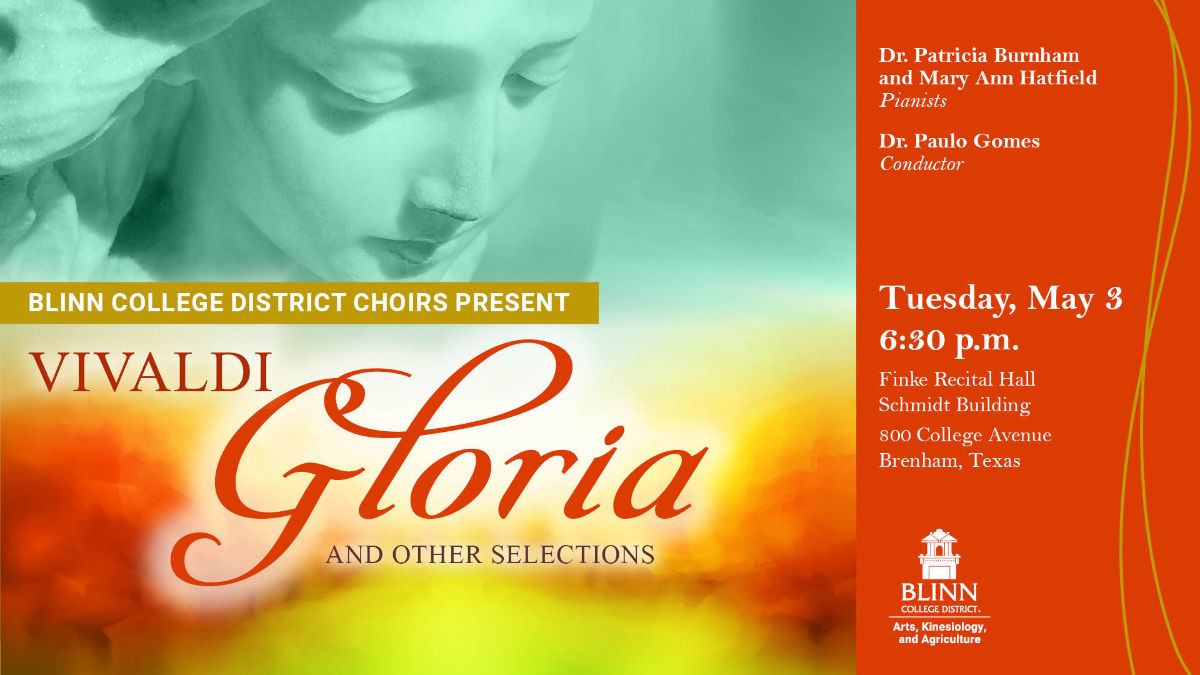 April 26, 2022
The Blinn College District choirs will present their final concert of the season on Tuesday, May 3, with a selection of uplifting music.
"Vivaldi's Gloria" and other selections will be performed at 6:30 p.m. at the C.F. Schmidt Building's Finke Recital Hall at 800 College Avenue on the Brenham Campus (map) . The concert is free and open to the public. It also will be streamed live on the Blinn College District Music Department YouTube Channel .
Choir Director Dr. Paulo Gomes will serve as conductor for the concert. Dr. Patricia Burnham and Mary Ann Hatfield will be piano accompanists.
Gomes said the concert selections that will be performed show "how music uplifts and brings strength and hope."
"The music selections reflect on praise for being able to perform wonderful music, endeavoring to make a positive contribution to young singers' lives and to the community," he said. "In the midst of life's challenging times and battles, we grasp for hope and good things. We hope that the audience will be inspired by the choirs' diverse music-making."
Blinn's singers were invited to select the pieces for this performance. Selections include "Lunar Lullaby" and "Salseo." "Footprints," a selection by Gomes, also will be performed.
The choirs will end the concert with Vivaldi's "Gloria," which Gomes called "one of the most famous choral works from the Baroque period."
For more information regarding the Blinn Music Program, including scholarship and audition opportunities, visit www.blinn.edu/music.