Blinn-Brenham Theatre Arts to present '25th Annual Putnam County Spelling Bee' April 28-May 1
Performances will be staged at Dr. W.W. O'Donnell Performing Arts Center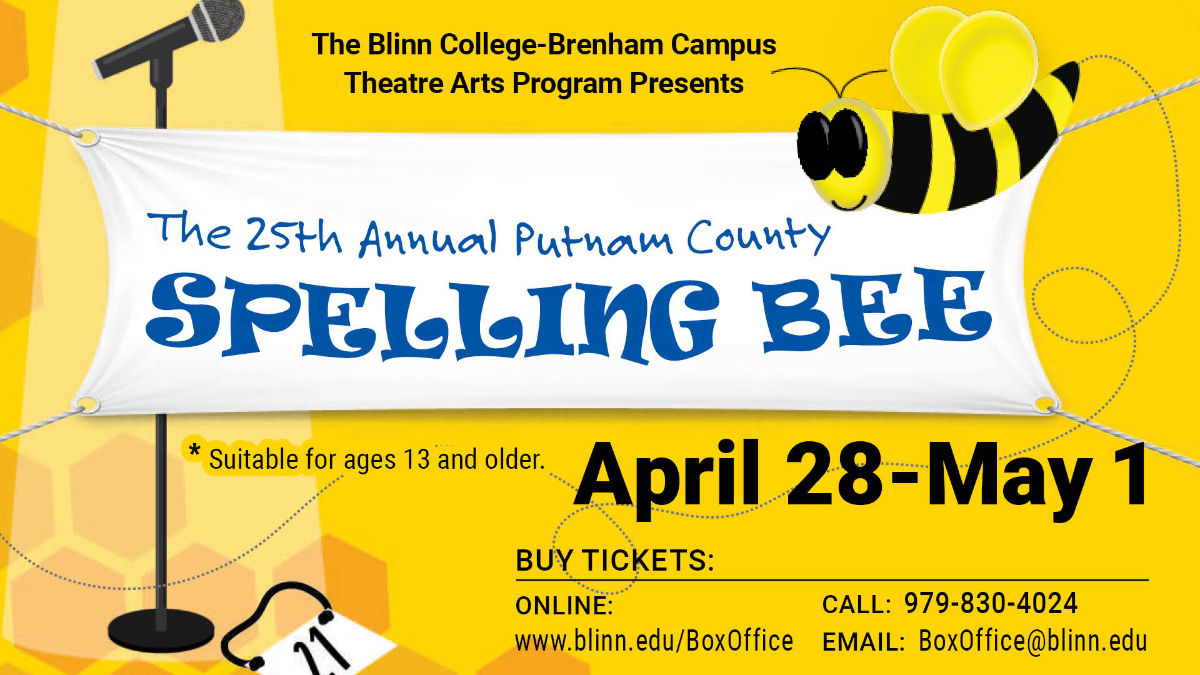 April 22, 2022
Six middle school students vying for the spelling championship of a lifetime are featured in the next production by the Blinn College-Brenham Campus Theatre Arts Program.
"The 25th Annual Putnam County Spelling Bee" will be staged April 28-May 1 in the final production of the 2021-22 season.
Performances will be at the Dr. W.W. O'Donnell Center, located at 600 Blinn Boulevard on the Brenham Campus (map), at 7 p.m. on Thursday, April 28, and Friday, April 29, and at 2 p.m. on Saturday, April 30, and Sunday, May 1.
Theatre arts faculty member Jennifer Patrick is directing the play and said the musical has been called "a delightful den of comedic genius" that charms audiences. It is recommended for ages 13 and older.
"There is a fun twist to this show – audience participation," Patrick said. "This unpredictable aspect of the show makes a fun ride for both the audience and performers. Audiences will not be disappointed."
Cast members are Luke Parker, janitor; Garrison Rutledge, janitor/Carl's dad; Christian Alderete, janitor/Dan's dad; Samantha Nolen, Rona Lisa Peretti; Jayden Peavy, Chip Tolentino/Jesus; Bianca O'Neal, Logainne Schwartzandgrubenieere; Brandon Sowells, Leaf Coneybear/Olive's dad; Jordan Murell, William Barfee; Rosie Mendoza, Marcy Park/Olive's mom; Alyssa Hale, Olive Ostrovsky; Casey Prowell, Vice Principal Douglass Panch; and Mikijah Gaines, Mitch Mahoney.
Crew members are Madison McDonald, stage manager; Josiah Fernandez, assistant stage manager/orchestration supervisor/student audio mixer; Aiden McAllister, assistant stage manager/assistant lighting designer; Dustin Randolph, student lighting designer; Steve Torres, student mic wranger; and Ethan Jutras, properties crew.
"I have thoroughly enjoyed working with this cast and crew," Patrick said. "They have put in a ton of work and energy to bring this musical to life. I can't wait to share this production of 'The 25th Annual Putnam County Spelling Bee' with audiences."
Tickets are available at www.blinn.edu/boxoffice. Tickets are $10 for the public and $5 for Blinn students, children, and senior citizens. Admission is free for all Blinn employees.
For more information regarding Blinn's Theatre Arts Program, visit www.blinn.edu/theatre.
Related Links
Archives
GET CONNECTED