Dark humor and optimistic drama take center stage in the Blinn-Bryan Theatre Troupe's upcoming production of 'Tigers Be Still'
Performances run Feb. 23-25 on the Blinn-Bryan Campus and March 2-4 at Texas A&M University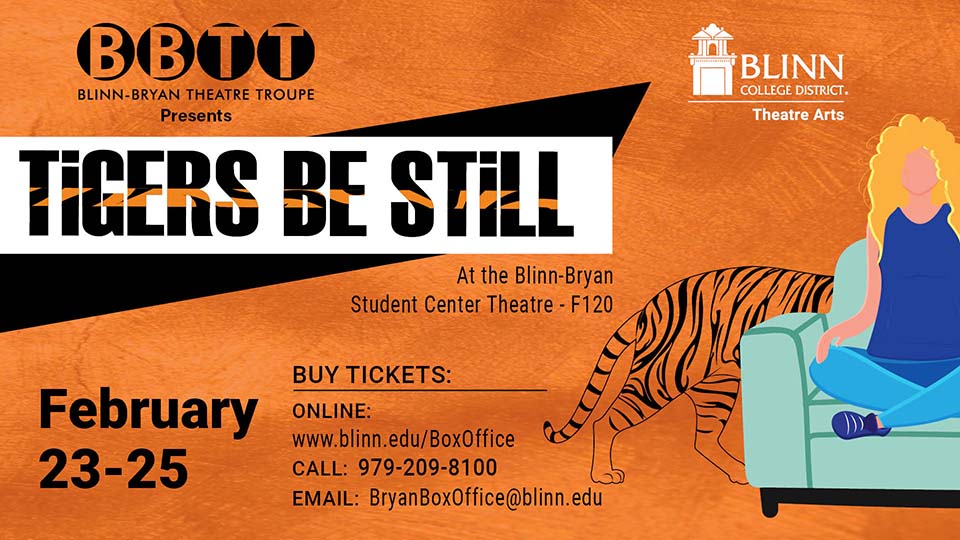 February 17, 2022
The Blinn-Bryan Theatre Troupe (BBTT) will bring the dark comedy "Tigers Be Still" to the stage for its third production of the 2021-22 season.
Performances will take place at 7 p.m. Wednesday through Friday, Feb. 23-25, at the Blinn-Bryan Student Center Theatre (Building F, map) and Wednesday through Friday, March 2-4, at the Texas A&M College of Liberal Arts Performance Studies Black Box Theatre (LAAH Building, directions).
Tickets for the Bryan Campus performances are $5. There is no admission charge for the performances at Texas A&M University, but attendees are strongly encouraged to reserve a ticket as seating is limited. Parking for the Texas A&M University shows is available in campus garages at an hourly rate. All theatre performances are open seating.
Tickets for both performance locations can be purchased or reserved at www.blinn.edu/boxoffice.
The show is recommended for ages 13 and older.
"Tigers Be Still" follows the misadventures of the ever-optimistic Sherry Wickham and her quest to pull herself and others around her out of the "void." Equipped with a master's degree in art therapy, Wickham finds herself back home sending out resumes and waiting for a job offer. When an unexpected employment opportunity finally comes her way, Sherry finds a renewed sense of purpose. All she needs now is for her mother to come downstairs, her sister to get off the couch, her first therapy patient to complete his take-home assignments, her new boss to leave his gun at home, and someone to catch the tiger that has escaped from the local zoo.
"This is such a fun show to be a part of and Sherry is a realistic character that I'm sure many people will be able to identify with," said Meagan Townsend, who plays the lead role of Sherry Wickham. "My character's life is a chaotic mess, but she pulls herself back together by helping others and I can't wait for everyone to meet her."
In addition to Townsend, other cast members include Elizabeth Bueno as Grace (the sister), Zarrian Shivers as Zack (the patient), and Blinn-Bryan Theatre Director Greg Wise as Joseph (the boss).
"We chose this play because of the optimism, humor, and pathos the main character embraces for herself and applies to others around her," Wise said. "The mental struggles that surfaced for many of us during the pandemic were real and Ms. Rosenstock's script hilariously and beautifully navigates a similar rollercoaster of emotions that our audience may relate back to their own journey."
The BBTT consists of Blinn theatre students, community members, and other area students who create short, interactive theatre experiences to encourage cultural and collaborative exchange in the community. The troupe is part of Blinn's Theatre Arts Program, which hosts a variety of performances each year on its Bryan and Brenham campuses. Productions integrate the artistic, technical, and academic disciplines of theatre from the classroom to the stage.
The final production of the BBTT's 2021-22 season will be an adaptation of William Shakespeare's "A Midsummer Night's Dream." Shows will be staged on the Blinn-Bryan Campus April 27-28 and community performances will be hosted at the Lick Creek Park Amphitheatre April 29-30.
For more information about Blinn's Theatre Arts Program, visit www.blinn.edu/theatre. To learn more about the BBTT, contact Greg Wise at greg.wise@blinn.edu.