Blinn Surgical Technology Program hosting online information sessions for prospective students
Texas has highest employment rate of surgical technologists in the nation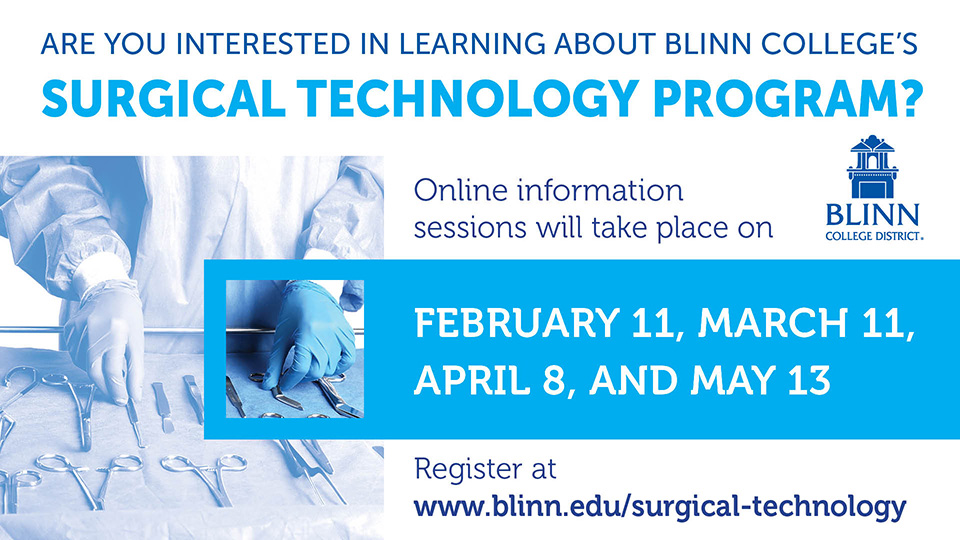 February 2, 2022
The Blinn College District Surgical Technology Program is hosting a series of online information sessions for students interested in joining the spring 2023 cohort. The application cycle will open Aug. 1.
The information sessions will be held via Zoom from 3-4 p.m. on the following dates:
Friday, Feb. 11, 2022
Friday, March 11, 2022
Friday, April 8, 2022
Friday, May 13, 2022
Registration is available at www.blinn.edu/surgical-technology/information-session.html.
Surgical technologists are an integral part of the surgical team, assisting surgeons, anesthesiologists, and registered nurses in providing care to patients in the operating room. They ensure a safe operating environment, that equipment functions properly, and that operative procedures are conducted under conditions that maximize patient safety.
Blinn's rigorous two-year Surgical Technology Program is based at the RELLIS Academic Complex on the RELLIS Campus, which features state-of-the-art simulation labs and an innovative learning environment. The program combines lecture and laboratory classes as well as clinical observation and operating room experience at area hospitals. Graduates must complete more than 120 surgical cases across a variety of surgical specialties. This externship-like training provides students a direct link with area hospitals that include Baylor Scott and White Medical Center-College Station, CHI St. Joseph Hospital, the CHI St. Joseph Medical Center, The Physicians Centre Hospital, and St. Mark's Medical Center-La Grange. Upon completion of the program, many Blinn graduates successfully obtain employment at the same facilities where they refined their skills.
According to the U.S. Bureau of Labor Statistics, demand for surgical technologists is expected to increase 9% between 2020 and 2030, creating 9,500 new jobs during that span. Nation-wide, the median wage is $49,710 per year. Texas has the nation's highest demand for surgical technologists.
Surgical technologists often are employed at hospitals but can work in any setting that conducts surgical procedures, including doctor's offices, day surgery facilities, and dental offices. Blinn's Surgical Technology Program also can serve as a launching pad to other healthcare careers.
In addition to other Blinn scholarship opportunities, students pursuing an Associate of Applied Science degree may be eligible to receive support through a Duddlesten Scholarship.
To learn more about the program and application requirements, visit www.blinn.edu/surgical-technology.