Blinn-Brenham Theatre Arts to stage 'Golden Boy' Feb. 17-20
Four performances will be held at O'Donnell Center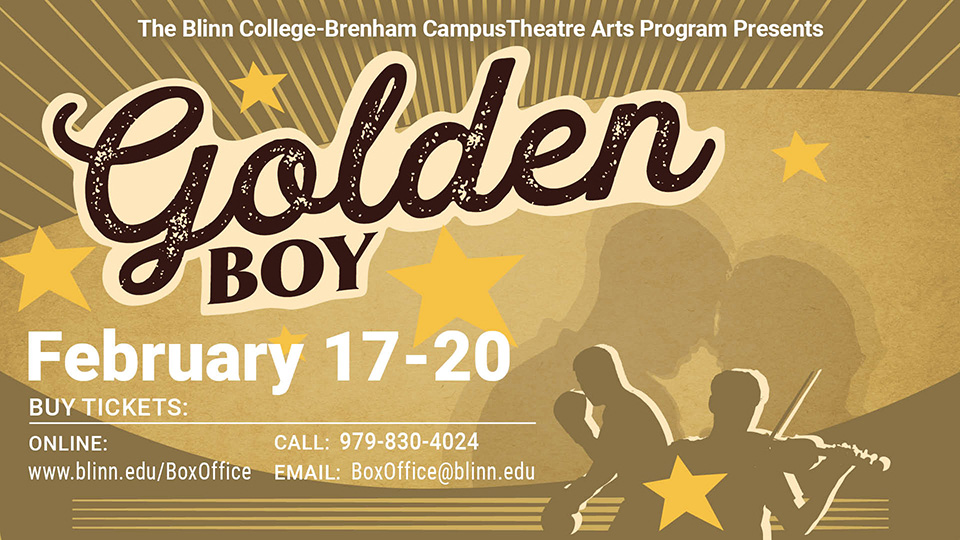 February 11, 2022
The Blinn College-Brenham Campus Theatre Arts Program will stage the dramatic play "Golden Boy" Feb. 17-20 at the Dr. W.W. O'Donnell Performing Arts Center.
"Golden Boy" is the third production in the program's 2021-22 season, following "One Flew Over the Cuckoo's Nest" and "Wiley and the Hairy Man."
"Golden Boy" performances will be at the O'Donnell Center at 600 Blinn Boulevard on the Brenham Campus. Performances are at 7 p.m. Thursday and Friday, Feb. 17-18, and 2 p.m. on Saturday and Sunday, Feb. 19-20.
"Golden Boy," written by Clifford Odets, tells the story of Joe Bonaparte, a young man torn between his love for music and a need for success.
"Joe Bonaparte is a musician at heart but he longs to be top man in some other field," Theatre Arts Program Director Brad Nies said. "He goes into the prizefighting racket. In each fight, he becomes more brutish until he eventually kills an opponent during a big match.
"The drama explores the emotional struggle of a young man torn between the big-money business of boxing and his dream of being a concert violinist."
Steve Torres has the lead role of Joe Bonaparte. Other cast members are Casey Prowell as Tom Moody, Samantha Nolen as Lorna Moon, Aiden McAllister as Tokio, Josiah Fernandez as Mr. Bonaparte, Garrison Rutledge as Siggie, Alyssa Hale as Anna, Bianca O'Neal as Roxy Gottlieb, and Mikijah Gaines as Driscoll.
Student crew members and designers are Dustin Randolph, stage manager/dramaturg; Jayden Peavy, assistant stage manager/dramaturg; Madison McDonald, costume designer; Nathaniel Scheffel, makeup designer/costume running crew; Luke Parker, properties head/properties running crew; Alexandria Leverette, sound designer; Amanda Winford, light board operator; Brandon Sowells, audio/visual board operator; Jaylon Kelley, set/properties running crew; Chett Sibley, set/properties running crew; Christian Alderete, set/properties running crew; and Ethan Juras, house manager.
Tickets are available at www.blinn.edu/boxoffice. Admission is free for all Blinn employees. Tickets are $5 for Blinn students, children, and senior citizens.
The final production of the 2021-22 season will be "The 25th Annual Putnam County Spelling Bee" April 28-May 1. The Blinn College-Brenham Campus Theatre Arts Program also will stage its third annual "10-Minute Play Festival" March 24-27.
For more information regarding Blinn's Theatre Arts Program, visit www.blinn.edu/theatre.