Blinn-Bryan Theatre Troupe brings courage and comedy to life in 'The Revolutionists'
Performances run Jan. 27-30 on the Blinn-Bryan Campus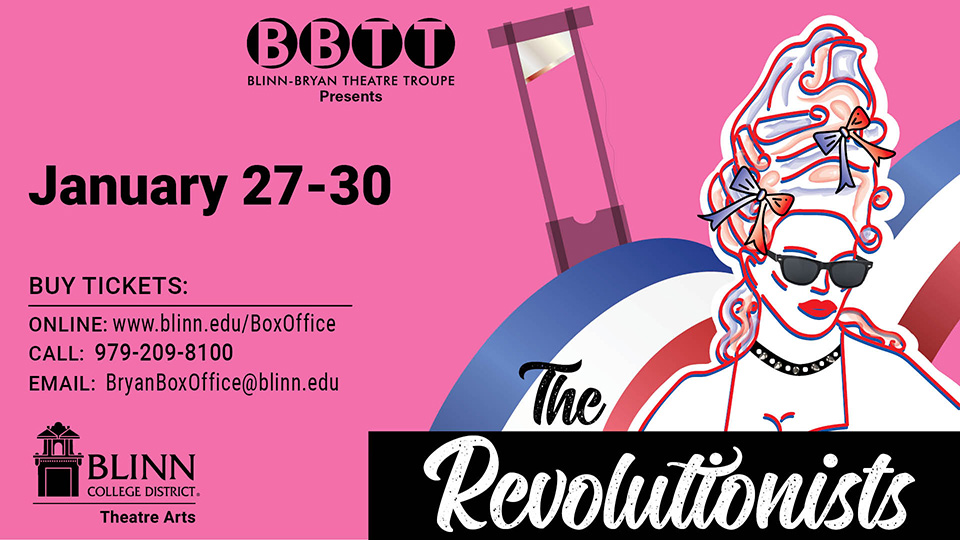 January 20, 2022
The Blinn-Bryan Theatre Troup (BBTT) continues its 2021-22 season with Lauren Gunderson's "The Revolutionists," a comedic and fiery look at the French Revolution from the perspective of four of the era's historic female figures.
Performances will take place at 7 p.m. Thursday through Saturday, Jan. 27-29, and at 2:30 p.m. Sunday, Jan. 30, in the Blinn-Bryan Student Center Theatre. The Troupe will produce a special high school matinee on Friday, Jan. 28, at 10 a.m.
Tickets are $5 for students and $10 for the general public. All theatre performances are open seating. Tickets can be purchased at www.blinn.edu/boxoffice and will be available at the door.
The show is recommended for ages 13 and older.
In "The Revolutionists," playwright Olympe De Gouge, assassin Charlotte Corday, former queen Marie Antoinette, and Haitian rebel Marianne Angelle join forces in a dream-induced collaboration wrought with feminism, activism, art, and a healthy dose of comedy as they strive to change the world.
"You get so connected to the characters because all of them have such different backgrounds, so there is no way that the audience won't be able to relate to something each woman has been through," said Sara Byrd-Paul, who plays Marie Antoinette. "My character is very bougie and very different than any of the other characters I've ever played before, which is stepping outside of my comfort zone, which I love so much."
A special highlight of the production is the return of Blinn alumna Faith Noster to fill the role of Marianne Angelle. After attending Blinn, Noster earned her Bachelor of Arts in Theatre with a Concentration in Performance from the University of North Texas and is currently employed doing contract work in production assistance for theaters in the Dallas area.
"I'm still friends with so many Blinn Theatre Arts Program alumni and it is a kind of dream for all of us to come back and do a show after we are done because we love it so much," Noster said. "I was jumping at the chance to come back."
The Cincinnati Enquirer describes Gunderson's play as "a sassy, hold-on-to-your-seats theatrical adventure." In addition to being one of the most produced playwrights in the United States since 2015, Gunderson also is a screenwriter, short-story author, and self-described feminist. Her plays have won numerous awards and accolades. The BBTT previously performed her play "Toil and Trouble," a modern adaptation of William Shakespeare's "Macbeth," in 2019.
"The play is so well-crafted with the amazing lines Gunderson gives these ladies," drama professor and director Jean Daniels said. "We chose this piece because of the topics and how relevant these issues are to the community, women, and the students."
The BBTT consists of Blinn theatre students, community members, and other area students who create short, interactive theatre experiences to encourage cultural and collaborative exchange in the community. The troupe is part of Blinn's Theatre Arts Program, which hosts a variety of performances each year on its Bryan and Brenham campuses. Productions integrate the artistic, technical, and academic disciplines of theatre from the classroom to the stage.
For more information about Blinn's Theatre Arts Program, visit www.blinn.edu/theatre. To learn more about the BBTT, contact Greg Wise at greg.wise@blinn.edu.