Blinn engineering students put creativity and collaboration to work during robot battle
Blinn Engineering Program introduces students to the latest technology and lays groundwork for transfer opportunities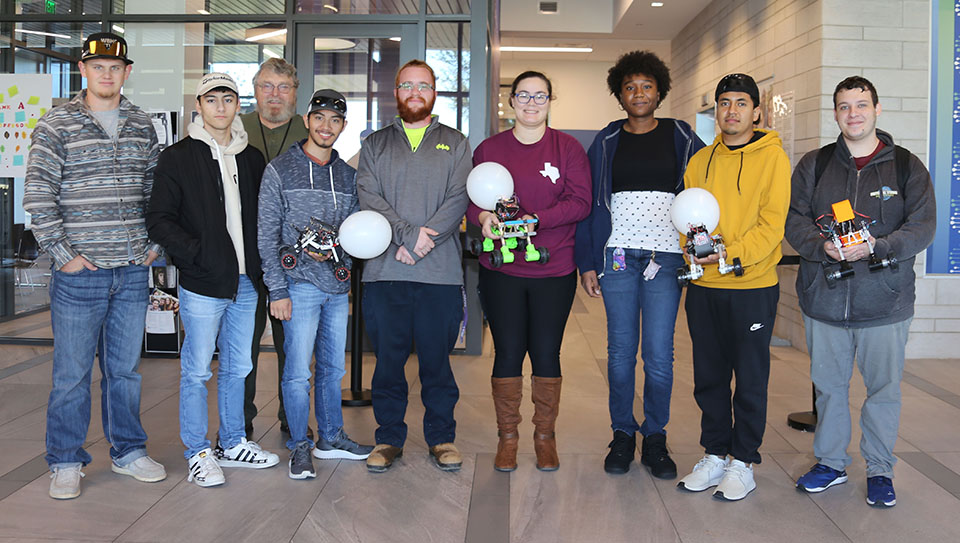 December 14, 2021
Sid the robot had a mission: to seek out and destroy the balloons attached to the other robots in the room. This scene may sound like the plot to the latest science fiction movie, but it is just another day for students like Christina Johnson and Peter Davis in the Blinn College District Engineering Program.
Named after the sloth character in the movie "Ice Age," Sid is the Digital Systems Teaching and Research (DTSR) robot Johnson and Davis created for their ENGR 1201: Introduction to Engineering course. Students in the class recently participated in a balloon-popping robot battle aimed at putting their creations to the test.
"This project helped give us a hands-on approach by actually building something, and if something goes wrong, using our imaginations to fix it," Johnson said. "I am studying to become a mechanical engineer so I can help people by improving the safety of a product or I can use my expertise to create safe environments for people."
ENGR 1201 is the first engineering class students encounter when pursuing Blinn's 60-credit-hour Associate of Science Degree in Engineering. The course introduces the engineering profession with an emphasis on technical communication and team-based engineering design.
"I build model cars as a hobby, so when I saw all the different pieces I just thought of all the different ways I could put the robot together," Davis said.
Johnson cites collaboration as an important factor in Sid's development, which is a skill emphasized throughout the course.
"Working in a team helps us balance ideas. We keep each other in check and if one of us has more expertise in an area, we can say, 'Hey, this won't work,'" Johnson said.
Based at the RELLIS and Brenham campuses, Blinn's engineering program offers an Associate of Science Degree in Engineering that transfers to the state's leading engineering bachelor's degree programs, including programs at Texas A&M University System regional universities located at the RELLIS Campus.
"I tell my students all the time they can complete their engineering bachelor's degrees just by going across the street," said Professor Randall Hudgens, who teaches at the RELLIS Campus. "This relationship is really unique for a community college."
Blinn also features co-enrollment partnerships with the Texas A&M University College of Engineering and the University of Texas at San Antonio.
Students on the Brenham Campus have access to the new Science, Technology, Engineering, and Innovation Building, which features a 1,449-square-foot engineering technology laboratory that includes open spaces for robot construction and experimentation, as well as specialized engineering equipment, including a state-of-the-art process automation and pumps teaching system.
To learn more about Blinn's engineering programs, visit www.blinn.edu/engineering.
Registration for Blinn's winter minimester is available through Dec. 19, and registration for the spring 2022 semester is open through Jan. 17. For more information, visit www.blinn.edu/admissions.
Enjoy this article? Share it with one click!