Blinn College Foundation reaches endowed scholarship milestone
Gift from First Financial Trust, Bryan Family establishes 300th endowed scholarship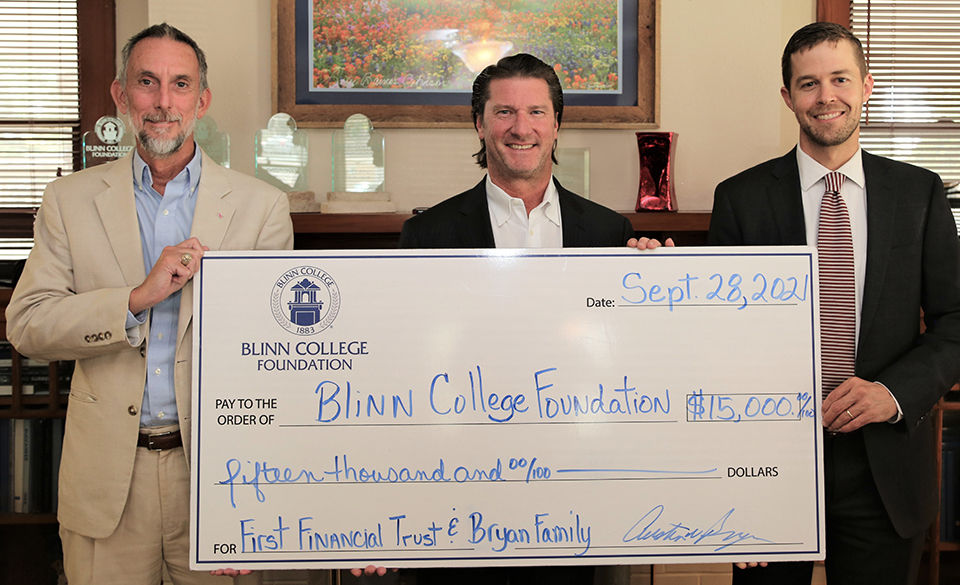 December 8, 2021
The Blinn College Foundation has reached a significant milestone in helping students reach their educational goals.
Bryan-based First Financial Trust and the Bryan family gifted $15,000 to establish the 300th Blinn College District endowed scholarship administered by the Foundation. The Foundation has received more than $10.5 million in grants and contributions since it was created in 2000.
"The establishment of the Blinn College Foundation's 300th endowed scholarship demonstrates how deeply our community cares about Blinn College and its students," said Dr. Mary Hensley, Chancellor of the Blinn College District. "On behalf of everyone at Blinn, I would like to thank the many donors who have generously benefitted so many of our students."
Sam Sommer, Chair of the Foundation Board of Directors, said the 300 th endowed scholarship represents widespread support for the Foundation's mission.
"We're very appreciative of the gift from First Financial Trust and the Bryan family that brought us to this milestone," Sommer said. "Thanks to the tremendous support the Foundation receives from individuals and businesses, we have been able to help thousands of students reach their educational goals.
"Three hundred endowed scholarships represent quite an achievement, and we look forward to the next 300."
The First Financial Trust and Bryan Family Scholarship will be awarded to graduates of Bryan high schools who attend Blinn.
"Blinn College has been a wonderful member of the Brenham and Bryan-College Station communities," said Austin Bryan, Senior Vice President of First Financial Trust. "It's done so much for both communities, and this is an opportunity to give back to Blinn and also benefit needy students in our community."
Bryan recently joined the Foundation Board of Directors.
"It's exciting for me to give this donation as I'm just now coming on the board," he said. "I'd like to be able to send a message to the Foundation that we're appreciative of the opportunity to be represented but also to reciprocate by helping out."
The Blinn College Foundation provides financial support for activities and programs that enhance educational opportunities for Blinn students.
Endowed scholarships are available to new and returning students from a wide variety of backgrounds, majors, and experiences. Scholarships are awarded based on high academic achievement, participation in student activities, and community involvement.
Students can apply for 300 Blinn scholarships by completing a single application at www.blinn.edu/scholarships. Prior to applying, students must complete an application for admission to Blinn College at www.goapplytexas.org.
Enjoy this article? Share it with one click!