Seventeen students graduate from Blinn College Pharmacy Technician Program
Graduates are eligible to take national certification exam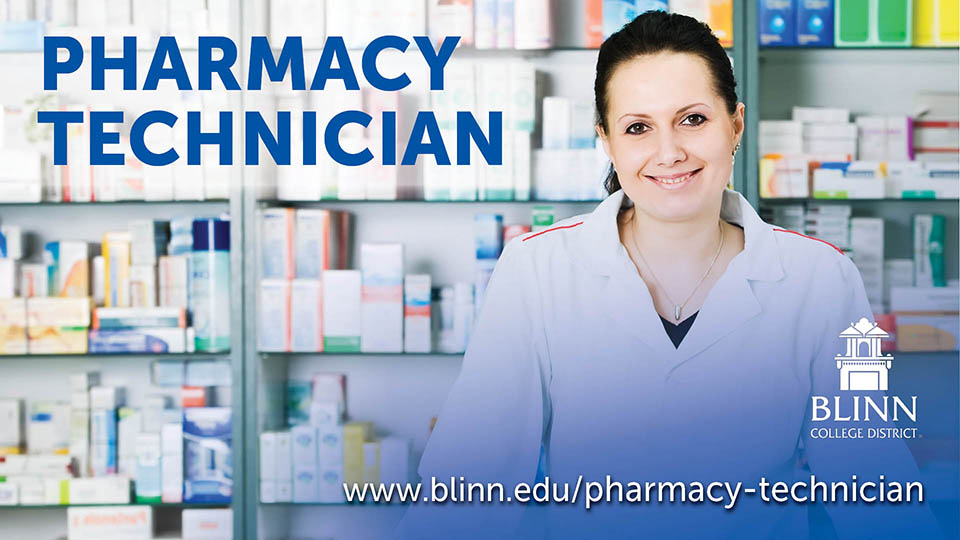 October 11, 2021
Seventeen Blinn College District students recently completed the Pharmacy Technician Program and are prepared to seek national licensure.
Pharmacy technicians measure, mix, count out, label, and record medication dosages according to prescription orders. They work closely with pharmacists to answer patient questions and correctly identify and manage medication inventory. Pharmacy technicians are employed in hospitals, pharmaceutical laboratories, mail-order pharmacies, and other pharmacy settings. According to the U.S. Bureau of Labor Statistics, pharmacy technicians earn a median salary of $35,100 per year.
The new graduates are Elizabeth R. Bastardo (Madisonville), Jasmine L. Bell (College Station), David Castrejon-Rivera (College Station), Jessica J. Enrique (Caldwell), Gaila R. Felder (Bryan), Magali Guzman Cisneros (Madisonville), Sreymom Hak (Humble), Gracey C. Hoefling (Goliad), Ariana Lopez (Brenham), Lilly A. Martinez (Bryan), Emilie J. Mudd (Hallettsville), Brandon Perez (College Station), Jordan C. Pierson (Tyler), Nicholas I. Rincon (College Station), Makenna H. Shutt (College Station), Wanda R. Torres (Somerville), and Berenice E. Zapata (Caldwell).
"Pharmacy technicians interact closely with patients and fulfill a vital role in the healthcare industry," said Karla Flanagan, Dean of Technical and Community Education. "These graduates reflect Blinn's commitment to training our students to pass their certification exams and provide expert, compassionate patient care."
Blinn's 160-hour Pharmacy Technician Program is offered online. Classes include pharmacology, pharmacy law and regulations, sterile and non-sterile compounding, medical safety, quality assurance, medication order entry, inventory management, billing, and information services. The total cost for the program is $1,450. Scholarships may be available to help offset the cost of the course. To learn more about grants and scholarship opportunities visit www.blinn.edu/workforce/scholarships.html.
Blinn is certified by the Pharmacy Technician Certification Board (PTCB) and graduates are eligible to take the National PTCB Pharmacy Technician Certification Exam. After they pass the national exam, students can obtain their state licensure from the Texas State Board of Pharmacy.
The Pharmacy Technician Program is part of Blinn's Division of Technical and Community Education, which includes degrees and awards designed to provide students with the knowledge and skills they need to enter the workforce immediately after completion. Many of these classes do not require a high school diploma and enrollment is fast and easy. For non-credit courses, students do not need to go through the College's admissions process to enroll.
Students must participate in a mandatory online healthcare information session before registering. For more information, visit www.blinn.edu/pharmacy-technician.