Registration now available for Blinn's winter minimester and spring semester
Blinn offers flexible course schedules and the state's top academic transfer rate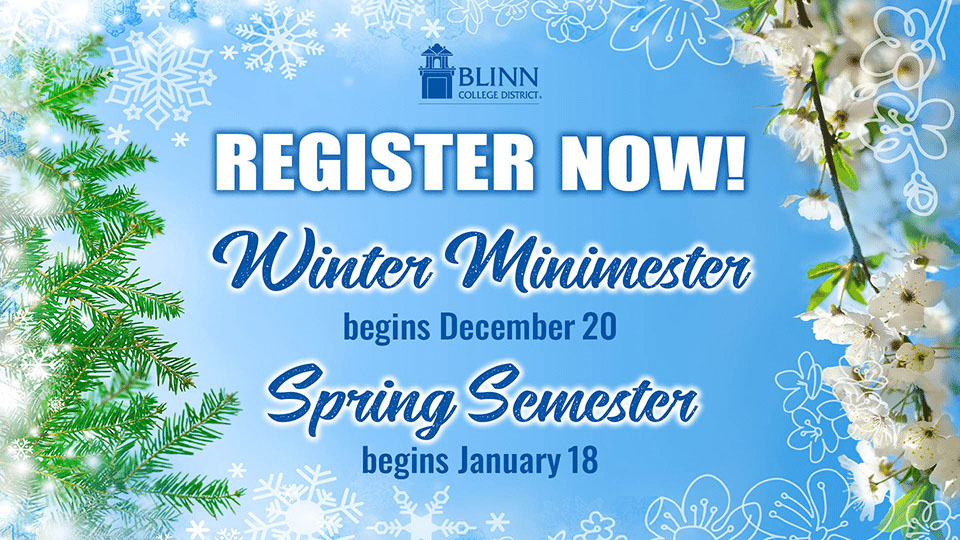 October 18, 2021
Students seeking a flexible, affordable pathway toward a degree can now register for the Blinn College District's winter minimester and spring 2022 semester.
Registration for the winter minimester is open through Sunday, Dec. 19, and classes begin Monday, Dec. 20. Registration for the Spring semester is available through Monday, Jan. 17, and classes begin Tuesday, Jan. 18.
The winter minimester allows Blinn students to make faster progress toward their degree by earning college credit over parts of three weeks with time off for the holidays. All of Blinn's Winter Minimester courses are available online, allowing students to complete their coursework while enjoying the holidays.
For more information regarding the winter minimester, including application and registration steps, academic resources, and available courses and their Texas A&M University equivalents, visit www.blinn.edu/winter. For spring semester information, visit www.blinn.edu/spring.
Prospective students can apply to Blinn via the GoApplyTexas.org application. Once admitted, they can register for classes at https://my.blinn.edu. Blinn recommends that all students speak to an academic advisor prior to registering for classes. Students can chat online with a Blinn admissions specialist between 8 a.m. and 5 p.m. Monday through Friday at www.blinn.edu/admissions and can call Enrollment Services at 979-830-4800.
Blinn's academic transfer rate is the highest in the state and Blinn has partnered with Texas A&M University to develop pioneering co-enrollment programs such as the Texas A&M-Blinn TEAM Program, Texas A&M Engineering at Blinn, and the Texas A&M Engineering Academy at Blinn-Brenham. As a member of the RELLIS Academic Alliance, Blinn offers courses at The Texas A&M University System's RELLIS Campus that transfer seamlessly into the four-year bachelor's degree programs offered by The Texas A&M University System regional universities also located onsite. For more information, visit www.blinn.edu/RELLIS.
According to data from the Texas Higher Education Coordinating Board's CollegeForAllTexans.com, out-of-district Blinn students taking 30 credit hours will save 43% in tuition and fees compared to in-state residents at the average Texas public university.