Nursing Schools Almanac ranks Blinn among the best associate degree nursing programs in Texas
Blinn's NCLEX-RN success rate and academic prestige contribute to No. 6 statewide ranking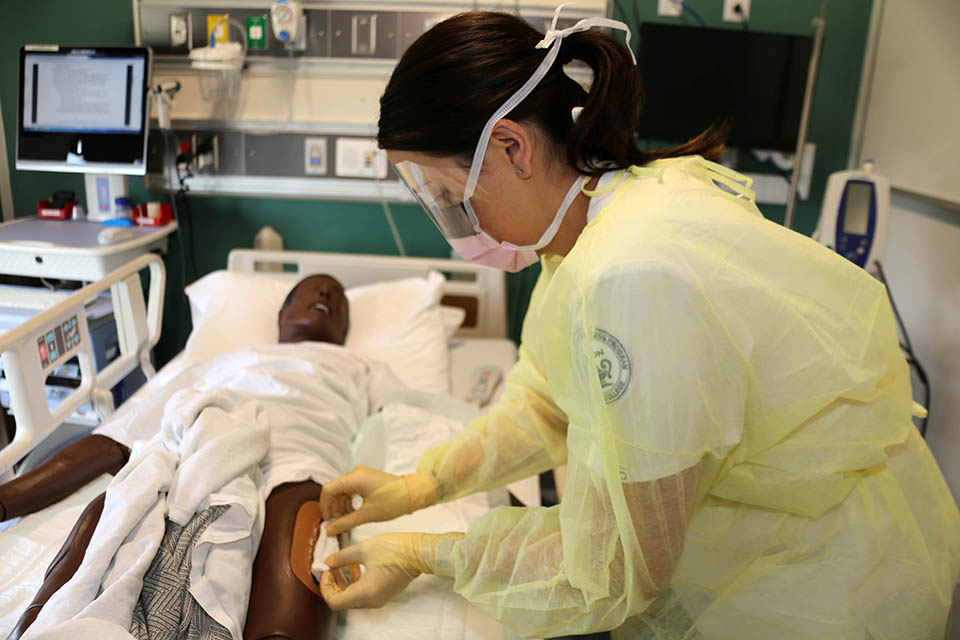 October 8, 2021
Nursing Schools Almanac has ranked the Blinn College District Associate Degree Nursing (ADN) Program among the best in the State of Texas.
NursingSchoolsAlmanac.com ranked Blinn sixth in the state based upon its National Council Licensure Examination (NCLEX-RN) first-attempt pass rates over the past 10 years and the program's academic prestige.
"This recognition is a credit to our faculty and staff and their dedication to providing hands-on, detailed training to the next generation of nursing professionals," said Michelle Trubenstein, Dean of Health Sciences.
The ranking adds to Blinn's recent accolades. In January, NursingProcess.org ranked Blinn No. 2 among 268 schools offering nursing programs in the Southwest United States, and RegisteredNursing.org recently ranked Blinn's ADN Program seventh in the state. In 2020, RNCareers.org and RegisterNursing.org also recognized Blinn as one of the top programs in Texas.
In 2020, all 89 members of the Blinn College District Associate Degree Nursing (ADN) Program Class of 2020 passed the National Council Licensure Examination (NCLEX-RN) on the first attempt. Blinn was one of just nine nursing programs statewide to record a perfect pass rate in 2020. Across the State of Texas, the pass rate was 91%. Nationally, 86.76% of students passed the NCLEX-RN on the first attempt.
"As communities throughout our region and across the State of Texas face a nursing shortage, our faculty, staff, and students have committed themselves to providing our local healthcare facilities with quality, compassionate nurses," said Jay Anderson, Vice Chancellor for Technical and Community Education Programs. "I would like to thank every faculty member involved in the education of our ADN students. Your dedication directly contributes to our students' academic success."
Based at the RELLIS Academic Alliance Complex at the RELLIS Campus in Bryan, Blinn ADN students gain hands-on skills utilizing the facility's 16,000-square-foot simulation laboratories. Nursing students spend at least two days per week in clinical rotations, in addition to lab, simulation, and lecture time. Most students dedicate 15 to 24 hours each week to scheduled program activities and at least 30 hours per week on study and preparation.
Students who complete Blinn's ADN Program and pass the NCLEX-RN have a job placement rate between 97 and 100% and are qualified for a wide array of nursing positions, including pediatric, geriatric, hospice, school, and clinical nursing. New graduates can expect to earn an average of $53,000 per year.
"Our nursing faculty and staff are dedicated to providing our students with true-to-life learning scenarios, and our students have done an outstanding job rising to the challenge," Program Director Karla Ross said.
For more information about the Blinn ADN Program, visit www.blinn.edu/adn.
Enjoy this article? Share it with one click!