Blinn hosting info session for future health sciences students
Health Sciences Advisor/Recruiter Kate Karstadt will take questions via Zoom on Tuesday, Oct. 19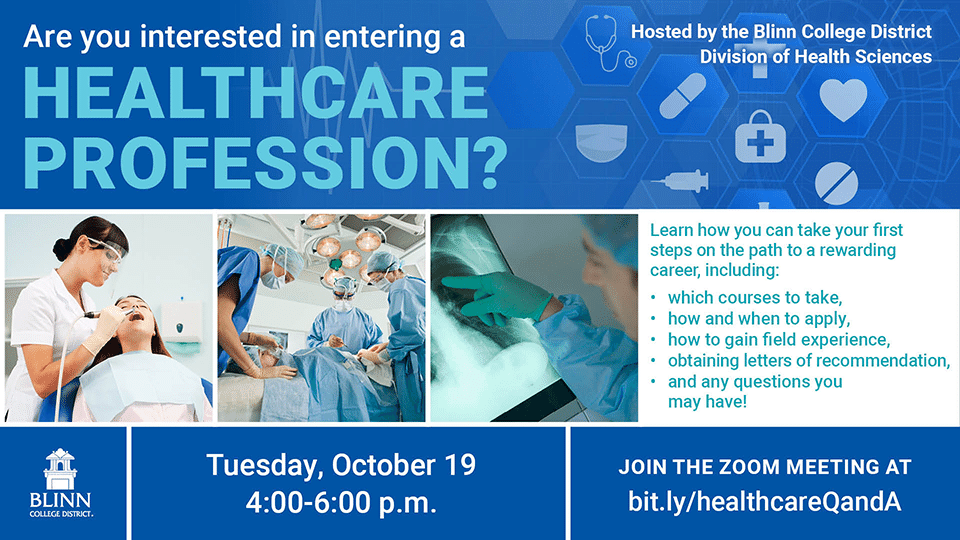 October 5, 2021
The Blinn College District Division of Health Sciences invites future students interested in pursuing a healthcare career to participate in an online information session from 4-6 p.m. Tuesday, Oct. 19, with Health Sciences Advisor/Recruiter Kate Karstadt.
"Blinn's health science programs provide students the foundation they need to enter rewarding, high-demand careers," said Dean of Health Sciences Michelle Trubenstein. "If you have a passion for helping others, a career in health sciences could be the perfect fit."
Conducted via Zoom at https://blinn-edu.zoom.us/j/81710284864?pwd=VDNiUTVYMVdDU2I3QytkMFZLb2FWdz09, the information session will help students identify required prerequisite courses and obtain more information about the application process, including tips regarding how to obtain letters of recommendation and field experience. Karstadt will take questions throughout the session.
Blinn's Division of Health Sciences includes programs in Associate Degree Nursing, Dental Hygiene, Emergency Medical Services, Fire Science, Health Information Technology, Physical Therapist Assistant, Radiologic Technology, Surgical Technology, and Vocational Nursing.
For more information about the Division of Health Sciences, please visit www.blinn.edu/health-sciences.