Blinn College-Schulenburg to host 'Unique Cards' art class
Two sessions will be offered Wednesday, Oct. 20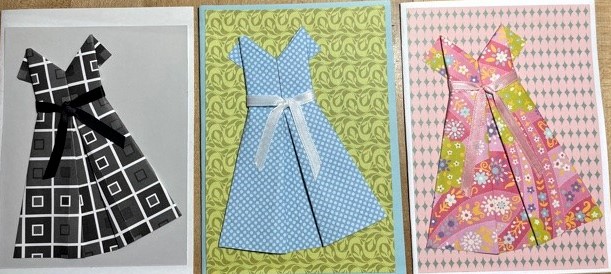 October 18, 2021
For someone who says she has no artistic ability, Beth Gerhardt creates some pretty nifty art.
Gerhardt, a retired teacher, will share her art during "Create Unique Cards" classes Wednesday, Oct. 20, at the Blinn College-Schulenburg Campus, showing students how to fold origami dresses and turn them into notecards.
Two sessions of the class are being offered – one from 2:30-4:30 p.m. and another from 6-8 p.m. in Room 120. Registration is $29 each and students can choose from several designs, including "all occasion" cards and Christmas cards. Materials to make several cards and gift tags will be provided at each class.
Loraine Orellana, Coordinator of Distance and Community Education at Blinn-Schulenburg, came across Gerhardt's crafts booth last June at a community garage sale sponsored by the Flatonia Chamber of Commerce. Among the items being sold were the cards Gerhardt had created.
"Loraine thought they were so unique and asked me if I would be willing to teach others how to make them. I told her I would love to," Gerhardt said.
Teaching is familiar to Gerhardt, who retired from full-time instruction after 26 years in the classroom and then served as a substitute teacher. Her husband Tim is in his 32nd year of teaching.
Her "Unique Cards" began about three years ago after Gerhardt saw an example of origami dresses on Pinterest. She found a tutorial on YouTube and wound up making hundreds of the little dresses.
"I didn't know what to do with them, so I made several into Christmas ornaments," she said. "I hung them from a little paper clothes hanger that I designed and put a backing on each dress."
Gerhardt tried to sell them at a Christmas craft show in Seguin, where she and her husband live.
"I didn't have much luck selling them," she said, "so I decided to turn them into a notecard. I've been successful selling them ever since."
Gerhardt said "no artistic ability is needed" to take the class.
"I myself have no artistic ability at all," she said. "I just love to craft, sew, and bake. With this class, I will provide all the tools and supplies needed to make several notecards, Christmas cards, and gift tags. All each participant needs to bring with them is an interest in learning something new."
To register, call Orellana at 979-743-5237.