Blinn College-Schulenburg offering mosaic class Nov. 2-23
Schulenburg artist Stephanie Shroyer will be instructor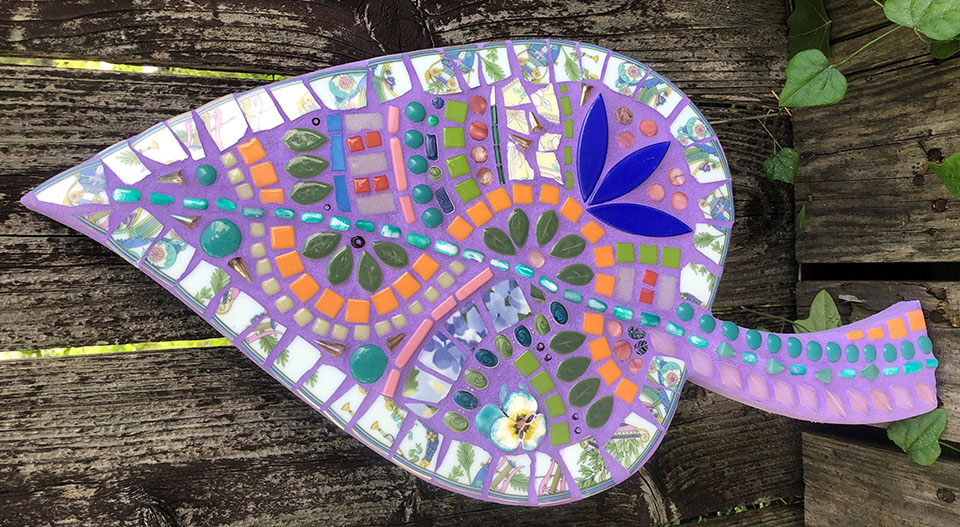 October 21, 2021
Stephanie Shroyer says she loves creating what she calls "mosaic maniacs" – people who have embraced the art form as much as she has.
Shroyer will host a mosaic class from 6-8:30 p.m. that runs each Tuesday, Nov. 2-23, at the Blinn College-Schulenburg Campus. Registration is $180 per person and Blinn provides materials and supplies.
Shroyer specializes in what she calls "nature-inspired concrete art" at her Cment2b studio in Schulenburg, but her first love was mosaics.
"I started playing with mosaics 35 years ago or so while doing arts and crafts for vacation Bible school," she said, "but I didn't find my true passion until several years later while at a conference in Waco. I visited a shop called Spice, which has several different vendors that share the space.
"One of the little shops was an artist from Rosenberg, Texas. She used china along with tiles and beads and buttons to decorate furniture. It was so colorful and whimsical that I fell in love, so of course I went home and told myself I can do that. Boy, did I learn that I didn't know anything."
Shroyer reached out to the Rosenberg artist, who agreed to teach a small class in La Grange on the basics of mosaic.
"After a couple years I started doing shows, selling my artwork, and then I began teaching and found another passion," she said. "Creating 'mosaic maniacs' gives me a lot of joy."
Shroyer has taught mosaic workshops for Arts for Rural Texas and in Houston, Austin, and Kerrville. At the Schulenburg class, students will learn basics, including glues, grout, and proper tool use.
"They will make two pieces in the class – a small trivet for practice as well as a larger mosaic. They will have their choice of creating a butterfly, feather, leaf, bird, fish, and a few other standard shapes," Shroyer said. "We will learn techniques on how to use the different tools to cut all the different tiles and tesserae that I will be bringing for them to use."
All materials are provided, but students can bring their own materials, including dishes, beads, buttons, and even small figurines to incorporate into their projects.
Shroyer recalled a mosaic class she taught in Fayetteville for Arts for Rural Texas.
"I was told there would be 12 students, so I prepared materials for 12 and 40 kids showed up," she said. "There wasn't enough room in the building for them, so we set up tables along the sidewalks and magically, materials just started appearing. Families donated leftover tiles and other bits and pieces. Six-year-olds and their grandparents were working together to create their mosaics. It was pretty touching to see how the community came together to create art."
The class at Blinn-Schulenburg will be held in the campus gymnasium. To register, call Loraine Orellana, Coordinator of Distance and Community Education, at 979-743-5237 during normal business hours.