Blinn College choirs, Brenham Children's Chorus to present 'Joyfully Singing'
Concert set for Thursday, Oct. 28, at St. Mary's Catholic Church in Brenham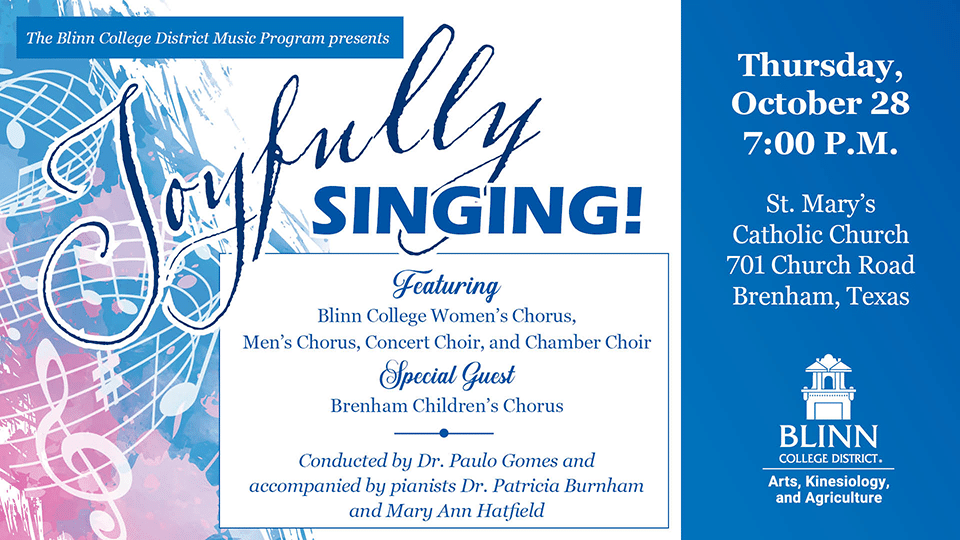 October 22, 2021
It's time to sing again, says Dr. Paulo Gomes, Director of Choral Music at Blinn College.
The Blinn College Choral and Vocal Program will present "Joyfully Singing," its first performance of the 2021-22 season on Thursday, Oct. 28, at 7 p.m. in St. Mary's Catholic Church, 701 Church St. in Brenham. The concert is free and open to the public.
Gomes will serve as conductor, accompanied by pianists Dr. Patricia Burnham and Mary Ann Hatfield. The Blinn Women's Chorus, Men's Chorus, Concert Choir, and Chamber Choir will be featured, with the Brenham Children's Chorus as special guests.
The Brenham Children's Chorus, under the direction of Jill Stewart and accompanied by pianist Eliza Booth, will open the program with "Joy in My Heart."
Chamber Choir selections are "Bogoroditse Devo," "All Will Be Well," and "Kyrie."
The Women's Chorus will perform "Laudate Dominum," "Days of Beauty," "No Time," and "Voice Dance."
Men's Chorus selections are "Steal Away," "Didn't My Lord Deliver Daniel," "You Raise Me Up," and "Man in the Mirror."
The Concert Choir will perform "Siyahamba," "Son de la Vida," "Turn the World Around," and "Joyful, Joyful."
The combined choirs will close the concert with "Agnus Dei."
Gomes, Director of Choral Music at Blinn since 2015, led the Blinn College District Chamber Choir's first trip abroad in 2019, to the Andalusian region in Spain where it performed several concerts.
Burnham joined Blinn in 2019 and Hatfield in 2021. They serve as staff accompanists for Blinn choirs and vocal students.
Gomes said the season's first performance is an opportunity to celebrate music.
"We are incredibly excited for this performance and hope everyone will be inspired by our heartfelt music-making," he said. "We believe that the purpose of the Choral and Vocal Program at Blinn College is to make – with every student – the best music we possibly can."
Located on the Brenham Campus, the Blinn College District Music Department offers small classes, one-on-one attention, practical learning, and easily accessible faculty so that students are actively engaged in a superior learning environment. For more information, visit www.blinn.edu/music.