Blinn-Bryan Theatre Troupe begins season by spotlighting alumni with careers on and off the stage
Oct. 28 and 29 discussions will feature unique nightly guests in the film, theatre, and education industries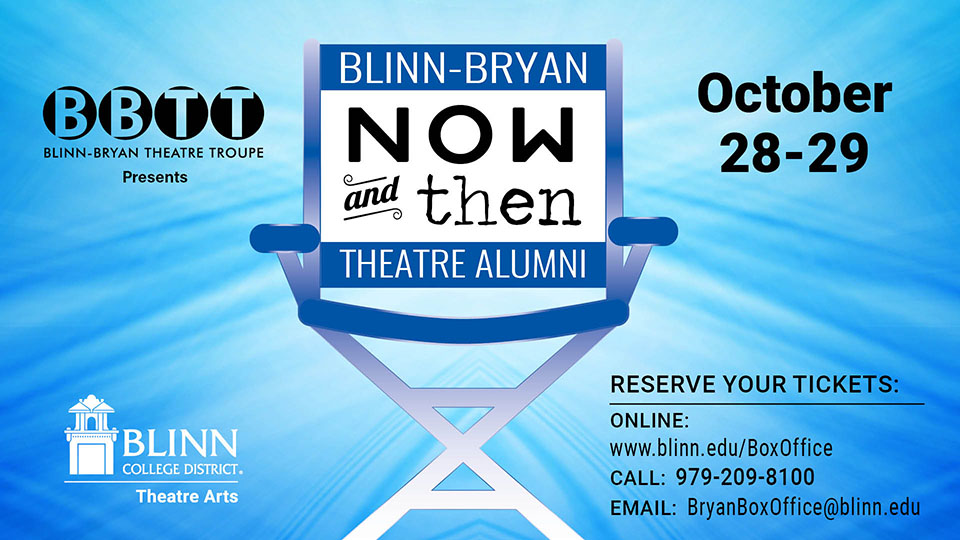 October 22, 2021
Blinn College District Theatre Arts Program alumni will return to the Blinn-Bryan Campus virtually and in person Thursday and Friday, Oct. 28-29, to kick-off the Blinn-Bryan Theatre Troupe's (BBTT) 2021-22 season. The two-night event will feature different guests each evening who will share their professional experiences in theatre, film, and beyond.
Part of the program's seasonal theme, "Now and Then," the format will include prerecorded interviews, live in-person guests, and a question-and-answer session with the audience.
The one-hour discussions begin each night at 7 p.m. and will take place in the Bryan Campus Student Center Theatre. They will be streamed live on YouTube at https://bit.ly/TheatreAlumni.
In-person tickets for the show are complimentary and available now at www.blinn.edu/boxoffice.
"I encourage anyone who is curious about a life and career in the performing arts to tune in," said Blinn-Bryan Theatre Director Greg Wise. "The path of what a career in theatre, film, or television looks like is never the same. These guests are out there doing it and we can learn from their triumphs, struggles, and practical advice."
From stunt people and actors in Los Angeles, a New York-based theatre festival producer, an international model, and Texas-based theatre educators, the participating alumni reflect a myriad of careers and paths in the performing arts. The discussions will be of particular interest to students considering careers in the theatre, film, and television industries.
"Blinn's Theatre Program provides a space that can help you find and express yourself and sharpen your mind," said Molly McIntyre, a Los Angeles-based actor, stuntperson, and 2013 alumna who will be featured on Oct. 28. "I was in just about every play during my two years at Blinn, so memorizing all of those lines and working on different characters really helped me when I had multiple auditions in a week in Los Angeles."
Guests also will include alumni who apply the skills and techniques they learned in Blinn's Theatre Program to a variety of non-performing arts-related fields, including business and healthcare.
"The skills I learned from theatre have helped me present a calm and collected voice during even the most stressful of 911 calls," said Katie Riely Wilson, a 2017 alumna who serves as Team Leader and Trainer for the Brazos County 9-1-1 District. "Even when I feel the pain and fear callers are in, I reassure them with an even tone to prevent causing more panic."
By featuring alumni inside and outside the industry, Wise hopes to shine a light on the universal benefits of taking a theatre course and inspire individuals to try something new.
"I just want to encourage those who have ever wanted to get involved in the arts to try it," said Wise. "Take an acting class, take a painting class. Try something outside of your comfort zone. I want to pique people's interest in how the arts can benefit an individual's whole self."
The BBTT consists of Blinn theatre students, community members, and other area students who create short, interactive theatre experiences to encourage cultural and collaborative exchange in the community. The troupe is part of Blinn's Theatre Arts Program, which hosts a variety of performances each year on its Bryan and Brenham campuses. Productions integrate the artistic, technical, and academic disciplines of theatre from the classroom to the stage.
For more information about Blinn's Theatre Arts Program, visit www.blinn.edu/theatre. To learn more about the upcoming Blinn-Bryan Theatre Program alumni discussion, contact Wise at greg.wise@blinn.edu .