Blinn College-Bryan Campus to host RELLIS Recruitment Fair on October 14
Attendees who apply to one of the alliance's regional universities that day are eligible for an application fee waiver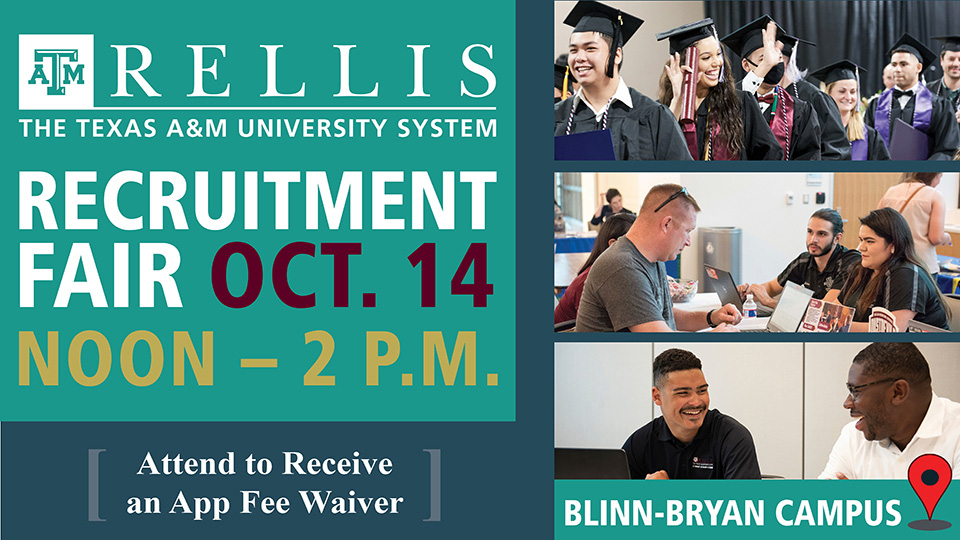 September 29, 2021
The Blinn College-Bryan Campus will showcase the RELLIS Academic Alliance and its dynamic program offerings at the upcoming RELLIS Recruitment Fair.
The fair will be held Thursday, Oct. 14, from 12–2 p.m. in the courtyard outside of the Bryan Campus Student Center (F Building). RELLIS representatives will be on-hand to visit with prospective students and answer questions about program offerings and the application process. Students participating in the fair who apply to the regional university of their choice via ApplyTexas that day will qualify for a one-time application fee waiver.
"Attending a recruitment fair is a great way for prospective students to learn more about the RELLIS Campus and all the amazing resources and programs available," said DaNeetra Walker, Manager of Enrollment Services for the RELLIS Academic Alliance. "As we continue to add new degrees and new buildings to the campus, it is important for us to get the word out and make sure students know they do not have to leave the Brazos Valley to pursue their degree."
At the 2,000-acre RELLIS Campus, Blinn is the community college partner in the RELLIS Academic Alliance, providing foundational courses that provide seamless pathways into the bachelor's degree programs offered at the campus by the Texas A&M University System's 10 regional universities and Stephen F. Austin State University.
This partnership provides affordable, accessible opportunities for students to pursue 23 bachelor's degree programs in accounting, agribusiness, biology, business, communications, computer information systems, computer science, criminal justice, cybersecurity, electrical engineering, finance, health science, management, marketing, mechanical engineering, psychology, public administration, public safety management, social work, and water resources science and technology.
"RELLIS is a world of innovation and opportunity," said Rebecca Reyes, Blinn Academic Advisor for the RELLIS Campus. "Each student has their own unique path as they pursue their educational goals and Blinn's partnership with The Texas A&M University System creates an environment for academic success."
For more information or to register for the RELLIS Transfer Fair, visit https://rellis.tamus.edu/recruitmentfair/.