Seven complete Blinn College-Schulenburg Certified Medication Aide Program
Graduates are now qualified to take the state-mandated licensure exam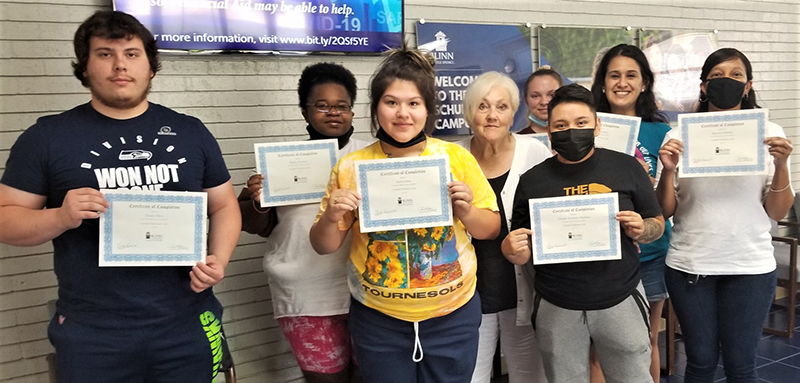 July 15, 2021
Seven students have completed the Certified Medication Aide (CMA) Program at the Blinn College-Schulenburg Campus.
Completing the 140-hour course were Shawn Allen, Syria Garza, Regina Hawkins, Sabrina Lichnovsky, Claudia Mexicano Martinez, Desiree Sanchez, and Kantrese Stewart. The students are now eligible to take the Texas Health and Human Services Commission (HHSC) Medication Aide Licensure Exam.
The program includes instruction on medical abbreviations, symbols, terminology, and common equivalents required for administering medications. Topics include drug legislation, drug references, basic anatomy and physiology, and common diseases.
"I am proud of my students," said Instructor Linda Rabel, a registered nurse. "Most have demanding jobs that can be physically and mentally taxing. Many have family needs, and when you add an evening class, finding a balance can be very challenging. I have the greatest respect and admiration for them, and if I can inspire one or more of my students to further their careers in health care and not set limits on themselves, I feel I have done something worthy."
To enroll in the CMA Program, students must have a current certified nurse aide certificate and participate in a mandatory online information session at www.blinn.edu/workforce/information-session.html.
Blinn also offers an eight-hour refresher course that includes specific training and review of the preparation and administration of medications, documentation, licensing standards, safeguarding medications, common drug reactions and side effects, and new medications that are available.
HHSC requires certified medication aides to complete at least seven hours of in-service education annually.
According to the U.S. Bureau of Labor Statistics, national demand for nursing assistants is expected to grow 8% between 2019 and 2020, adding almost 120,000 jobs. The national median hourly pay for nursing assistants is $14.82.
For more information, visit www.blinn.edu/certified-medication-aide or call 979-830-4443 or 979-209-7205.
Enjoy this article? Share it with one click!