Buccaneer Advising Queue makes it easier for Blinn College students to speak to an academic advisor
Students can schedule a same-day conversation via text or web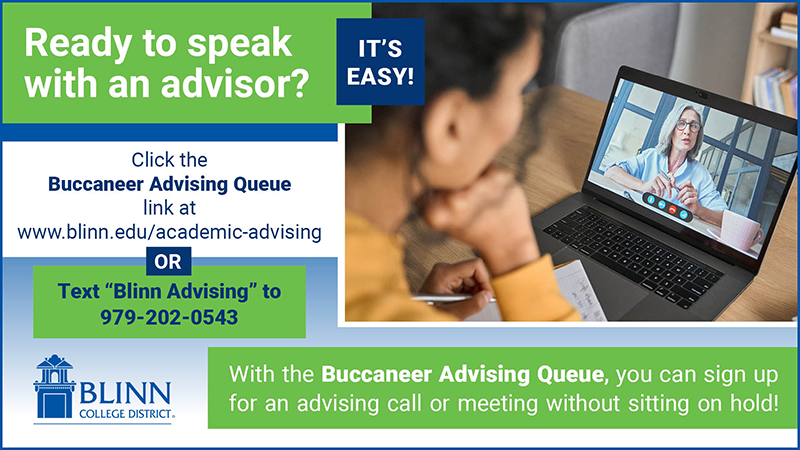 July 26, 2021
As students meet with advisors and prepare their schedules for the fall semester, the Blinn College District is making it easier than ever to schedule those conversations.
Effective today, Blinn students can text "Blinn advising" to 979-202-0543 or visit www.blinn.edu/academic-advising and click on the Buccaneer Advising Queue link to sign up for a same-day advising call, virtual visit, or in-person advising visit on the Brenham and Bryan campuses.
"With the Buccaneer Advising Queue, we eliminate the need for students to remain on hold waiting for an advisor to become available during peak hours," said Brent Williford, Dean of Financial Aid and Academic Advising. "With the new system, students receive regular updates regarding wait times and we text them when they have reached the front of the queue. It's a much better student experience."
Blinn recommends that all students meet with an academic advisor before registering for classes. Prior to meeting with an advisor, students should complete their Blinn application at ApplyTexas.org and their test scores or exemptions.
Registration is available now for the fall semester, which begins Monday, Aug. 30. For more information, visit www.blinn.edu.