Marine Corps veteran pursues career in the medical field through Blinn Radiologic Technology Program
'There is a new challenge every day,' says William Fontana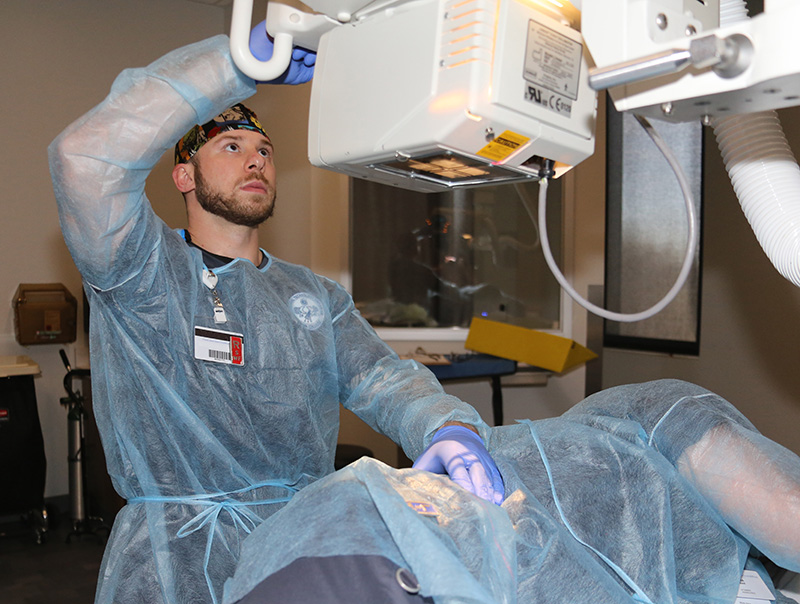 April 14, 2021
After four years in the Marine Corps, Delaware native William Fontana was ready for the next step in his career.
"I started to gain a passion for the medical field," said Fontana, who credits his time in the service with inspiring his next move. "It is a big deal to be able to save the person to the left and right of you. Above all else, I enjoy helping people."
Fontana, whose service included tours in Australia, Bali, and Japan, took to the internet and found his match in the Blinn College District Radiologic Technology Program. Combining the perfect balance of medicine and technology, Blinn's program was exactly what Fontana was looking for.
"I'm used to handling equipment from my experience in the military, so this was an easy transition for me," he said. "I am not the type of person that likes to sit behind a desk. The thing I love about this program is that there is always something you have to learn to adapt to and overcome, and that is what keeps it exciting for me. There is a new challenge every day."
Radiologic technologists make up the third-largest group of healthcare professionals in the nation – surpassed in number only by physicians and nurses. Radiologic technologists use specialized medical equipment to create images of patients' bodies to help doctors to diagnose and treat diseases and injuries.
Blinn's two-year Radiologic Technology Program is based at the RELLIS Academic Alliance Complex at the RELLIS Campus in Bryan, where students gain hands-on skills utilizing the facility's 16,000-square-foot simulation laboratories.
"I was taken aback by all the technology Blinn's program has at the RELLIS Campus. This is probably one of the most state-of-the-art buildings that I have ever seen," Fontana said. "In addition, once you do your clinical rotations at area hospitals, it is pretty much like a job interview. You already have a foot in the door."
Blinn's nationally accredited program prepares students for careers as entry-level radiologic technologists through extensive training in patient care and safety, anatomy and physiology, image production, equipment operation, radiation protection, and radiographic procedures. The program's curriculum is designed to transfer graduates seamlessly into institutions of higher learning to continue studies beyond an Associate of Applied Science in Radiologic Technology.
Fontana is in his second year of the program and is scheduled to graduate in May 2021. He hopes to start work immediately once he passes the American Registry of Radiologic Technologists (ARRT) certification examination. Blinn Radiologic Technology Program graduates have posted a 95% first-attempt pass rate on the ARRT examination and have a 100% job placement rate over the past five years.
After gaining work experience, Fontana plans to pursue a bachelor's degree and possibly additional certifications in other modalities of the field, including computed tomography (CT) scans, magnetic resonance imaging (MRI) scans, positron emission tomography (PET) scans, and radiation therapy. The limitless possiblilities for career growth and development is another reason the radiologic field appeals to Fontana.
"There is always something different. You could be doing X-rays and then in the operating room in a surgical procedure where you're helping out the surgeons," he said. "Once I get my X-ray license, I can continue to get additional certifications and build from there."
According to the U.S. Bureau of Labor Statistics, radiologic technologists earn a median salary of $62,280 per year and employment is projected to grow 7% between 2019 and 2029, creating 16,800 new jobs.
For more information regarding the Blinn Radiologic Technology Program, visit www.blinn.edu/radiologic-technology.
Enjoy this article? Share it with one click!