Blinn Veterinary Technology Program clinical coordinator named Licensed Veterinary Technician of the Year
Leigha Wright recognized by the Texas Veterinary Medical Association for her dedication to students and innovative teaching techniques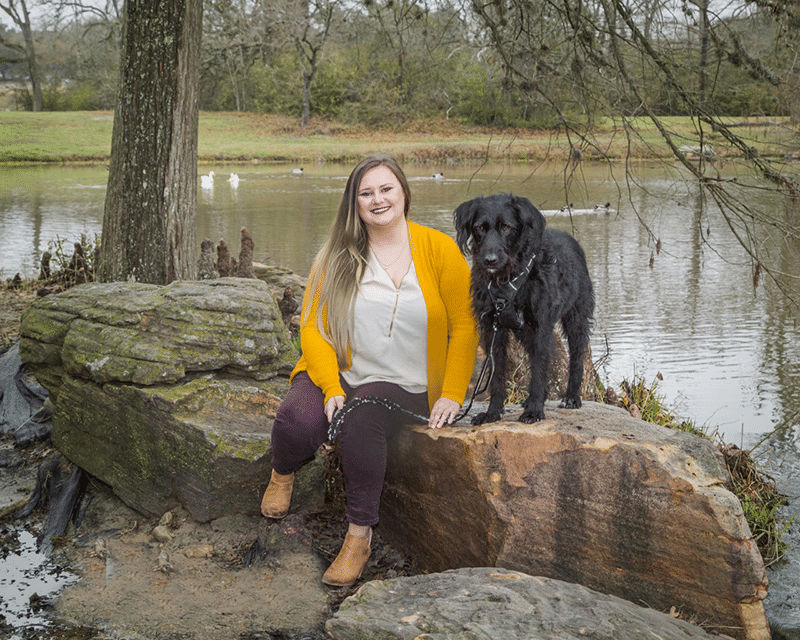 February 23, 2021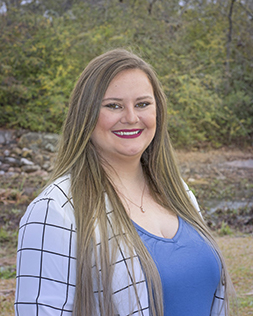 Growing up in the mountains of Eastern Kentucky, a kinship with animals and a love for science were always in Leigha Wright's blood.
"I got my first microscope when I was five," said Wright. "My dad was a science teacher, so I always knew I wanted to do something medical and I found my fit helping animals."
That passion, coupled with her commitment to help students succeed, recently earned Wright, the clinical coordinator with the Blinn Veterinary Technology Program, the Texas Veterinary Medical Association's (TVMA) 2021 Licensed Veterinary Technician of the Year Award.
"I'm still in shock," Wright said. "I love what I do, I love my students, and I love making a difference in veterinary medicine."
Since joining Blinn's Veterinary Technology Program staff in 2018, Wright has incorporated mental health and wellbeing training into the curriculum to prepare students for the challenges of the profession. She also added a Fear Free certification course that equips Blinn veterinary technology students with special techniques to relieve the stress and anxiety many pets experience during trips to the veterinarian.
"This is a highly sought-after credential that Blinn students can add to their resumes when entering the field," Wright said. "It gives our students tools that benefit their clients and patients."
Wright's dedication to her students' success extends far beyond the classroom. As the advisor to Blinn's Veterinary Technology Student Organization, she leads volunteer outreach efforts at local animal shelters and coordinates educational events. When the COVID-19 pandemic resulted in the cancellation of mandatory clinical rotations required for graduation, she worked tirelessly to find new placements and established new clinical affiliate relationships to get students the hands-on experience they needed. Wright also put her creativity to use by making models for students to practice their injection and suturing skills at home before performing these procedures on live animals.
"In Leigha's two short years at Blinn, she has made outstanding accomplishments that will make Texas better for all veterinary professionals," Veterinary Technology Program Director Dr. Catherine Pfent said. "She is truly deserving of this award and her impact on veterinary medicine will radiate throughout the state through the work of the students she has inspired."
Wright earned her associate and bachelor's degrees in veterinary technology from Morehead State University and a master's in business administration from Lincoln Memorial University. Before taking up her current post at Blinn, she was part of the team that founded Lincoln Memorial University's College of Veterinary Medicine. Wright also utilized her expertise in the necropsy specialization of veterinary medicine during positions at the University of Kentucky and Clemson University.
"The drive and compassion of Blinn's students really astounds me," said Wright. "I have a very high bar for my students because I know what it takes to be a veterinary technician. The students I've worked with at Blinn keep hitting that bar and I keep having to raise it. They blow me away."
Blinn's two-year Associate of Applied Science Degree in Veterinary Technology is one of just 10 accredited programs in Texas that prepares students to become fully credentialed licensed veterinary technicians (LVTs). Upon completion of the program, graduates are prepared for careers in animal shelters, educational institutions, government agencies, laboratory facilities, research, veterinary clinics, and zoological facilities, to name a few.
Blinn recently ranked No. 1 for the second straight year among Texas community colleges in preparing its students to pass the Veterinary Technician National Exam (VTNE), one of two tests required to become an LVT. Over the past three years, Blinn graduates averaged an 88.5% first-time pass rate on the VTNE.
To learn more about Blinn's Veterinary Technology Program, visit www.blinn.edu/veterinary-technology.
Enjoy this article? Share it with one click!