Blinn Technical and Community Education
Blinn College offers short-term Technical/Career Workforce Education classes as well as Skills Upgrade classes at Blinn's four campus locations (Brenham, Bryan, Sealy, and Schulenburg). These classes are offered throughout the year, so check the website often for upcoming class registration dates.

---
New Construction Programs
Plumbing Course and Carpentry Course offered at A. W. Hodde Jr. Technical Education Center <Read More>
---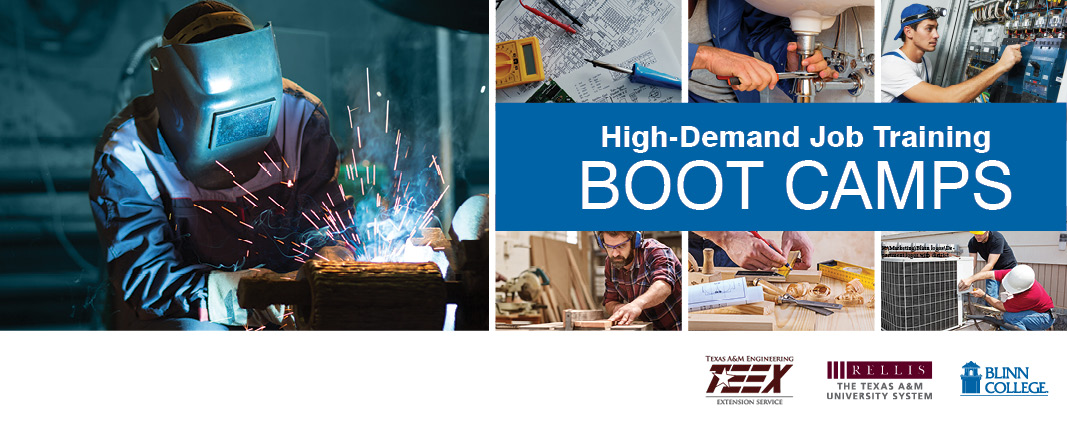 Begin your path to a new career today
Looking for fast training that prepares you for high-demand Brazos Valley construction jobs?
Blinn College offers a variety of training options that will help you obtain the marketable skills needed for a high-demand career in less than four weeks.
Courses Offered:
| | | |
| --- | --- | --- |
| Plumbing | | HVAC |
| Carpentry | | Facilities |
| Electrical | | Welding |
Scholarships Available through Workforce Solutions Brazos Valley, for qualified participants.
979-209-7205
workforce@blinn.edu
---
Jump-Start Your Career with Construction Trades Training - Classes Start Soon
GET MORE INFORMATION
The National Center for Construction Education and Research (NCCER) is a non-profit foundation developed with the support of more than 125 construction CEOs and academic leaders to provide nationally recognized training, assessment, and certification standards for the construction trades.
---
Technical/Career Classes
Technical/Career classes are short-term (1-9 months in duration)
Designed to provide the student with the knowledge and ability to enter the workforce immediately after the completion of the classes
Many of these classes do not require a high school diploma (although a diploma or GED is preferred), and enrollment is fast and easy
These classes are non-credit, which means the student does not have to go through the admissions process in order to enroll
Current Technical/Career class offerings include:

CDL Truck Driving
Electrical Technician
Medical Secretary
Welding
Certified Nurse Aide
HVAC Technician
Pharmacy Technician
Certified Medication Aide
Machining
Phlebotomy
Skills Upgrade Classes
Skills Upgrade classes are very short in duration (between 8-40 hours in most cases)
Designed to provide current workers with up-to-date skills in a subject area.
We are constantly designing new Skills Upgrade classes, so be sure to check the webpage often for new offerings.
Current Skills Upgrade class offerings include:
| | |
| --- | --- |
| OSHA 10 and 30-hour safety classes | Forklift Operator Certification |
| CPR (Red Cross and AHA) | Computer Software (Word, Excel, PowerPoint, QuickBooks) |
| Customer Service, Supervision | Time Management |
| Business Communication | Critical Thinking |
| CMA Refresher | Electrical Refresher |
For More Information on Classes

| | | | |
| --- | --- | --- | --- |
| Brenham | Bryan | Schulenburg | Sealy |
| 979-830-4443 | 979-209-7205 | 979-743-5237 | 979-627-7997 |
Connecting you to your future
Workforce Education non-credit classes are designed, both in subject and format, to fulfill specific workforce training needs for individuals, businesses and industry. These courses are designed to provide training for a career, including preparation for industry certification where appropriate. Students will master a workforce skill without taking entrance exams or enrolling in college credit courses. Programs vary in length and are offered in a non-tradition format with daytime, evening and weekend options at seven campus locations.