Blinn Dental Hygiene Program to offer free dental services to local children during Give Kids a Smile event
Parents must call in advance to make an appointment for the April 14 clinic
March 30, 2022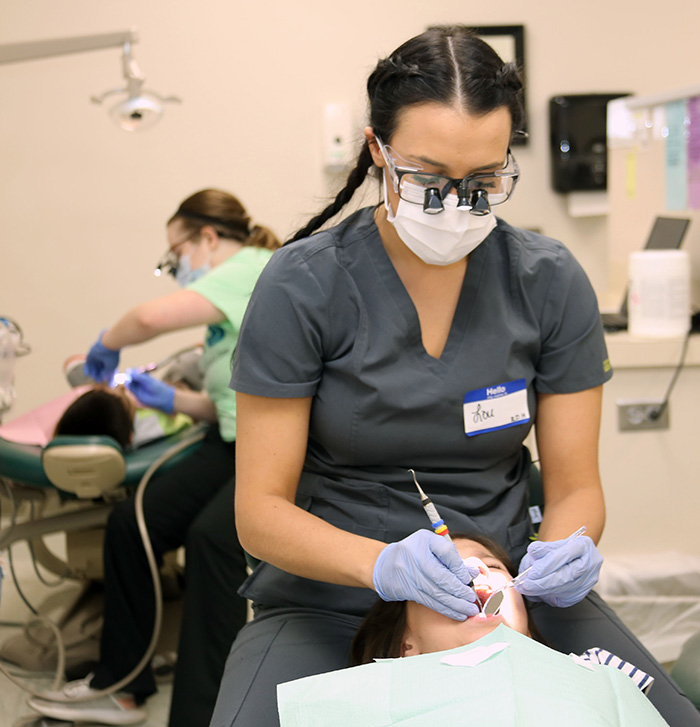 On Thursday, April 14, the Blinn College Dental Hygiene Program will open its doors to elementary-aged Brazos Valley children for free dental services, including exams, x-rays, cleanings, sealants, fluoride, and oral health education.
The annual Give Kids a Smile clinic will take place from 3-7 p.m. at Blinn's Post Office Center located at 301 Post Office Street in Bryan. Parents must call 979-209-7485 in advance to make an appointment for their children to participate.
"After a two-year hiatus due to COVID-19 restrictions, our students and staff are excited to participate in Give Kids a Smile again," said Dana Wood, Dental Hygiene Instructor. "Oral health care and treatments have taken a back seat for many families over the past few years and we want to encourage parents to take advantage of this opportunity that can benefit the overall health of their children."
Before pausing GKAS in 2020 due to COVID-19, the Blinn Dental Hygiene Program had participated in the annual event since 2008, providing more than $200,000 in free dental services. A national initiative of the American Dental Association, GKAS supplies oral health care to local children who lack access to regular dental care. The event is coordinated, planned, and executed by Blinn dental hygiene students as a component of their community dentistry course.
"This event really teaches our students about how their work can make an impact on the health of a community as a whole," Wood said. "Graduates always tell me how valuable their experience with Give Kids a Smile was and that it taught them an appreciation for public service that they've carried with them throughout their careers."
Dental care will be provided by Blinn dental hygiene students, volunteers from the Brazos Valley Dental Hygiene Society, and area dentists.
As a result of ongoing COVID-19 health protocols, a maximum of 12 children will be seen each hour during the event. If appointments fill up, children will be placed on a waitlist to receive free oral health care on another date. All clinic visitors are required to wear a mask while inside the building, except during treatment.
In addition to GKAS, the Blinn Dental Hygiene Program offers discounted cleanings and screenings for the general public. These sessions are $20 per person and include dental cleanings, x-rays, examinations, fluoride, oral cancer inspections, and sealants.
For more information about a clinic visit, call 979-209-7283 or visit www.blinn.edu/dental-hygiene/dental-clinic.html</a >.
Related Links
Archives
GET CONNECTED