Blinn College-Sealy's Boots and Blue Jeans to be held Saturday, April 23
Fundraiser will benefit scholarships, educational programs at Sealy Campus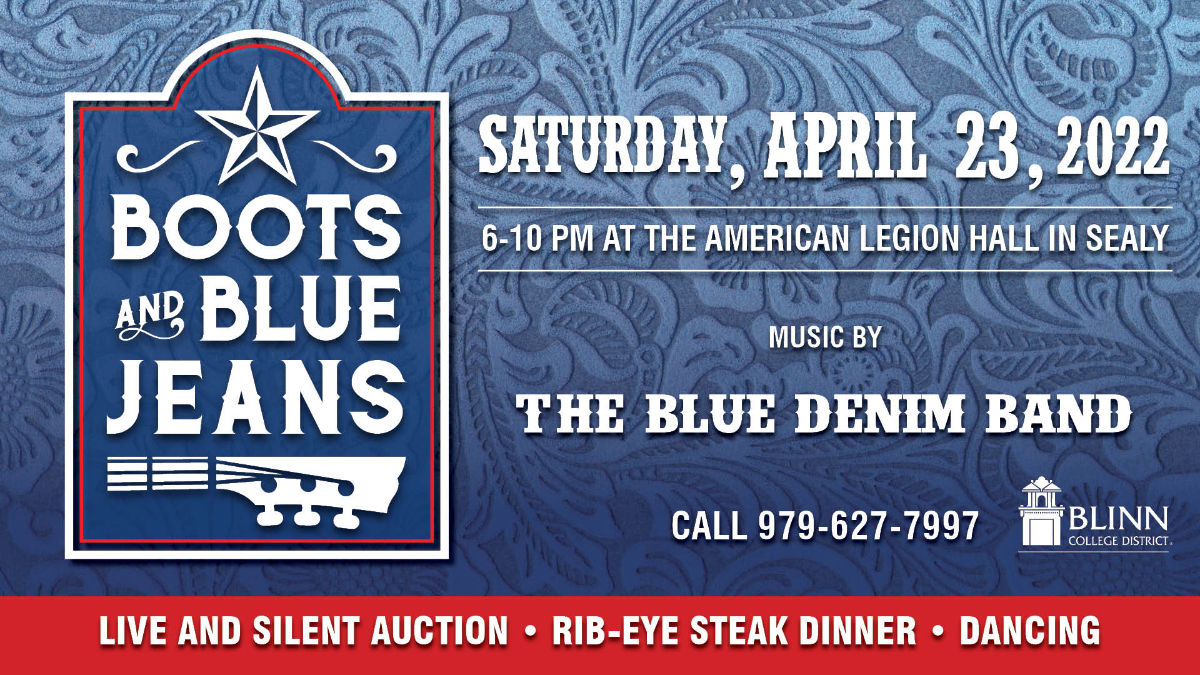 March 31, 2022
After a two-year hiatus, Boots and Blue Jeans is returning to raise funds for scholarships and educational programs at the Blinn College-Sealy Campus.
Boots and Blue Jeans, sponsored by the Blinn College Foundation, will be held Saturday, April 23, from 6-10 p.m. at the American Legion Hall at 1630 Meyers Street in Sealy.
Tickets are $40 per person or $300 for a table of eight. A ribeye steak meal, music by The Blue Denim Band and live and silent auctions will highlight the evening.
"We are excited to be able to bring back Boots and Blue Jeans," said Lisa Caton, Executive Dean of the Sealy Campus. "It has always been a fun evening made even better by the funds that are raised for student scholarships. We want everyone to come out to enjoy a great meal and music while supporting a good cause. I appreciate the local businesses, community members, and Blinn faculty and staff who have always supported Boots and Blue Jeans."
For tickets or more information, visit the Blinn-Sealy Campus at 3701 Outlet Center Drive or call 979-627-7997.
The Sealy Campus offers a range of courses for commuter students throughout the greater Houston area. At Blinn-Sealy, students can complete their Texas Core Curriculum and earn an associate degree, preparing them for transfer to four-year universities.
Related Links
Archives
GET CONNECTED