Blinn Alumni and Friends, Lettermen associations to host 2022 Clay Shootout on April 8
Proceeds benefit student scholarships and athletic equipment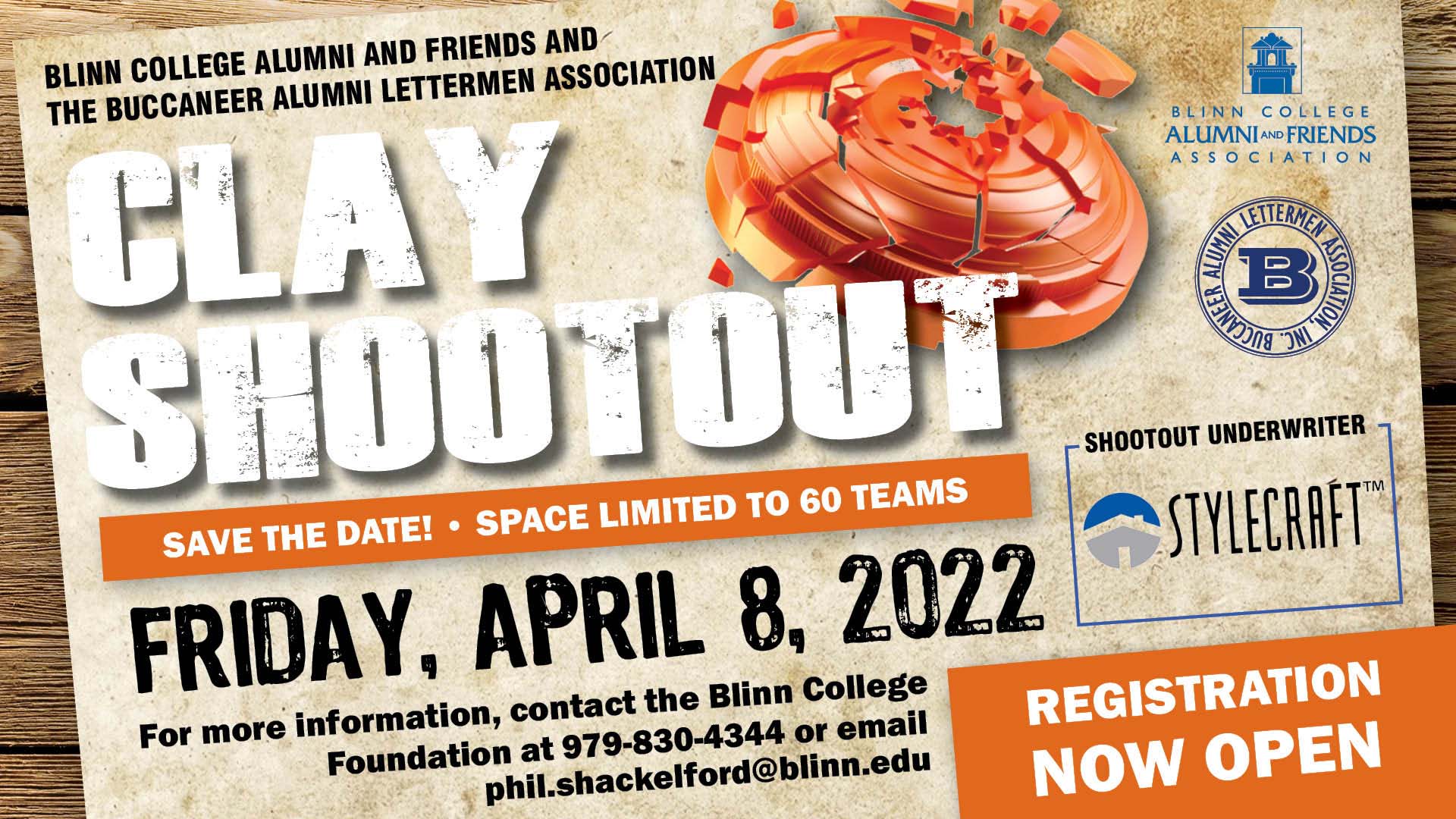 March 11, 2022
The Blinn College Alumni and Friends and Buccaneer Alumni Lettermen associations will host the Blinn College District Clay Shootout on Friday, April 8, to raise funds for scholarships and athletic equipment.
The shootout will be held at the Boswell Porter 4-H Shotgun Range at 7676 County Road 247 near Snook in Burleson County.
Entry fees are $500 for four-person teams and $125 for single shooters who will be assigned to a team. The shoot features 100 sporting clays. Shooters must provide their own shotguns and shells.
Three flights will be held (8:30 a.m., 11:30 a.m., and 2:30 p.m.), with the shootout limited to 60 teams. Entry fees include food and drinks throughout the day, along with prizes and awards. Food and drinks will be available for spectators for $20.
Raffle tickets will be sold and 30 prizes will be given away. Tickets are $20 each or $100 for a book of six. Prizes include guns, Houston Astros tickets, and gift cards.
Stylecraft Builders is again underwriting this year's Clay Shootout with a $15,000 sponsorship. Flight sponsors are Bank of Brenham, Blue Bell Creameries, and Brenham National Bank.
Nathan Van Noord, Chair of the Alumni and Friends Association, said money raised through the event provides valuable financial help to Blinn students and athletic programs.
"We have a lot of fun at our annual Clay Shootout, and it's an event that I look forward to every year," Van Noord said. "The funds directly benefit Blinn College and its students in the form of academic scholarships, financial support for Blinn athletics, and many other important programs.
"I'm so thankful for all the support we received from our sponsors and all the participants."
The fundraiser was last held in 2019, when it raised a record $120,00 to support the Blinn College District.
Support for the Clay Shootout has been tremendous and continues to grow, said Kevin Bosse, Chair of the Buccaneer Alumni Lettermen Association.
"All of the funds raised go directly to the various organizations and athletic programs at Blinn," Bosse said. "The generosity of the sponsors allows us to help a lot of students and Blinn's athletics programs."
Bosse added that the shootout "brings together many organizations across Blinn College and its campuses."
"It's an effort by a lot of people who truly care about the Blinn College District," he said.
Registration will take place one hour before shoot time and a safety meeting will be held 30 minutes prior to shoot time. Awards will be presented to the top male, female, and youth shooters. Shooters under age 17 must have their hunter safety certification.
Event registration and sponsorships are still available. More information is available at  www.blinn.edu/alumni/clayshootout.html  or by contacting Blinn Foundation Executive Director Susan Myers ( susan.myers@blinn.edu  or 979-830-4344) or Foundation Associate Director Phil Shackelford ( phil.shackelford@blinn.edu  or 979-209-7210).
Related Links
Archives
GET CONNECTED