Blinn chemistry course instrumental to students pursuing STEM careers
CHEM 1411 provides students the foundation they need for a variety of fields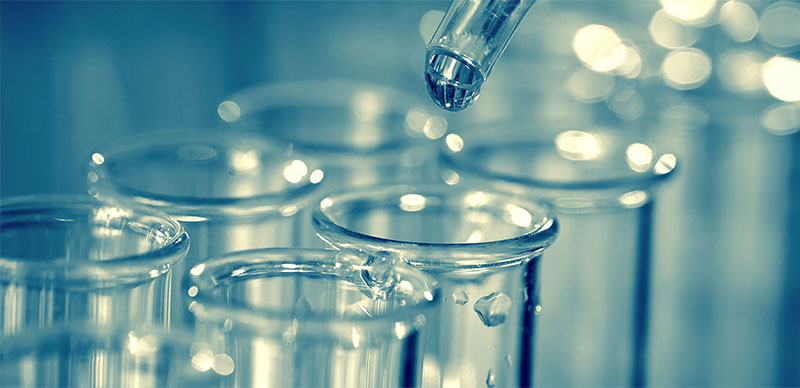 August 11, 2017
Students considering careers in science, technology, engineering, and mathematics (STEM) will develop an important foundation through Blinn College's General Chemistry I course this Fall.
Available on both the Brenham and Bryan campuses, CHEM 1411: General Chemistry I consists of three lecture hours and three lab hours per week, and provides an understanding of the fundamental properties of materials and how they can be modified.
"All of my senior-level Animal Science courses have involved things that I learned in General Chemistry I at Blinn," said Dylan Tucker, who transferred from Blinn College to Texas A&M University. "The course helped me understand a lot of things that I didn't grasp before, painted a broader picture, and my professor made the topics very relatable and understandable."
Concepts learned in this course help student describe matter and its physical and chemical properties, which become the foundation of the analysis of materials, metallurgy, and materials science.
"The ability to apply these concepts helps the student develop the skills necessary to study chemical reactions," said Rachel Sanchez, Professor and Chemistry Department Head. "These skills are essential to later studies in STEM fields."
Students studying organic chemistry, inorganic chemistry, analytical chemistry, chemical engineering, biology, biochemistry, genetics, pharmaceutical research and drug synthesis, the medical fields, agricultural chemicals, cosmetics, and food products are among those who will find the course essential.
The course also introduces students to the theories of chemical bonding necessary for understanding biology, biochemistry, genetics, and medicine. Basic studies of the phases of matter are useful in all fields of science and technology, while the study of the relation of heat and energy to chemical reactions has wide application not only to chemistry, but all fields that utilize the study of thermodynamics.
For students considering technology careers, this course introduces the basic principles of quantum mechanics, which helps to describe some of the technical issues to be solved when constructing chips used in the latest quantum computers.
Students will complete 13 laboratory experiments throughout the semester. Through hands-on instruction, with appropriate safety procedures, techniques for using basic analytical equipment and glassware are practiced. Students are taught to safely handle and dispose of chemicals with a wide range of properties while gaining valuable experience in working in teams to accomplish lab goals. The labs are designed to support the concepts learned in lecture and help to illustrate topics such as density; gravimetric analysis; analysis of metal ores; titrations of acids, bases, oxidizing and reducing solutions; and the synthesis of chemical compounds. The techniques and procedures become the foundation of laboratory work in more advanced coursework of various fields.
To register, students must successfully have completed MATH 1314 or MATH 1414.
Blinn's academic transfer rate regularly ranks among the highest in the state and the nation. According to the Texas Higher Education Coordinating Board (THECB), Blinn's academic transfer rate of 34.2 percent ranks second in the state and exceeds the statewide average of 21.1 percent.
THECB data shows that Blinn students who take 30 credit hours during the 2017-18 school year will save $3,717, approximately 42 percent, in tuition and fees compared to state residents at the average Texas public university.
Blinn's Fall semester begins Monday, Aug. 28. To register, visit www.blinn.edu.